for through Him we both have our access in one Spirit to the Father.
in whom we have boldness and confident access through faith in Him.
Therefore, brethren, since we have confidence to enter the holy place by the blood of Jesus,
through whom also we have obtained our introduction by faith into this grace in which we stand; and we exult in hope of the glory of God.
We can never fully comprehend Christ's agony in the Garden of Gethsemane, but at least we don't have to misunderstand it. It is the agony of God and man in one Person, coming face to face with sin. We cannot learn about Gethsemane through personal experience. Gethsemane and Calvary represent something totally unique— they are the gateway into life for us.
It was not death on the cross that Jesus agonized over in Gethsemane. In fact, He stated very emphatically that He came with the purpose of dying. His concern here was that He might not get through this struggle as the Son of Man. He was confident of getting through it as the Son of God— Satan could not touch Him there. But Satan's assault was that our Lord would come through for us on His own solely as the Son of Man. If Jesus had done that, He could not have been our Savior (see Hebrews 9:11-15). Read the record of His agony in Gethsemane in light of His earlier wilderness temptation— "…the devil…departed from Him until an opportune time" (Luke 4:13). In Gethsemane, Satan came back and was overthrown again. Satan's final assault against our Lord as the Son of Man was in Gethsemane.
The agony in Gethsemane was the agony of the Son of God in fulfilling His destiny as the Savior of the world. The veil is pulled back here to reveal all that it cost Him to make it possible for us to become sons of God. His agony was the basis for the simplicity of our salvation. The Cross of Christ was a triumph for the Son of Man. It was not only a sign that our Lord had triumphed, but that He had triumphed to save the human race. Because of what the Son of Man went through, every human being has been provided with a way of access into the very presence of God.
Choosing Contentment
From: Our Daily  Journey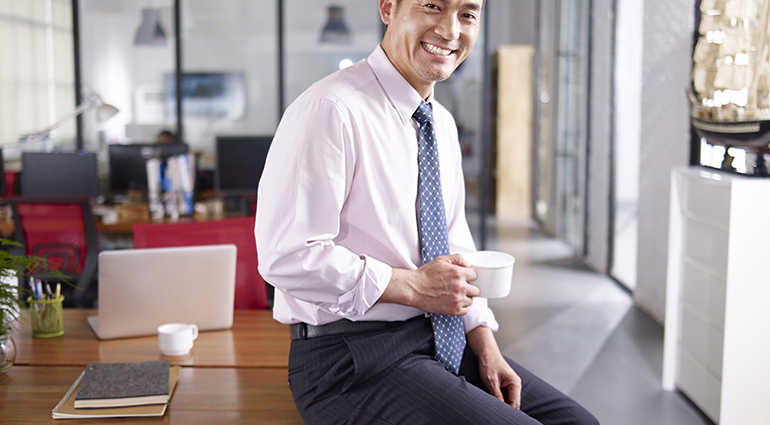 The story is told of a king who was looking for satisfaction in life. His advisors told him to wear the shirt of a contented man for a day, and he would be cured of his discontent. His men searched the kingdom for a contented man so they could bring his shirt to the king, but they returned empty-handed. The king was furious. In response, his men told the king, "We found a contented man, but he does not own a shirt."
We live in a world grasping for contentment. Pastor Ray Stedman said, "Contentment is not having all that you want. True contentment is wanting only what you have." The apostle Paul was a very contented man. But it wasn't something that came naturally to him. Twice Paul said he had to learn to be content (Philippians 4:11-12).
Contentment is an intentional choice. "There are two ways to get enough. One is to continue to accumulate more and more. The other is to desire less," advises philosopher G. K. Chesterton. Contentment is something we have to choose.
Called to suffer for Christ (Acts 9:16), Paul didn't have a charmed life (2 Corinthians 11:23-28). He was in a Roman prison when he wrote, "I have learned how to be content . . . in every situation" (Philippians 4:11-12). Paul's contentment didn't result from life's circumstances, but from his commitment. When hemmed in by life's difficulties, he responded, "To live is Christ." When in the jaws of death, he proclaimed: "To die is gain" (Philippians 1:21 niv).
Paul's secret to contentment was to find it "through Christ, who gives me strength" (Philippians 4:13). Regardless of our circumstances, may we turn to Him and experience calm confidence based in the power He provides. In Jesus, we have all we need (2 Corinthians 12:9).
Worship or Lightly Esteem?
From: Daphne Delay, Author
In today's society, people have a mixed concept of worship. The biblical definition is "an act of honor, praise, and reverence of deity [or God]." But we see people worshiping celebrities, places, presidents, and even technology—instead of God.
In contrast, there is often a lack of worship for the true things of God, such as His Presence, His House, or even His creations. In fact, the Bible says in the last days there will be an increase of this behavior. People will have a "form of godliness, but deny its power" (2 Timothy 3:5). In other words, even those who go through the motions of worship may in fact have a heart and mind that's far from God.
This simply implies that we shouldn't judge each other's form of worship—let's let God do that… But individually, it would be good to do a heart-check to make sure our worship is in the right place.
The Bible says, "Give unto the Lord the glory due to His name; Worship the Lord in the beauty of holiness" (Psalm 29:2). God is beautiful. He is the beauty of holiness and worthy of our worship. In all that He has given unto us and done for us through redemption, it is only right that we worship Him. But it is also (as a dear friend of mine always says) one of the only things we can give Him that He did not first give us.
In other words, you won't find God giving you or I worship. So much of our lives are an act of giving back to Him what He has given us. For example: our money, our time, our faith, our attitude… almost everything. Therefore, because God has helped us, then in reverence and honor we return those things in measure back to Him.
But worship is different than our money or time.
It is one of the things we give God first, instead of the other way around. But what a thought this is! If I'm not giving Him a measure of every part of my life, is this an indication of my love and worship of Him? You bet. Yet most people don't see it that way.
Our worship shouldn't resemble only a small measure of time one morning a week at church. The Word of God says this kind of behavior is equal to despise. In today's vernacular, this word is harsh and ugly. But in the Bible, despise simply means to "lightly esteem." In other words, it's quite possible most people live their lives lightly esteeming God (unknowingly).
In the Old Testament, God said to the priest, Eli: "Why do you kick at My sacrifice and My offering which I have commanded in My dwelling place, and honor your sons more than Me… But now the Lord says, 'Far be it from me; for those who honor me I will honor, and those who despise me shall be lightly esteemed'" (1 Samuel 2:29-30).
The New Testament says all believers are now priests (representatives of man before God). Therefore, this reprimand from God to Eli can be taken as a warning for us also. God assigned Eli and his household to be priests, but they had taken the job lightly. So God said He would esteem them lightly in return.
We must remember worship is a lifestyle. It is an act of honor and reverence of God. This means as I vow to honor God with my thoughts, attitudes, words, time, and resources, it is an act of worship. But if, on the other hand, I wake up and get halfway (or all the way) through my day without even as much as thinking about God, I have actually "lightly esteemed", or "despised" Him.
He says, "Those who honor Me, I will honor." And He does. I'm amazed at the ways in which God honors us. Especially when I remember that He did so before we were deserving. "For God demonstrated His own love toward us, in that while we were still sinners, Christ died for us" (Romans 5:8).
So let us worship God.