Trust Me
From: Our Daily Bread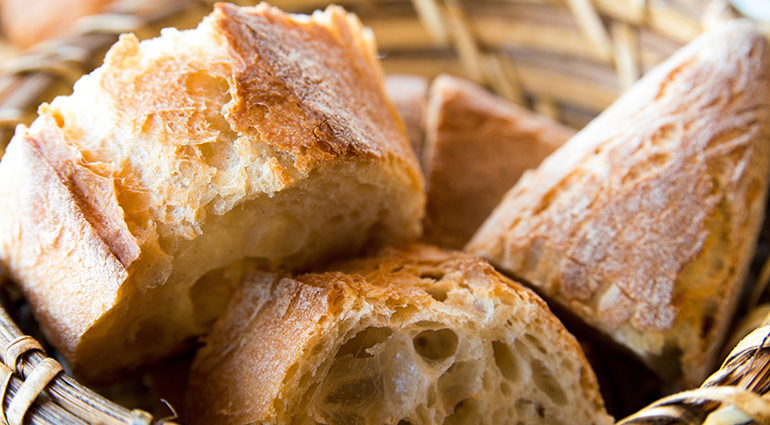 After graduation from college, I had a low-paying job. Money was tight, and sometimes I didn't even have enough for my next meal. I learned to trust God for my daily provision.
It reminded me of the prophet Elijah's experience. During his prophetic ministry, he learned to trust God to meet his daily needs. Shortly after Elijah pronounced God's judgment of a drought in Israel, God sent him to a deserted place, Kerith Ravine, where He used the ravens to bring Elijah his daily meals and refresh him with water from the brook (1 Kings 17:1–4).
But a drought occurred. The brook shrank to a tiny stream, and slowly became a mere trickle. It was only when the brook had dried up that God said: "Go at once to Zarephath . . . . I have directed a widow there to supply you with food" (v. 9). Zarephath was in Phoenicia, whose inhabitants were enemies of the Israelites. Would anyone offer Elijah shelter? And would a poor widow have food to share?
Most of us would rather God provided in abundance long before our resources were depleted rather than just enough for each day. But our loving Father whispers, Trust Me. Just as He used ravens and a widow to provide for Elijah, nothing is impossible for Him. We can count on His love and power to meet our daily needs.
Faithful Father, thank You for knowing exactly what we need before we even ask. Help us to trust You for our daily needs.
God supplies all our needs—one day at a time.
Hey, Where'd You Get That
From: Get More Strength
"Every good and perfect gift is from above, coming down from the Father" James 1:17
One of my favorite classical works of music is The Creation. But what I like even more than the stirring sounds and moving lyrics is the attitude of composer.
It was the year 1808, and the last note sounded as the symphony's performance came to a close. Applause thundered through the auditorium in honor of one of the greatest composers of all time, Franz Joseph Haydn. The piece that had been performed was called The Creation. Haydn had written it to glorify God, by telling the Genesis story of creation through music. Audiences all over Europe adored it. And that night, he responded to the crowd's ovation by pointing upward and exclaiming, "No, No! Not from me, but from thence! From heaven above comes all!"
At that same concert, Haydn's contemporary Ludwig van Beethoven is said to have knelt and kissed Haydn's hands in an act of honor. Praised by other great composers of his time and admired by the public as well, he was heaped with fame and adoration. Still, he refused to become prideful of the music God had created through Him. He knew from where it had come.
For sure, not many of us will be musical geniuses like Haydn. But God has given all of us talents and abilities. Some of us have exceptional people skills; some have what it takes to crunch numbers with precision. Others might be able to cook, write prose and poetry, or repair the transmission on a car. These gifts from God are the result of the way He created us—in His image. God is infinitely talented and able to do anything! Being made in "His image" means we have been given gifts from Him to accomplish good things and to contribute to our world.
But here's the rub. If we're not careful, the stealth enemy of pride will whisper to you that you are the one who deserves the credit. There is something really seductive about applause and affirmation. Giving the credit to others is not an easy thing to do. But in the end, who would you rather have people admire—you or your God? And even if you are tempted to honestly admit that you'd kinda like it to be you—upon further reflection, my guess is that you really don't want to go there. And you shouldn't. Competing with Him for the applause, especially when He deserves it all, is not a good idea. Particularly when we read that, "God opposes the proud but gives grace to the humble" (1 Peter 5:5
).
Remember, there is a world out there that is sitting quietly, watching your performance, waiting to break into applause. And when the applause comes, stand, take a bow, and then let people know where it all came from!
STREAMS IN THE DESERT – FEBRUARY 12
TIMES HAVE CHANGED, BUT LIFE'S HARD TIMES HAVEN'T
Your heavenly Father knoweth (Matthew 6:32).
A visitor at a school for the deaf and dumb was writing questions on the blackboard for the children. By and by he wrote this sentence: "Why has God made me to hear and speak, and made you deaf and dumb?"
The awful sentence fell upon the little ones like a fierce blow in the face. They sat palsied before that dreadful "Why?" And then a little girl arose.
Her lip was trembling. Her eyes were swimming with tears. Straight to the board she walked, and, picking up the crayon, wrote with firm hand these precious words: "Even so, Father, for so it seemed good in thy sight!" What a reply! It reaches up and lays hold of an eternal truth upon which the maturest believer as well as the youngest child of God may alike securely rest — the truth that God is your Father.
Do you mean that? Do you really and fully believe that? When you do, then your dove of faith will no longer wander in weary unrest, but will settle down forever in its eternal resting place of peace. "Your Father!"
I can still believe that a day comes for all of us, however far off it may be, when we shall understand; when these tragedies, that now blacken and darken the very air of heaven for us, will sink into their places in a scheme so august, so magnificent, so joyful, that we shall laugh for wonder and delight.
–Arthur Christopher Bacon
No chance hath brought this ill to me;
'Tis God's own hand, so let it be,
He seeth what I cannot see.
There is a need-be for each pain,
And He one day will make it plain
That earthly loss is heavenly gain.
Like as a piece of tapestry
Viewed from the back appears to be
Naught but threads tangled hopelessly;
But in the front a picture fair
Rewards the worker for his care,
Proving his skill and patience rare.
Thou art the Workman, I the frame.
Lord, for the glory of Thy Name,
Perfect Thine image on the same.
–Selected