People still remember the cross of Christ with reverence and love.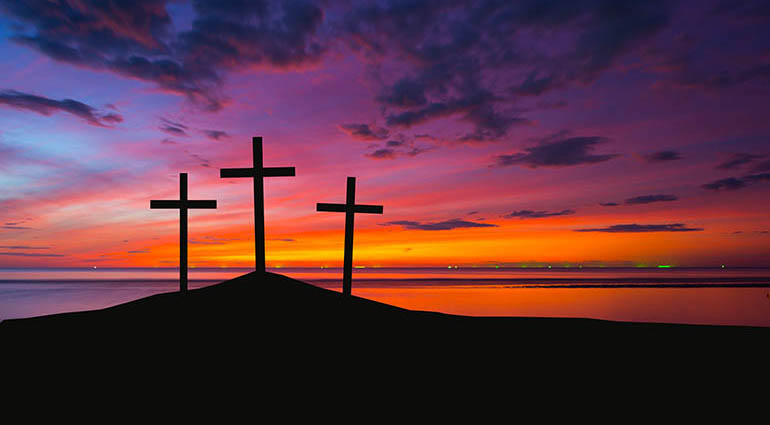 In the church I attend, a large cross stands at the front of the sanctuary. It represents the original cross where Jesus died—the place where our sin intersected with His holiness. There God allowed His perfect Son to die for the sake of every wrong thing we have ever done, said, or thought. On the cross, Jesus finished the work that was required to save us from the death we deserve (Rom. 6:23).
The sight of a cross causes me to consider what Jesus endured for us. Before being crucified, He was flogged and spit on. The soldiers hit Him in the head with sticks and got down on their knees in mock worship. They tried to make Him carry His own cross to the place where He would die, but He was too weak from the brutal flogging. At Golgotha, they hammered nails through His flesh to keep Him on the cross when they turned it upright. Those wounds bore the weight of His body as He hung there. Six hours later, Jesus took His final breath (Mark 15:37). A centurion who witnessed Jesus's death declared, "Surely this man was the Son of God!" (v. 39).
The next time you see the symbol of the cross, consider what it means to you. God's Son suffered and died there and then rose again to make eternal life possible.
Dear Jesus, I can't begin to thank You enough for taking care of my sin when You died on the cross. I acknowledge Your sacrifice, and I believe in the power of Your resurrection.
The cross of Christ reveals our sin at its worst and God's love at its best.
Gift of Tears
From: Our Daily Journey
The old lumberjack always strode with a purpose. But not today. Today the world clawed at his soul. As the gruff Swedish immigrant trudged up the hill to his family farm, tears rolled down his cheeks. The date was December 7, 1941, and Axel Gustafson had just heard the news of the attack on Pearl Harbor. His sons would be going to war.
My dad was one of those sons. He never forgot the tears of his outdoorsman father. He learned that men with true strength cry too.
King David cut the mold for ruggedness. As a youth he'd killed a lion, a bear, and then of course Goliath—and no, he didn't use a rifle to do it. He would become the man of whom Israelite women sang, "Saul has killed his thousands, and David his ten thousands" (1 Samuel 18:7). Yet, as the warrior poet, David also displayed an artistic side. In 1 Samuel 20 we read the bittersweet story of David and Jonathan's friendship. When it became clear that Jonathan's father King Saul intended to kill David (1 Samuel 20:30-33), the two had an emotional farewell. "Both of them were in tears" (1 Samuel 20:41).
It's not only a male trait to suppress tears. Women can also cling to stoicism. "I don't cry," a female friend told me. Yet the pain in her life was obvious to anyone who knew her.
The ultimate example of a man with true strength was Jesus. He cried over Jerusalem because it would reject Him (Luke 19:41). He cried at the grave of His friend Lazarus (John 11:35). He endured such emotional turmoil the night before His crucifixion that "his sweat fell to the ground like great drops of blood" (Luke 22:44). Jesus freely showed His emotions.
Our emotions are a gift. They reflect the image of a God who gets angry at evil, and who loves us with all His heart.
"Then Jesus told him, 'Because you have seen me, you have believed; blessed are those who have not seen and yet have believed.'" John 20:29 (NIV)
"Why would he tell me he would never break my heart, and then he did? He lied!"
Her eyes brimmed with tears as she pleaded for answers I didn't have. "People change," I offered helplessly. "He probably meant it when he said it, but something happened."
I floundered. The response wasn't good enough as the right words eluded me. Then, in the wounded moments after her first breakup, my daughter declared she would never trust again.
Betrayed. I've been there too, and it marks you for life. I've had someone abandon a promise when it became inconvenient … choose a selfish path that left me standing alone, paying the price. The scars of betrayal creep around your heart, a little more each time, making it very hard to trust again.
So often, trust is like spun sugar, beautiful and fragile. We offer it like a delicate gift, only to snatch it back when it's not honored, and hold it more tightly the next time. Why give such a valuable gift to someone who won't care for it?
I wonder, Is that how the disciples felt the day Jesus was crucified?
They'd put all their hope and faith in Him, only to have Jesus submit to arrest, an unfair trial and death like a common criminal.
Did the disciples doubt everything Jesus had said in their three years together as they hid behind closed doors? They must have been filled with questions that all started with "Why." Why did He leave us? Why did He make that choice?
Maybe you've felt that way too, as you're left standing alone in a dark place. The other side of betrayal is bleak, lonely and hopeless. You can feel like things will never be good again. Certainly the disciples felt some of those emotions.
However, what the disciples didn't know on that devastating Friday was Jesus hadn't betrayed them. In fact, the opposite was occurring as they sat in despair. Jesus was honoring the hardest promise ever: Follow His Father's path to the cross. Jesus wasn't selfishly leaving them alone, He was selflessly leading them to the Father for all eternity.
In the moments that looked most hopeless, Jesus was working out our greatest hope. In the moments that looked darkest, Jesus was forging a path to the light.
And Jesus still does that for us today.
A friend once told me, "Don't doubt in the dark what you know to be true in the light."
Faith truly is a choice. We can choose to doubt, or we can choose to believe. I've come to discover faith isn't fragile when it's placed in the right person. Faith in Jesus is rugged, strong and sustaining when we make the brave choice to trust Him.
Easter Sunday is proof. The Bible records that on Sunday, three days after Jesus' crucifixion, Jesus fulfilled His promise as He rose from the dead!
Imagine the shock, joy and hope that exploded when Mary saw Him first in the garden. Imagine how the disciples felt when they saw Jesus in person that evening. It was all true! He was faithful!
But there was one disciple missing that Sunday evening: Thomas. Thomas didn't get to see the resurrected Lord, and He doubted the reports of Jesus alive. So one week later, Jesus came to the disciples again, this time to show Himself in the flesh to Thomas.
Thomas finally believed, after putting his fingers on Jesus' wounds. And I'm pretty sure Jesus was thinking of us when He said these words to Thomas, "Because you have seen me, you have believed; blessed are those who have not seen and yet have believed" (John 20:29).
Today might be your dark Friday. Hope may be lost. Doubt and fear might be all you have left to give. But might I encourage you to try and trust one more time?
Jesus wants to breathe a fresh wind of hope into your heart. It may look dark now, but He is forging a path to escort you into the light. And though you can't see Him with your eyes, He invites you to trust Him with your heart.
Today is Friday, but Sunday's coming. Jesus will hold your faith secure and show He is worthy of it now and forever. Jesus will keep every promise He's ever made. He proved it then, and He proves it today.
Lord, thank You for being completely trustworthy. Help me take every doubting thought captive and trust that even when I can't see You with my eyes, I can trust You with my heart. Thank You for Your sacrifice on the cross so I can walk in the light of Your love for eternity. In Jesus' Name, Amen.