Hebrews 12:1-3
12  

Therefore, since we are surrounded by such a great cloud of witnesses, let us throw off everything that hinders and the sin that so easily entangles. And let us run with perseverance the race marked out for us,
2    fixing our eyes on Jesus, the pioneer and perfecter of faith. For the joy set before him he endured the cross, scorning its shame, and sat down at the right hand of the throne of God.
3   Consider him who endured such opposition from sinners, so that you will not grow weary and lose heart.
What is your target? What is your goal?
"Everyone who has this hope in him purifies himself, just as he is pure." 1 John 3:3
Let's talk about heaven. If you're like me, it's hard to get your head around it and harder still to let it grip your heart. While most of us believe that heaven exists, we go on with life as though this is the only world that matters.
Nearly every spiritual dysfunction in our lives can be traced back to the fact that heaven does not really have a hold on us. C. S. Lewis had it right when he said: "Aim at heaven and you will get earth thrown in. Aim at earth and you get neither."
So, how do we "aim at heaven"? First, we recognize that this physical body is not all there is—"what we will be has not yet appeared" (1 John 3:2
). In fact, earth is simply a dress rehearsal for the great world to come. All the pain and toil here is temporary. Poverty isn't permanent. Illness is transient. For followers of Jesus, death is but a door to all that is far better. As we read in Revelation, there shall be no sorrow, no more crying, no more death, and he shall wipe away every tear (Revelation 21:4
).
Aiming at heaven also involves keeping Jesus in our sights. Looking forward to the day when "we shall see Him as He is" fills us with hope—not a worldly, wish-list kind of hope, but a hope that reflects the certainty of what is to come. It's the kind of hope that keeps us from distractions and rivets our attention on what really matters in the long run; the kind of hope that purifies us.
Maybe you've never thought of it like this before, but one of the strongest motivations for purity is connected to the return of Jesus. Because, let's face it, there are some places we just wouldn't want to be when He comes back. We might hope He doesn't examine the places the Internet has taken us, or that He doesn't see our attitudes toward others. If we really believed that today might be our last, we might finally be ready to forgive, to ask for forgiveness, or maybe even to share the love of Jesus with someone.
So, how about it? Let's stop aiming at earth and turn our hearts toward heaven!
Elixir of Life
From: Our Daily Journey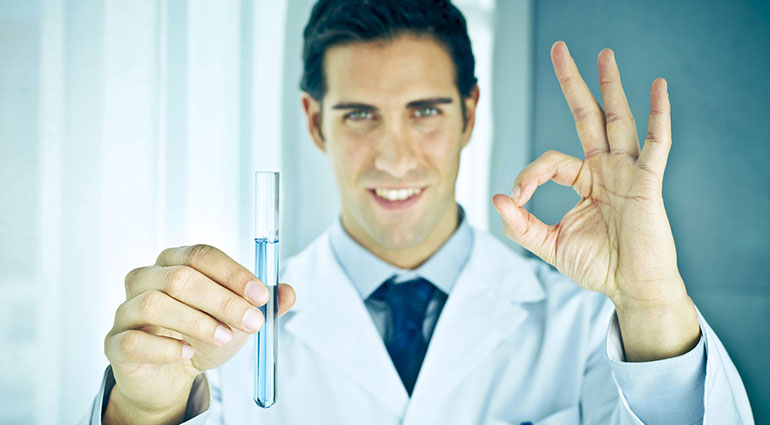 Read:
John 4:3-15
Those who drink the water I give will never be thirsty again. It becomes a fresh, bubbling spring within them, giving them eternal life (John 4:14).
The elixir of life is a mythical potion that enables those who drink it to live forever. Russian scientists claim to have made a breakthrough in developing an "elixir of life" after discovering bacteria that survived from ancient times in Siberian permafrost. They injected the bacteria into themselves, and claim they no longer get the flu and feel much more healthy and alive.
Designed to live in the paradise God provided, Adam and Eve were permitted by Him to eat from almost every tree in Eden, including the tree of eternal life (Genesis 2:8,16-17). But they willfully ate from the fruit of the one tree they were to avoid (Genesis 2:17, 3:1-7). Because God didn't want them "to live forever" in their rebellious sinful state, He lovingly prevented them from eating from the tree of life. And all human beings from that time forward were banished from dwelling with Him (Genesis 3:22-24).
The good news is that God still desires that we be with Him. And "by the blood of Christ" (Ephesians 2:13-14), we can live with Him forever (Revelation 21:3). "Anyone who believes [in Jesus] has eternal life" (John 6:47).
Eternal life isn't simply endless existence. It's quality of life: the adventure of "[knowing] the only true God, and Jesus Christ" (John 17:3). It's not simply about future existence, but also something we enjoy today (John 5:39; John 6:47-51; Revelation 22:14). The Jewish idea of knowing someone was all about real relationship and complete intimacy (Jeremiah 31:33-34; 1 John 5:20). That's what we can experience—a life of knowing, loving, and obeying God, both now and forever.
Jesus offers the elixir of life to all who will drink it (John 4:10). Come, drink, and enjoy eternal life with Him! (John 4:14).
How Could Someone So Persecute Jesus!
From: Utmost.org
Are you determined to have your own way in living for God? We will never be free from this trap until we are brought into the experience of the baptism of "the Holy Spirit and fire" (Matthew 3:11). Stubbornness and self-will will always stab Jesus Christ. It may hurt no one else, but it wounds His Spirit. Whenever we are obstinate and self-willed and set on our own ambitions, we are hurting Jesus. Every time we stand on our own rights and insist that this is what we intend to do, we are persecuting Him. Whenever we rely on self-respect, we systematically disturb and grieve His Spirit. And when we finally understand that it is Jesus we have been persecuting all this time, it is the most crushing revelation ever.
Is the Word of God tremendously penetrating and sharp in me as I hand it on to you, or does my life betray the things I profess to teach? I may teach sanctification and yet exhibit the spirit of Satan, the very spirit that persecutes Jesus Christ. The Spirit of Jesus is conscious of only one thing— a perfect oneness with the Father. And He tells us, "Take My yoke upon you and learn from Me, for I am gentle and lowly in heart, and you will find rest for your souls" (Matthew 11:29). All I do should be based on a perfect oneness with Him, not on a self-willed determination to be godly. This will mean that others may use me, go around me, or completely ignore me, but if I will submit to it for His sake, I will prevent Jesus Christ from being persecuted.