Like the faithful ambulance, God comes to our rescue. God is faithful and true. He is full of love and compassion.
Life and Death
From: Our Daily Bread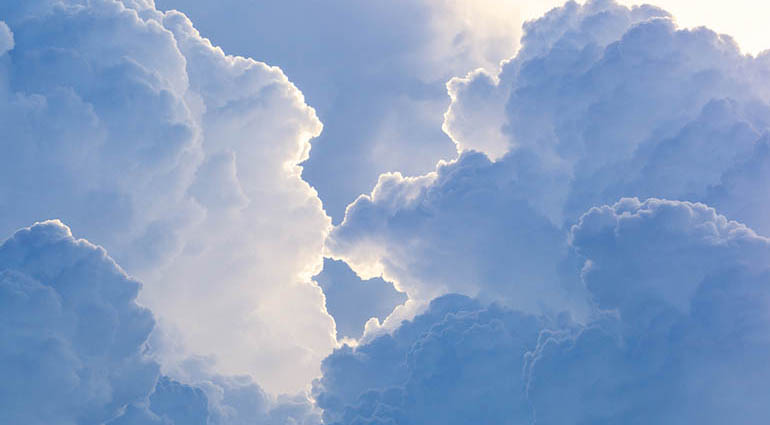 I am about to die. But God will surely come to your aid. Genesis 50:24
I will never forget sitting at the bedside of my friend's brother when he died; the scene was one of the ordinary visited by the extraordinary. Three of us were talking quietly when we realized that Richard's breathing was becoming more labored. We gathered around him, watching, waiting, and praying. When he took his last breath, it felt like a holy moment; the presence of God enveloped us in the midst of our tears over a wonderful man dying in his forties.
Many of the heroes of our faith experienced God's faithfulness when they died. For instance, Jacob announced he would soon be "gathered to [his] people" (Gen. 49:29–33). Jacob's son Joseph also announced his impending death: "I am about to die," he said to his brothers while instructing them how to hold firm in their faith. He seems to be at peace, yet eager that his brothers trust the Lord (50:24).
None of us knows when or how we will breathe our last breath, but we can ask God to help us trust that He will be with us. We can believe the promise that Jesus will prepare a place for us in His Father's house (John 14:2–3).
Lord God, Your dwelling place will be with Your people, and You will be our God, wiping away our tears and banishing death. May it be so!
The Lord will never abandon us, especially at the time of our death.
March 30, 2017


Her Success Doesn't Threaten Mine
LYSA TERKEURST

From: Crosswalk.com
"These were his instructions to them: 'The harvest is great, but the workers are few. So pray to the Lord who is in charge of the harvest; ask him to send more workers into his fields.'" Luke 10:2 (NLT)
Have you ever wondered if there's any need for you and the dreams tucked in your heart, when there are already so many successful people out there in the world?
I totally understand.
Several years ago, I remember pouring out all the best words I had through a pixelated letters-turned-pages-turned-book proposal. I tucked my heart and dreams into a purple Office Max binder and hoped for the best.
That summer, I gave my proposal to several acquisitions editors. For months after sending out my proposal, I would dream about the day some publishing house would say yes.
I can't tell you the number of afternoons I'd stand at my mailbox, holding my breath, praying there would be good news inside. When the rejection letters started coming, I tried to keep up the hope that surely there would be one positive answer. I just needed one publisher to say yes.
Soon, I'd received a "no" answer from all but one. And when I got that final rejection, I felt so foolish for thinking I could actually write a book. My dream was nothing but a sham. I had no writing skills. And I must have heard God all wrong.
At the same time, I had other writer friends who were getting different letters from the publishers.
Amazing letters.
Dreams-come-true letters.
Letters that turned into book contracts.
In my better moments, I did the right thing and authentically celebrated with them. But then there were other moments. Hard moments.
Moments where I felt my friends' lives were rushing past me in a flurry of met goals, new opportunities and affirmations of their callings from God. It seemed the world was literally passing me by. And in those moments I said on the outside, "Good for them."
But on the inside, I just kept thinking, Ouch … that means less and less opportunity for me. The raw essence of honest hurting rarely produces pretty thoughts.
I wrestled and I processed.
And I decided to get still. Refusing to believe I'd been left out and left behind. And starving my scarcity thinking.
Those times of being still are good and necessary when your thinking needs to be swept all into one pile. Then it's much easier to identify treasures to keep, from the trash that should be tossed.
Then I could see new and life-giving realities. Her success does not threaten yours, nor mine. When she does well, we all do well. All tides rise when we see a sister making this world a better place with her gifts.
When I finally started believing this, my stillness turned into readiness. And that was 20 published books ago.
This is what Jesus reminds us: "The harvest is great, but the workers are few. So pray to the Lord who is in charge of the harvest; ask him to send more workers into his fields" (Luke 10:2b).
And this is where we have a choice to make today.
We can look out and see the unlimited, abundant opportunities God has placed before us. To create. To write. To serve. To sing. To be and become.
Or we can stare at another person's opportunity and get entangled in the enemy's lie that everything is scarce. Scarce opportunities. Scarce supply. Scarce possibilities. And we start seeing another person's creations as a threat to our own opportunities.
Oh, sweet sister, there is an abundant need in this world for your contributions to the Kingdom … your thoughts and words and artistic expressions … your exact brand of beautiful.
Know it. Believe it. Live it.
Lord, thank You for reminding me how You created me on purpose and with purpose. I don't have to live this life feeling threatened by the success of others. Today, I'm asking You to bless the women around me doing what I long to do. Stir even more hearts with a deep passion to make You known. And continue to settle my heart with the truth that this world really does need my exact brand of beautiful. In Jesus' Name, Amen.
Connecting the Dots
From: Our Daily Journey
Read:
Joshua 3:14-17
Meanwhile, the priests who were carrying the Ark of the Lord's Covenant stood on dry ground in the middle of the riverbed as the people passed by (Joshua 3:17).
In the 1850s, cholera was a global scourge capable of devastating entire cities. When a particularly terrible outbreak hit the Soho neighborhood of London, Dr. John Snow realized that the outbreak centered around a certain water pump. Snow then noticed that rather than this being an isolated case, the fiercest outbreaks always seemed to focus around these water sources. By connecting the outbreaks to infected pumps, Dr. Snow was able to establish that cholera was spread by contaminated water—a landmark step towards eradicating its terrible effects.
Connecting the dots resulted in something good by helping to thwart a disease. We can also connect the dots to see the work of our good God.
As the Israelites crossed the Jordan River into the Promised Land, they could have perceived it as an extraordinary but isolated miracle—a one-time example of God's intervention (Joshua 3:17). But as they passed through the water, they surely were reminded of their earlier crossing through the Red Sea (Exodus 14:21-22). God's providence could no longer be seen as an isolated occurrence but part of a long history of faithfulness. And after they passed through, they erected a monument of twelve stones as a reminder of that faithfulness (Joshua 4:19-23).
Often I perceive God's work in my life as nothing more than isolated and disconnected occurrences—random situations where things work out in a way I could have never imagined. But as with the Israelites, this isn't the case at all. God's faithfulness in my present is connected to all the moments of His faithfulness in my past. And connecting these experiences, one to another, helps remind me that God isn't just faithful in the here and now. He can be trusted to be faithful in the future and forever!