In every thing give thanks, for this is the will of God in Christ Jesus concerning you.
Be filled with the Spirit; speaking one to another in psalms and hymns and spiritual songs, singing and making melody with your heart to the Lord; giving thanks always for all things in the name of our Lord Jesus Christ to God, even the Father.
Give thanks to the God of heaven,
  For His lovingkindness (graciousness, mercy, compassion) endures forever.
Thanks Journal
From: Our Daily Bread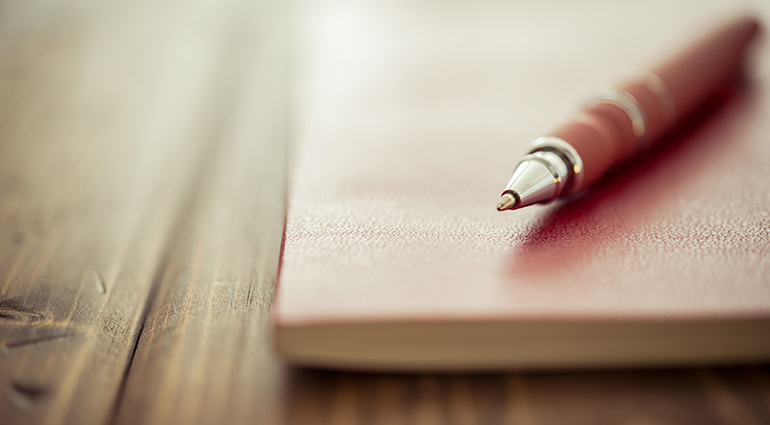 Praise the Lord, all you nations; extol him, all you peoples. Psalm 117:1
When I was a new believer in Jesus, a spiritual mentor encouraged me to keep a thanks journal. It was a little booklet I carried with me everywhere I went. Sometimes I would record a thanksgiving right away. Other times, I would pen it at the end of the week during a time of reflection.
Taking note of praise items is a good habit—one I'm considering re-establishing in my life. It would help me to be mindful of God's presence and grateful for His provision and care.
In the shortest of all the psalms, Psalm 117, the writer encourages everyone to praise the Lord because "great is his love toward us" (v. 2).
Think about it: How has the Lord shown His love toward you today, this week, this month, and this year? Don't just look for the spectacular. His love is seen in the ordinary, everyday circumstances of life. Then consider how He has shown His love toward your family, your church, and to others. Let your mind soak up the extent of His love for all of us.
The psalmist added that "the faithfulness of the Lord endures forever" (v. 2 emphasis added). In other words, He will continue to love us! So we will continue to have many things to praise God for in the coming days. As His dearly loved children, may praising and thanking God characterize our lives!
Father, if we were to record all of Your blessings, we could not complete the task in a lifetime. But we can pause this moment to say a simple "Thank You" for Your faithfulness and goodness.
Remember to thank God for the ordinary as well as the extraordinary.
A New Day
From: Our Daily Journey
Read:
Jeremiah 31:31-34
I will put my instructions deep within them, and I will write them on their hearts. I will be their God, and they will be my people (Jeremiah 31:33).
It was a cold December when my father's health began to dramatically fail. The joy of Christmas was a bit muted. Two weeks later on his ninetieth birthday, my dad went to be with his Savior. There were tears of grief, but there was also joy. My father had been set free from the ravages of disease. And when he took his last breath, he enjoyed a truly new day in Jesus' presence!
As we celebrate Advent and the mystery of Christ coming to earth, we see a shadow—the shadow of the cross—amid the joy and light of the season. We recognize that Jesus' birth was part of God's plan that would ultimately lead to His death. And Jeremiah's prophecy several hundred years before (Jeremiah 31:31-34) pointed to a new covenant that God would establish through Christ.
During days of destruction for Judah, Jeremiah prophesied a time when God would "make a new covenant with [His] people" (Jeremiah 31:31) and—ultimately—all those who would one day believe in Jesus. This new covenant would resolve the problem of human sinfulness by not only "[forgiving] their wickedness" and forgetting their sin (Jeremiah 31:34), but actually placing God's "instructions deep within them" and writing "them on their hearts" (Jeremiah 31:33).
As the writer of Hebrews declares, this is possible because Jesus was "given a ministry that is far superior to the old priesthood" (Hebrews 8:6). Although the priesthood graciously revealed God to His people, through the coming of Jesus we're transformed by the Holy Spirit indwelling us and working within us when we receive Christ as Savior (Romans 7:6).
Because of the new covenant, we can experience joy in the midst of pain and sorrow—for Jesus by His Spirit is within us and our future with Him is secure!
Pummeled by the Waves
By: Jennifer Slattery, author
Do you ever feel like you're struggling to keep your head above water? Like you're lost at sea, surrounded by fog and never-ending waves? Perhaps you've become so exhausted, you've begun to wonder if you'll remain lost at sea forever.
Often, when I face a rough period, I'm reminded of my first open water swim. The water was cold and somehow the 500 meters across the lake seemed double to the 20-lap equivalent in the pool. There weren't any clearly marked lines painted along the bottom. Only a blur of feet pelting me in the head and face and the occasional buoy shrouded in fog.
As wave after wave swept over me, filling my nose and mouth with murky lake water, it felt like I was fighting a losing battle. For every exhausting stroke forward, the current seemed to take me two strokes back. The harder the current pulled, the harder I kicked. Before long, my tense muscles killed my buoyancy. My legs sank, throwing my entire body off alignment for about two minutes. Then, muscle memory kicked in and my body relaxed, allowing me to follow the gentle ebb and flow of the current.
The result? The minute I quit fighting and striving and pounding the water, I started to relax. And a relaxed body floats much better than a tense one. Before long, I fell into a nice, smooth rhythm that carried me to shore.
I think the same holds true for our spiritual life as. We'll hear God's call. Maybe it's to start a new Sunday school class or join a ministry, or maybe it's to go back to school after 10, 20, or 30 years out … and all we can see are the crashing waves, threatening to hold us back.
We begin to sink under a torrent of to-do lists and expectations, forgetting that the God who told us to jump in is ready and able to carry us to the shore. The waves don't surprise Him; the fog doesn't daunt Him. He knows which way the wind is blowing, which way the waves will crash, and which currents will carry us the farthest. In fact, He's got our entire journey mapped out and has assumed full responsibility to get us there.
"Then he said to me, "This is the word of the LORD to Zerubbabel: Not by might, nor by power, but by my Spirit, says the LORD of hosts" Zechariah 4:6 (ESV).
It is our choice, then, how we will respond. We can relax, surrendering to God in whatever direction He carries us, knowing that He will not let us drown. Or we can pummel against the waves, beating ourselves into a frenzy of exhaustion as we fight against the current.
Are you tired today? Feeling discouraged? Pause to meditate on the words of your Savior:
"Come to me, all you who are weary and burdened, and I will give you rest." Matthew 11:28 (NIV).
Jesus knows exactly what you are facing and how hard it is. He's got a plan and the power to carry out. Trust in Him, and wait for Him. He won't abandon you nor close His ears to your pleas.