"Come now, and let us reason together," saith the 

Lord

. "Though your sins be as scarlet, they shall be as white as snow; though they be red like crimson, they shall be as wool.     Isaiah 1:18
White as Snow
From: Our Daily Bread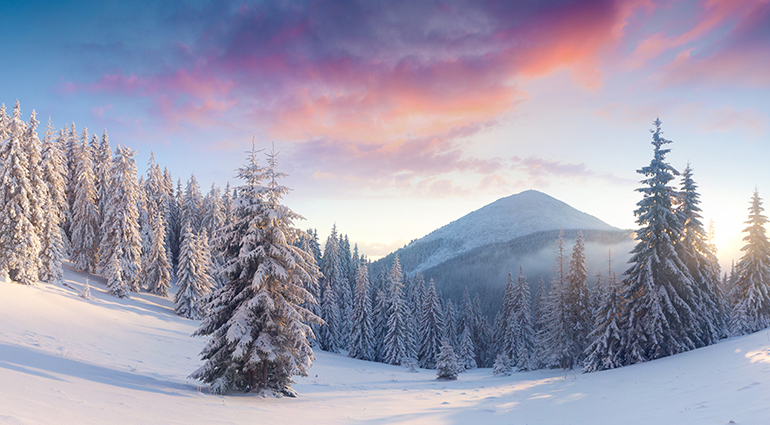 Though yours sins are like scarlet, they shall be as white as snow. Isaiah 1:18
Last December, my family and I went to the mountains. We had lived in a tropical climate all our lives, so it was the first time we could see snow in all its magnificence. As we contemplated the white mantle covering the fields, my husband quoted Isaiah, "Though your sins are like scarlet, they shall be as white as snow" (Isaiah 1:18).
After asking about the meaning of scarlet, our three-year-old daughter asked, "Is the color red bad?" She knows sins are things God dislikes, but this verse is not talking about colors. The prophet was describing the bright red dye obtained from the eggs of a small insect. Clothes would be double-dyed in this bright red so the color became fixed. Neither rain nor washing would remove it. Sin is like that. No human effort can take it away. It's rooted in the heart.
Only God can cleanse a heart from sin. And as we looked at the mountains, we admired the pure whiteness that scrubbing and bleaching a piece of cloth dyed in scarlet red can't achieve. When we follow Peter's teaching, "Repent, then, and turn to God, so that your sins may be wiped out" (Acts 3:19), God forgives us and gives us a new life. Only through Jesus's sacrifice can we receive what no one else can give—a pure heart. What a wonderful gift!
Father, thank You for forgiving our sins and wiping them clean.
When God forgives, He purifies us too.
Creation Awakes
From: Our Daily Journey
Read:
Romans 8:18-25
The creation looks forward to the day when it will join God's children in glorious freedom from death and decay (Romans 8:21).
Finlandia, composed in 1899, possessed the original title Finland Awakes. Sibelius' brilliant masterpiece was part of the cultural resistance of Finland's aggressive neighbor to the east. The symphonic poem begins ominously as brass and percussion swell to a raucous din. But sixty seconds into the clamor, the music softens to an elegant, peaceful beauty—harbinger of a better future for the nation. Finland would indeed awaken.
There are portions of the Bible that seem ominous too. They tell the unvarnished truth of our unhappy human history. But throughout the grand story of Scripture, we hear the unmistakable, hope-filled tones of redemption.
At the beginning of human history, an aggressive invader sought to sabotage God's masterpiece. Coming to Eve in the garden of Eden, the serpent put doubts in her mind about God's goodness and trustworthiness. Adam and Eve took the bait (see Genesis 3:1-7), and God announced a curse on His good creation: "The ground is cursed because of you" (Genesis 3:17).
The devil thought he'd succeeded in rewriting God's story with a chaotic ending. But God was already orchestrating a plot twist our enemy hadn't dreamed of. The apostle Paul wrote, "God . . . sent his own Son in a body like the bodies we sinners have. And in that body God declared an end to sin's control over us by giving his Son as a sacrifice for our sins" (Romans 8:3). He added, "Against its will, all creation was subjected to God's curse. But with eager hope, the creation looks forward to the day when it will join God's children in glorious freedom from death and decay" (Romans 8:20-21).
Jesus makes our glorious future possible. Because of Him, all creation awakes.
He giveth quietness (Job 34:29).
Quietness amid the dash of the storm. We sail the lake with Him still; and as we reach its middle waters, far from land, under midnight skies, suddenly a great storm sweeps down. Earth and hell seem arrayed against us, and each billow threatens to overwhelm. Then He arises from His sleep, and rebukes the winds and the waves; His hand waves benediction and repose over the rage of the tempestuous elements. His voice is heard above the scream of the wind in the cordage and the conflict of the billows, "Peace, be still!" Can you not hear it? And there is instantly a great calm. "He giveth quietness." Quietness amid the loss of inward consolations. He sometimes withdraws these, because we make too much of them. We are tempted to look at our joy, our ecstasies, our transports, or our visions, with too great complacency. Then love for love's sake, withdraws them. But, by His grace, He leads us to distinguish between them and Himself. He draws nigh, and whispers the assurance of His presence. Thus an infinite calm comes to keep our heart and mind. "He giveth quietness."
"He giveth quietness." O Elder Brother,
Whose homeless feet have pressed our path of pain,
Whose hands have borne the burden of our sorrow,
That in our losses we might find our gain.
Of all Thy gifts and infinite consolings,
I ask but this: in every troubled hour
To hear Thy voice through all the tumults stealing,
And rest serene beneath its tranquil power.
Cares cannot fret me if my soul be dwelling
In the still air of faith's untroubled day;
Grief cannot shake me if I walk beside thee,
My hand in Thine along the darkening way.
Content to know there comes a radiant morning
When from all shadows I shall find release,
Serene to wait the rapture of its dawning–
Who can make trouble when Thou sendest peace?