Psalm 147:3 
"He heals the brokenhearted and binds up their wounds."
Isaiah 40:1 
"'Comfort, yes, comfort My people!' says your God."
Matthew 5:4 
"Blessed are those who mourn, for they shall be comforted."
Matthew 11:28 
"Come to Me, all you who labor and are heavy laden, and I will give you rest."
When you feel you can't pray remember that God knows your heart and mind. He knows how you are hurting and is helping already.
The Day I Couldn't Pray
From: Our Daily Bread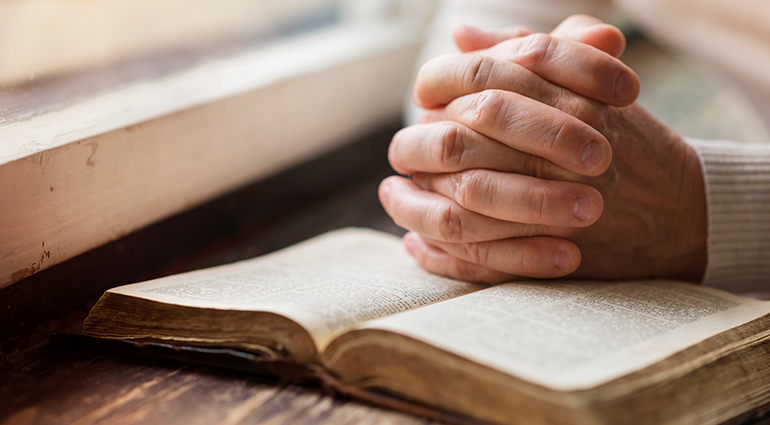 The Spirit himself intercedes for us through wordless groans. Romans 8:26
In November 2015, I learned I needed open-heart surgery. Surprised and a little shaken, I was naturally drawn to think about the possibility of death. Were there relationships I needed to mend? Were there financial matters I needed to attend to for my family? Was there work that could be done ahead of time? And what about work that couldn't wait; who should I hand that off to? It was a time to both act and pray.
Except I couldn't do either.
My body was so weary and my mind so fatigued that even the simplest of tasks seemed beyond my strength. Perhaps most surprising, when I tried to pray, my thoughts would drift to the discomfort, or the shallow breathing caused by the damaged heart made me fall asleep. It was frustrating. I couldn't work and I couldn't even ask God to let me live so I could spend more time with my family!
The inability to pray troubled me most. But as with all other human needs, the Creator knew this was happening to me. I would eventually recall He made two preparations for such occurrences: the prayer of the Spirit for us when we can't pray (Rom. 8:26), and the prayer of others on our behalf (James 5:16; Gal. 6:2).
What a comfort it was to know that the Holy Spirit was even then raising my concerns before the Father. What a gift also to hear from friends and family as they prayed for me. Then came another surprise: As my friends and family asked me what to pray for, it became clear that my answers to them were also being heard by God as prayers. What a gift it is in a time of uncertainty to be reminded God hears our heart even when we think we can't call out to Him.
God never leaves the voices of His children unheard.
September 28, 2017


When God Isn't Answering Our Prayers
LYSA TERKEURSTFrom: Crosswalk.com
"From the ends of the earth I call to you, I call as my heart grows faint; lead me to the rock that is higher than I." Psalm 61:2 (NIV)
When God doesn't seem to be answering our prayers it can be hard. Sometimes, downright awful.
One minute I'm determined to trust God.
In the next, I feel myself slipping. The "why" questions tumble in so hard. My heart hurts. My eyes leak.
Ever been there?
I don't want to oversimplify what to do in these times. I know from prayer requests I've received over the years many of us are facing really tough issues. Situations where the answers aren't easy or clear cut.
But I have discovered a few things that help me when God seems silent …
* Press in to God when you want to pull away.
When I really want to hear from God but He seems silent, I sometimes find I want to disengage from my normal spiritual activities. Skip church. Put my Bible on my shelf. And let more and more time lapse between prayers.
But our key verse, Psalm 61:2, reminds us that the best thing we can do when our hearts are growing faint is to call out to God, not pull away from Him: "From the ends of the earth I call to you, I call as my heart grows faint; lead me to the rock that is higher than I."
The Bible also promises we will find God if we seek Him with all our heart. Jeremiah 29:13 says, "You will seek me and find me when you seek me with all your heart" (NIV). All my heart includes the parts that are broken. Bring it all to God.
He can handle your honesty and will respond. But we have to position ourselves to go where truth is. Go to church. Listen to praise music. Read verses. Memorize verses. And keep talking to God.
* Praise God out loud when you want to get lost in complaints.
In the midst of what you're facing, find simple things for which to praise God. I don't mean thank Him for the hard stuff. I mean thank Him for the other simple, good things still in the midst. A child's laugh. A bush that blooms. The warmth of a blanket. The gift of this breath and then the next.
Psalm 40:3 reminds me God will give me a new song when I make praise the habit of my heart and mouth: "He put a new song in my mouth, a hymn of praise to our God. Many will see and fear the LORD and put their trust in him" (NIV).
* Put yourself in the company of truth.
That friend who speaks truth? Listen to her. Stay connected to her. Let her speak truth into your life, even when you're tired of hearing it. Stand in the shadow of her faith when you feel your own faith is weak. Let her lead you back to God time and time again.Proverbs 12:26a reminds us: "One who is righteous is a guide to his neighbor …" (ESV).
It's okay to feel hurt and confused. Our God is big enough to handle our honest feelings. But don't let your feelings lead you away from God or away from His truth. Press into Him. Praise Him. And put yourself in the company of truth.
As you stay with God in these ways, you'll become ready to receive His answer when it comes.
Dear Lord, thank You for hearing every "why" my heart sends up to You. Forgive me when I retreat from You and Your Word. I want to trust You more. In Jesus' Name, Amen.
Perfect Plans
From: Our Daily Journey
Read:
Isaiah 45:1-13
So all the world from east to west will know there is no other God. I am the Lord, and there is no other (Isaiah 45:6).
The rejection letter I received from the university's registrar sent me spiraling into shock and disbelief. In the midst of my sadness and confusion, I was grateful that one of my cousins had encouraged me to apply to another school. Fortunately, I was accepted by that university. While I didn't understand why I was unable to attend my dream school, I recognized that God wasn't surprised. He knew everything about my situation and had my best in mind.
Years before the birth of King Cyrus, the prophet Isaiah declared, "This is what the Lord says to Cyrus, his anointed one . . . . I will go before you . . . and level the mountains. . . . I will do this so you may know that I am the Lord, the God of Israel, the one who calls you by name. And why have I called you for this work? Why did I call you by name when you did not know me? It is for the sake of Jacob my servant, Israel my chosen one" (Isaiah 45:1-4).
Since God had declared that He was "the God of Israel" (Isaiah 45:3), His actions through a foreign king may have seemed unusual. Even more surprising would have been the idea that God was using this foreign power to bring about something good for His chosen people. Yet God dispels any doubts with this unequivocal declaration, "I am the Lord; there is no other God. I have equipped you for battle, though you don't even know me, so all the world from east to west will know there is no other God" (Isaiah 45:5-6).
The university I attended ending up providing me with connections that laid a solid foundation for my career. What made no sense to me at the time became a shining example of God working out His purposes for my good and His glory. We can rest in His perfect plans.