Of Spiders and God's Presence
From: Our Daily Bread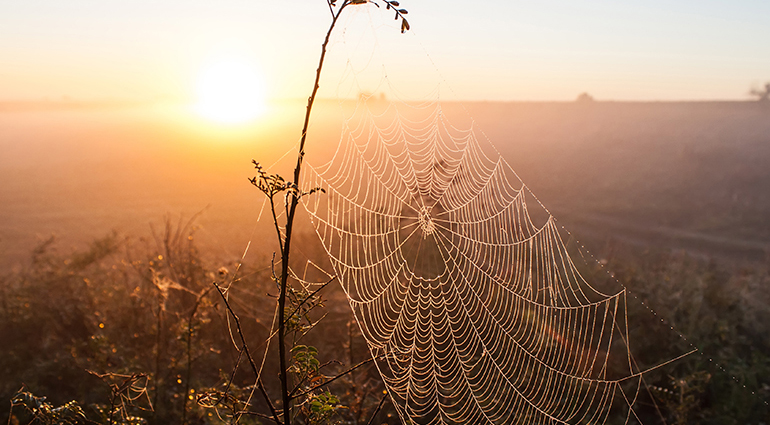 I pray that out of his glorious riches he may strengthen you with power through his Spirit in your inner being. Ephesians 3:16
Spiders. I don't know any kid who likes them. At least not in their rooms . . . at bedtime. But as she was getting ready for bed, my daughter spied one dangerously close to her bed. "Daaaad!!!!! Spiiiderrr!!!!!" she hollered. Despite my determination, I couldn't find the eight-legged interloper. "He's not going to hurt you," I reassured her. She wasn't convinced. It wasn't until I told her I'd stay next to her top bunk and stand guard that she agreed to get in bed.
As my daughter settled in, I held her hand. I told her, "I love you so much. I'm right here. But you know what? God loves you even more than Daddy and Mommy. And He's very close. You can always pray to Him when you're scared." That seemed to comfort her, and peaceful sleep came quickly.
Scripture repeatedly reassures us God is always near (Psalm 145:18; Romans 8:38–39; James 4:7–8), but sometimes we struggle to believe it. Perhaps that's why Paul prayed for the believers in Ephesus to have strength and power to grasp that truth (Ephesians 3:16). He knew that when we're frightened, we can lose track of God's proximity. But just as I lovingly held my daughter as she went to sleep that night, so our loving heavenly Father is always as close to us as a prayer.
Lord, thank You for always being close by. Please give us strength and power in our hearts to remember You are near, You love us deeply, and we can always call out to You.
God is always near in spite of our fears.
The Waiting Game
From: Our Daily Journey
Read:
James 5:1-11
Be patient as you wait for the Lord's return. Consider the farmers who patiently wait for the rains in the fall and in the spring. They eagerly look for the valuable harvest to ripen (James 5:7).
A man from the Netherlands fell for a Chinese woman he met online. Impatient to meet her, he booked a flight and flew 5,000 miles for a visit. He'd sent her his itinerary, but when he arrived at the airport, she wasn't there. The man, however, was so determined that he waited for her at the airport in China for ten days! Definitely a patient guy, though his faith in his love interest may have been misplaced.
When James encouraged his readers to be patient, he offered them a certain foundation for their patience and hope—Jesus' return, the next big event in God's story (James 5:7-8). He knew the hope of Christ's return would encourage them as they endured hardship and suffering. As they waited, James urged them to practice self-restraint and not retaliate after being wronged. He wrote, "Don't grumble about each other, brothers and sisters, or you will be judged" (James 5:9).
When they endured times of struggle, James said they should follow the example of farmers. A farmer in James' day had to wait patiently for the early and late rains that were crucial for their agriculture (James 5:7). Like the farmer waiting for the harvest, these believers were to be patient under oppression until Jesus came back (James 5:8). When He returned, He would right every wrong.
Every generation of believers lives in the eager anticipation of Jesus' return. As we wait for Him, we're to be watchful and ready (Matthew 24:41-42), be faithful stewards eagerly expecting His return (Matthew 25:14-30; 1 Corinthians 1:7), exercise wisdom (Proverbs 19:11), and live as God's holy people by His power (Colossians 3:12). May Jesus provide what you need to patiently wait for Him today!
If what we call love doesn't take us beyond ourselves, it is not really love. If we have the idea that love is characterized as cautious, wise, sensible, shrewd, and never taken to extremes, we have missed the true meaning. This may describe affection and it may bring us a warm feeling, but it is not a true and accurate description of love.
Have you ever been driven to do something for God not because you felt that it was useful or your duty to do so, or that there was anything in it for you, but simply because you love Him? Have you ever realized that you can give things to God that are of value to Him? Or are you just sitting around daydreaming about the greatness of His redemption, while neglecting all the things you could be doing for Him? I'm not referring to works which could be regarded as divine and miraculous, but ordinary, simple human things— things which would be evidence to God that you are totally surrendered to Him. Have you ever created what Mary of Bethany created in the heart of the Lord Jesus? "She has done a good work for Me."
There are times when it seems as if God watches to see if we will give Him even small gifts of surrender, just to show how genuine our love is for Him. To be surrendered to God is of more value than our personal holiness. Concern over our personal holiness causes us to focus our eyes on ourselves, and we become overly concerned about the way we walk and talk and look, out of fear of offending God. "…but perfect love casts out fear…" once we are surrendered to God (1 John 4:18). We should quit asking ourselves, "Am I of any use?" and accept the truth that we really are not of much use to Him. The issue is never of being of use, but of being of value to God Himself. Once we are totally surrendered to God, He will work through us all the time.