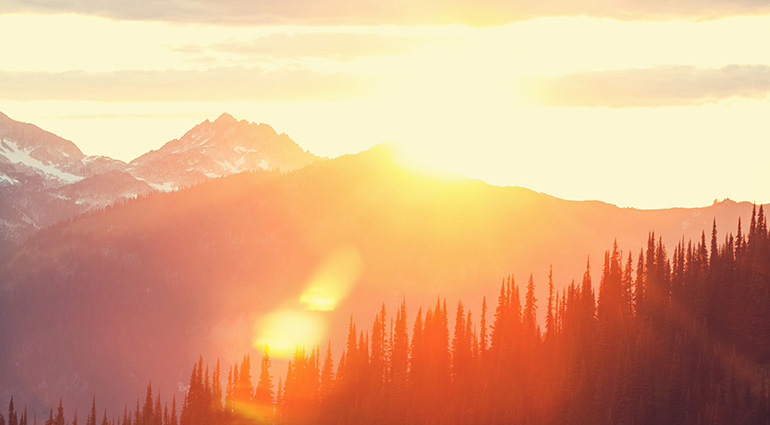 The Lord, the Lord, the compassionate and gracious God, slow to anger, abounding in love and faithfulness. Exodus 34:6
When I studied Greek and Roman mythology in college, I was struck by how moody and easily angered the mythological gods were in the stories. The people on the receiving end of their anger found their lives destroyed, sometimes on a whim.
I was quick to scoff, wondering how anyone could believe in gods like that. But then I asked myself, Is my view of the God who actually exists much different? Don't I view Him as easily angered whenever I doubt Him? Sadly, yes.
That's why I appreciate Moses's request of God to "show me your glory" (Exodus 33:18). Having been chosen to lead a large group of people who often grumbled against him, Moses wanted to know that God would indeed help him with this great task. Moses's request was rewarded by a demonstration of God's glory. God announced to Moses His name and characteristics. He is "the compassionate and gracious God, slow to anger, abounding in love and faithfulness" (34:6).
This verse reminded me that God is not impulsive, suddenly striking out in anger. That's reassuring, especially when I consider the times I've lashed out at Him in anger or impatience. Also, He continually works to make me more like Himself.
We can see God and His glory in His patience with us, the encouraging word of a friend, a beautiful sunset, or—best of all—the whisper of the Holy Spirit inside of us.
Father God, I'm grateful that You are always compassionate, forgiving, and faithful.
Though we often change, God never does.
Read:
Isaiah 65:17-19
Look! I am creating new heavens and a new earth, and no one will even think about the old ones anymore (Isaiah 65:17).
Those who were with Dallas Willard—philosopher, speaker, writer—when he died from pancreatic cancer in 2013, tell of the beauty and grace he demonstrated as he faced death. One of Dallas' friends recalls that he said, "I taught on the Great Cloud of Witnesses and now I'm experiencing it. I am in heaven's hallway and there is a large community coming for me. They are the most loving persons I've ever been around." His last words before entering eternal life were simply, "Thank you."
Willard's dignified death points to the comfort Jesus gave to His disciples when He said, "Don't let your hearts be troubled. Trust in God, and trust also in me. There is more than enough room in my Father's home" (John 14:1-2). Over and over in the Scriptures we're reminded that this life is not all there is—we await a fuller life with God. And the Bible tells us that one day God will establish a renewed heaven and earth. As Isaiah wrote, "Look! I am creating new heavens and a new earth" (Isaiah 65:17; see also Revelation 21:1).
Even while Jesus was hanging on the cross, His life ebbing away, He extended the invitation of eternal life with Him to a thief—writhing in agony on his own cross—who had trusted in Him (Luke 23:42-43). Yes, even while we mourn the sin, death, and destruction in this world, we rest in the truth that all things will be made new (Revelation 21:5).
With everything in me, I believe what the Bible reveals about the new heavens and new earth—and that God will be with us when we take our final breath in this life. Although we'll face pain and trouble in the days ahead, may we trust in Jesus to provide what we need to offer lives of gratitude to Him!
In all these things we are more than conquerors through him that loved us (Romans 8:37).
This is more than victory. This is a triumph so complete that we have not only escaped defeat and destruction, but we have destroyed our enemies and won a spoil so rich and valuable that we can thank God that the battle ever came. How can we be "more than conquerors"? We can get out of the conflict a spiritual discipline that will greatly strengthen our faith and establish our spiritual character. Temptation is necessary to settle and confirm us in the spiritual life. It is like the fire which burns in the colors of mineral painting, or like winds that cause the mighty cedars of the mountain to strike more deeply into the soil. Our spiritual conflicts are among our choicest blessings, and our great adversary is used to train us for his ultimate defeat. The ancient Phrygians had a legend that every time they conquered an enemy the victor absorbed the physical strength of his victim and added so much more to his own strength and valor. So temptation victoriously met doubles our spiritual strength and equipment. It is possible thus not only to defeat our enemy, but to capture him and make him fight in our ranks.
The prophet Isaiah speaks of flying on the shoulders of the Philistines (Isa. 11:14). These Philistines were their deadly foes, but the figure suggested that they would be enabled not only to conquer the Philistines, but to use them to carry the victors on their shoulders for further triumphs. Just as the wise sailor can use a head wind to carry him forward by tacking and taking advantage of its impelling force; so it is possible for us in our spiritual life through the victorious grace of God to turn to account the things that seem most unfriendly and unfavorable, and to be able to say continually, "The things that were against me have happened to the furtherance of the Gospel."
–Life More Abundantly
A noted scientist observing that "early voyagers fancied that the coral-building animals instinctively built up the great circles of the Atoll Islands to afford themselves protection in the inner parts," has disproved this fancy by showing that the insect builders can only live and thrive fronting the open ocean, and in the highly aerated foam of its resistless billows. So it has been commonly thought that protected ease is the most favorable condition of life, whereas all the noblest and strongest lives prove on the contrary that the endurance of hardship is the making of the men, and the factor that distinguishes between existence and vigorous vitality. Hardship makes character.
–Selected
"Now thanks be unto God Who always leads us forth to triumph with the Anointed One, and Who diffuses by us the fragrance of the knowledge of Him in every place" (2 Cor. 2:14, literal translation).