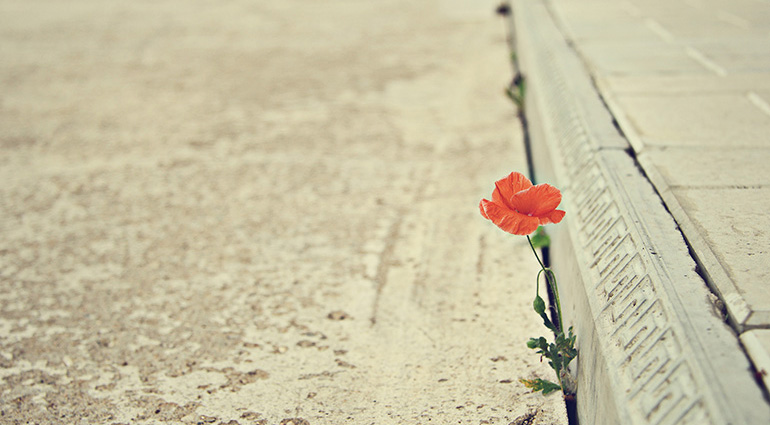 As I walked past an outside wall of the office building where I work, I was amazed to see a beautiful flower growing up through a crack between concrete slabs covering the ground. Despite its deprived circumstance, the plant had found a foothold, rooted itself in the dry crevice, and was flourishing. Later, I noticed that an air-conditioning unit located directly above the plant dropped water on it throughout the day. While its surroundings were hostile, the plant received the help it needed from the water above.
Growing in the Christian life can sometimes be difficult, but when we persevere with Christ, barriers are surmountable. Our circumstances may be unfavorable and discouragement may seem like an obstacle. Yet if we press on in our relationship with the Lord, we can flourish like that lone plant. This was the experience of the apostle Paul. Despite the severe hardships and challenges he faced (2 Corinthians 11:23–27), he wouldn't give up. "I . . . take hold of that for which Christ Jesus took hold of me," he wrote. "I press on toward the goal to win the prize" (Philippians 3:12, 14).
Paul realized he could do all things through the Lord who strengthened him (4:13), and so can we as we press on with the help of One who gives us strength.
This is a day that You have made, Father. Thank You that You'll be near me in whatever I face today.
God provides the strength we need to persevere and grow.
"You know the way to the place where I am going" John 14:4
The classic World War II movie The Longest Day portrays one of the clever military strategies of the German army. After the Allies had taken the beaches of Normandy on D-Day, their orders were to assemble in the town of St. Mere-Eglise in France. When they saw the sign for St. Mere-Eglise, naturally they proceeded in that direction. There was only one problem: The Germans had turned the sign to point in the opposite direction.
Unknowingly, the Allied forces confidently followed the sign and started marching toward the German trap. The hero of the Allied forces, played by John Wayne, showed up just in time to rescue them from certain destruction. One glance at his compass told him they were heading for disaster. "Hey, where's everybody going?" he shouted. "Am I the only one here with a compass? It's east; it's east. Somebody moved the sign!"
It's an old trick, but in our spiritual lives Satan continues to use it against us with great success. He turns the signs pointing to ultimate victory and a great final destiny toward the defeating attitudes of fear, despair, and hopelessness. Jesus, on the eve of His death, wanted to prepare His friends for the battle ahead. He knew that the disciples would be confused and disoriented by the enemy, so He lovingly assured them of victory and pointed them toward their final destination, heaven. He's done the same for us. He assures us that regardless of the forces that might come against us today, heaven is just ahead and the victory is ours!
Jesus won the victory on "D-Day" when He died on the cross for you! At that point it was His intention to set your heart on heaven. Keeping our eyes on heaven means that regardless of what we face, we know where we are headed. Heavenward travelers proceed with the confidence that all the difficulties of the journey are merely temporary and well worth the pain in light of the ultimate and eternal joy of our destination. But beware! Satan wants nothing more than to distract and disorient your heart. He craftily points the sign toward feelings of inadequacy and defeat. He masks the signs pointing to guilt and regret with slick invitations to seduction and compromise. In fact, many of his distractions claim that heaven is really the here and now if only you will engage in a little out-of-bounds pleasure or in living to increase your stacks of stuff. When we think we've got heaven here, the enemy has won the day. But it's not too late to get back on track. Jesus holds the compass, and He knows that to follow Satan's clever shifting of the sign is to walk right into the trap of Satan's destruction. He knows the territory well and is calling us to follow Him all the way to heaven—the ultimate destination of eternal fulfillment and joy!
Hear Him shouting to your heart: "Hey, you're going the wrong way! Follow me!"
Have you ever "gone out" in this way? If so, there is no logical answer possible when anyone asks you what you are doing. One of the most difficult questions to answer in Christian work is, "What do you expect to do?" You don't know what you are going to do. The only thing you know is that God knows what He is doing. Continually examine your attitude toward God to see if you are willing to "go out" in every area of your life, trusting in God entirely. It is this attitude that keeps you in constant wonder, because you don't know what God is going to do next. Each morning as you wake, there is a new opportunity to "go out," building your confidence in God. "…do not worry about your life…nor about the body…" (Luke 12:22). In other words, don't worry about the things that concerned you before you did "go out."
Have you been asking God what He is going to do? He will never tell you. God does not tell you what He is going to do— He reveals to you who He is. Do you believe in a miracle-working God, and will you "go out" in complete surrender to Him until you are not surprised one iota by anything He does?
Believe God is always the God you know Him to be when you are nearest to Him. Then think how unnecessary and disrespectful worry is! Let the attitude of your life be a continual willingness to "go out" in dependence upon God, and your life will have a sacred and inexpressible charm about it that is very satisfying to Jesus. You must learn to "go out" through your convictions, creeds, or experiences until you come to the point in your faith where there is nothing between yourself and God.