Simposious.com wishes everyone a Happy New Year
New Year's Day Holiday Devotional
"Undone"
Years and years of hard work… diligently putting it all together… piece by piece…
thinking all is well… progress is being made
but then you… come and scramble the whole picture…
leaving pieces scatter everywhere
you smile lovingly…as I sit in the middle of the mess… knowing that I don't know
knowing that I'm undone… and thinking to yours
now that's progress
This poem by Jim Branch was my life. I was sitting in the middle of the mess; the mess God allowed me to make, teaching me His will, not mine. "Just sit," He whispers; He was making me rest in my mess. And rest.
Finally, God told me my next move. Be bold, go deep. Yikes! God was finally willing to rebuild, but I had to obey, I had to go deep, get messy, and do hard work. My reward? Life more free and full, more than I could ever imagine. I could no longer remain hidden, my faults, messiness and shame were going to be flaunted for all to see. But now is time to obey, to continue walking through my wall and conquer.
"… now that's progress …" We build our castles, years of hard work. Then God allows the crumble, He allows the crumble so that we can again rely on Him and know that we are His Beloved. The past twelve weeks of the Women's Ministries Internship has been intense and full; I put in hard work, I dug deep and it got tough. But I was a warrior fighting for her Father's will, fighting to hear His voice. I was still, I was intentional, I was real. I finally knew that in spite of me, I am His. No longer is my life about following rules, doing the "right" things, earning merit, or being ashamed of my mess. I am His chosen, He fought for me! He guides me as I follow in joyful obedience; His saving grace has overpowered my sinful nature so that I can give myself to my Heavenly Father every day! My story is His story, and it has just begun!
So know this about our Great God: He loves you so much more than we can fathom. He has a purpose for you still, until His Kingdom come. Your mess, your shame, is His story. Fight through that wall, be a warrior for Christ!
Into Your hands Father, we commit to your Spirit, in spite of ourselves, to Your will. We are joyfully obedient, we are still and quiet to hear Your voice. We rest in You. Through our suffering we accept Your invitation to greater intimacy.
So, beloved children of God, sit back, get planted, take rest and live in the fullness of God. Know your story as part of His story; share that story, make community and be intimate with His people. Be open to His will, be aware of opportunities for depth; put in the work and don't look back, your life will be changed. I pray that we never stop yearning to feel His love and to know Him more deeply.
"Come to Me. Get away with Me and I'll recover your life. I'll show you how to take real rest…Keep company with Me and you'll learn to live freely and lightly." Matthew 11:25-30 MSG
Be restored and let's go deep together!
One Thing
Have you made a New Year's resolution? Or maybe you've given up on doing that! Perhaps in past years you've been through the cycle of optimism, trying hard, faltering, getting discouraged, and giving up.
Indeed, most people who make a New Year's Resolution have given up on their project by mid February. Many people discard the whole idea and say, "I don't make New Year's Resolutions!"
But there is another way to approach the start of a New Year: Pray for God to lead you in a "New Year's Renewal."
For a number of years I've been using the clean slate and fresh start of a New Year to make a New Year's Renewal. I pray about what the Lord wants to do in my life and how I can work with him to grow in that area.
My New Year's Renewals always boils down to one thing: More than anything I want to be the kind of person who lives for the one thing of being devoted to Christ with all my heart.
Each year God shows me a problem I need to overcome or something about how I live my daily life that needs to change so that I can get more centered on Christ as my One Thing.
My friend Howard Baker in his book, The One Thing, showed me that three of our Bible heroes inspire us to live with singular Devotion to the Lord:
• David: In the midst of his painful and frightening desert trials over about ten years in which he was horribly mistreated and nearly killed he prayed, "One thing I ask, this is what I seek: that I may dwell in the house of the Lord all the days of my life… My heart says of you, 'Seek his face!'" (Psalm 27:4, 8).

• Mary: She set aside her kitchen work to sit at Jesus' feet and listen to him and she received his affirmation: "There are many things that can be worried about, but only one thing is needed – it is the best thing – and Mary has chosen it!" (Luke 10:41-42, my paraphrase).

• Paul: He counted his many accomplishments and blessings as dung compared to the "surpassing greatness of knowing Christ" (Philippians 3:8). He expressed his life ambition, "One thing I do: Forgetting what is behind and straining toward what is ahead, I press on toward the goal to win the prize for which God has called me heavenward in Christ Jesus" (Philippians 3:13-14).
This year, more than ever, I want to seek the One Thing that is the best thing, to be more devoted to Christ, don't you? Of course you do or you wouldn't be reading this Devotion!
How do we grow to be devoted to Christ as our One Thing? How do we make real changes to how we live our daily lives as an expression of love for God? How do we overcome worry or anger? How do we learn to rejoice in trials? Pray without ceasing? Love difficult people? Not by trying hard! That won't last very long. Or it'll just make us proud!
The way to make a real character change – to learn, grow, or heal in any area – is by training. Look to Jesus as your Coach and "work out" with him. "Train yourself to be godly" Paul advises us (1 Timothy 4:7).
An important part of any spiritual training program is meditating on Scripture.
To meditate on Scripture is more than reading it. And its different than studying it. When you meditate on Scripture you pray through God's Word by applying it to the struggles and opportunities of your life. You become as a bee that stops on a flower and lingers, staying on the flower to suck out the nectar and using it to make sweet honey.
"Your word, O Lord, is sweeter than honey!" exclaims the Psalmist (Psalm 119:103, my paraphrase).
May you and I, day-by-day, discover more sweetness in Scripture and use it to live for the One Thing of loving God and loving others as he loves us.
Can God change your life?
God has made it possible for you to know Him and experience an amazing change in your own life. Discover how you can find peace with God.You can also send us your prayer requests or chat online with the CBN Prayer Team
Let Us Keep to the Point
From: Utmost.org
My Utmost for His Highest. "…my earnest expectation and hope that in nothing I shall be ashamed…." We will all feel very much ashamed if we do not yield to Jesus the areas of our lives He has asked us to yield to Him. It's as if Paul were saying, "My determined purpose is to be my utmost for His highest— my best for His glory." To reach that level of determination is a matter of the will, not of debate or of reasoning. It is absolute and irrevocable surrender of the will at that point. An undue amount of thought and consideration for ourselves is what keeps us from making that decision, although we cover it up with the pretense that it is others we are considering. When we think seriously about what it will cost others if we obey the call of Jesus, we tell God He doesn't know what our obedience will mean. Keep to the point— He does know. Shut out every other thought and keep yourself before God in this one thing only— my utmost for His highest. I am determined to be absolutely and entirely for Him and Him alone.
My Unstoppable Determination for His Holiness. "Whether it means life or death-it makes no difference!" (see Philippians 1:21). Paul was determined that nothing would stop him from doing exactly what God wanted. But before we choose to follow God's will, a crisis must develop in our lives. This happens because we tend to be unresponsive to God's gentler nudges. He brings us to the place where He asks us to be our utmost for Him and we begin to debate. He then providentially produces a crisis where we have to decide— for or against. That moment becomes a great crossroads in our lives. If a crisis has come to you on any front, surrender your will to Jesus absolutely and irrevocably.
Thanks-Living
From:  Our Daily Bread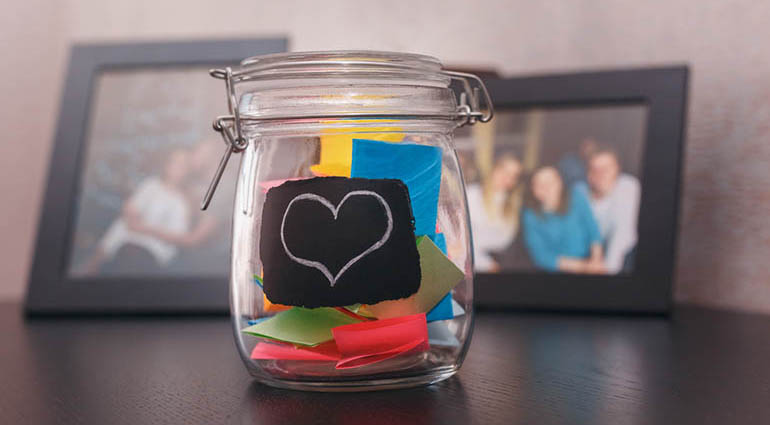 Surely your goodness and love will follow me all the days of my life. Psalm 23:6
Wanting to mature in her spiritual life and become more thankful, Sue started what she called a Thanks-Living jar. Each evening she wrote on a small piece of paper one thing she thanked God for and dropped it in the jar. Some days she had many praises; other difficult days she struggled to find one. At the end of the year she emptied her jar and read through all of the notes. She found herself thanking God again for everything He had done. He had given simple things like a beautiful sunset or a cool evening for a walk in the park, and other times He had provided grace to handle a difficult situation or had answered a prayer.
Sue's discovery reminded me of what the psalmist David says he experienced (Ps. 23). God refreshed him with "green pastures" and "quiet waters" (vv. 2–3). He gave him guidance, protection, and comfort (vv. 3–4). David concluded: "Surely your goodness and love will follow me all the days of my life" (v. 6).
I'm going to make a Thanks-Living jar this year. Maybe you'd like to as well. I think we'll see we have many reasons to thank God—including His gifts of friends and family and His provisions for our physical, spiritual, and emotional needs. We'll see that the goodness and love of God follow us all the days of our lives.
Dear Lord, You bless me in more ways than I can count. Thank You for Your love for me.
When you think of all that's good, give thanks to God.