ll Corinthians 5: 14-21
14 For the love of Christ constrains us; because we thus judge, that if one died for all, then were all dead:
15 And that he died for all, that they which live should not henceforth live unto themselves, but unto him which died for them, and rose again.
16 Wherefore henceforth know we no man after the flesh: yea, though we have known Christ after the flesh, yet now henceforth know we him no more.
17 Therefore if any man be in Christ, he is a new creature: old things are passed away; behold, all things are become new.
18 And all things are of God, who hath reconciled us to himself by Jesus Christ, and hath given to us the ministry of reconciliation;
19 To wit, that God was in Christ, reconciling the world unto himself, not imputing their trespasses unto them; and hath committed unto us the word of reconciliation.
20 Now then we are ambassadors for Christ, as though God did beseech you by us: we pray you in Christ's stead, be ye reconciled to God.
21 For he hath made him to be sin for us, who knew no sin; that we might be made the righteousness of God in him.
A "New Man"
From: Our Daily Bread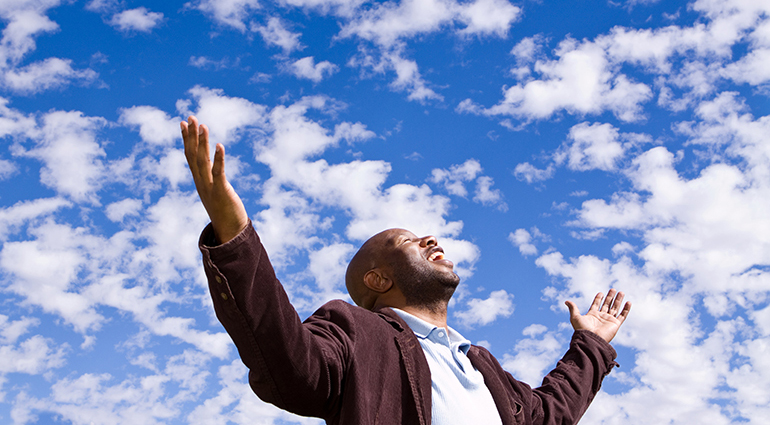 Continue in your faith, established and firm, and do not move from the hope held out in the gospel. Colossians 1:23
As a group of teenagers visited a home for the elderly in Montego Bay, Jamaica, one young woman noticed a lonely looking man at the end of the room. He appeared to have little left in this world but a bed to sleep on—a bed from which he could not move because of his disability.
The teen began right away to share the story of God's love for us and read some Bible passages to him. "As I shared with him," she would say later, "I started to feel his eagerness to hear more." Responding to his interest, she explained the wonder of Jesus's sacrificial death for us. "It was hard for this man, who had no hope and no family," she recalled, "to understand that Someone he's never met would love him enough to die on the cross for his sins."
She told him more about Jesus—and then about the promise of heaven (including a new body) for all who believe. He asked her, "Will you dance with me up there?" She saw him begin to imagine himself free of his worn-out body and crippling limitations.
When he said he wanted to trust Jesus as his Savior, she helped him pray a prayer of forgiveness and faith. When she asked him if she could get a picture with him, he replied, "If you help me sit up. I'm a new man."
Praise God for the life-changing, hope-giving, available-to-all gospel of Jesus Christ! It offers new life for all who trust Him (Col. 1:5, 23).
Lord, thank You for the new life we have in Jesus Christ. Help us to share the hope of that new life with others so they can be made new as well.
July 31, 2017


Courage to Be the True You
LYNN COWELLFrom: Crosswalk.com
"Then we will no longer be immature like children. We won't be tossed and blown about by every wind of new teaching. We will not be influenced when people try to trick us with lies so clever they sound like the truth." Ephesians 4:14 (NLT)
Climbing the stairs, it felt like I was going on an adventure to the past, but I was only heading to the attic.
It had been so many years since I'd cleaned my attic, and I was looking forward to going through all the boxes filled with memories. It didn't take long to discover a box from my childhood, and there on the top was my little, gold diary.
Did you have a secret diary growing up? If so, I wonder if you'd find in yours what I found in mine: a girl struggling not to worry about what others would think of her.
Here are some of my swirling thoughts from sixth grade:
March 23: Right now, I don't think much about boys. I may act like it, but I don't.
March 26: John called and asked me to "go" with him. I didn't want to, but my best friend told him I said "yes."
March 27: Today, nothing much happened. I don't know how my friend got me in this mess with John, and I don't know what to do. Lord, get me out!
March 28: I broke up with John. Boy, am I glad I did. But he asked me to go out with him again. Ugh!
What a struggle! Although that trouble was with a boy, there were other times I wrote about frustrated feelings with friends and family, and confusion about what to do.
Do you know what the real issue was with many of my problems? I was fearful of people.
I wasn't sure of the girl I was, or the girl I wanted to be. I often found myself acting all sorts of ways so I could be the person I thought my friends and family wanted, instead of being true to myself.
As I've grown, I've come to understand more of the truth in God's Word. He has shown me I don't have to spin like the Tilt O' Whirl at an amusement park — trying to be everything to everybody. I don't have to get on that emotional and exhausting ride. I'm becoming more and more brave every day to be the one He's created me to be.
Ephesians 4:14 tells us: "Then we will no longer be immature like children. We won't be tossed and blown about by every wind of new teaching. We will not be influenced when people try to trick us with lies so clever they sound like the truth." Paul is teaching that we don't have to believe all the things people say about God. We need to believe what God says about Himself in His Word. That is where truth can be found.
The same is true when we spin this way and that, believing things that aren't true about ourselves, then trying to be someone we're not. It makes us shaky inside — insecure. God can give us the strength, bravery and confidence we need to believe who He says we are. And as we become mature in our faith and self-worth, we can then help others, such as our children, as they grow into adulthood.
God can help them, too, so their lives don't feel constantly pushed one way and then the other. He has the power to make us all brave. God can give you the courage to be the true you.
Dear Jesus, I don't want to do what I think is right; I want to do what You say is right. Help me learn to be brave and ask You for wisdom instead of feeling like I'm constantly being pushed around by people and by my ever-changing emotions. In Jesus' Name, Amen.
Who's in the Spotlight?
From: Get More Strength
"Whatever you do, do it all for the glory of God." 1 Corinthians 10:31
If you've been around the world of golf for long, you know that winning the coveted "Green Jacket" at the Masters is arguably the most coveted accomplishment in golf. As I was watching the final round of the Masters Golf Tournament in 2007, I was thrilled to hear the winner give credit to Jesus for the gifts and abilities the Lord had given him. With much of the world watching, he turned the spotlight from himself to Jesus!
It brought to mind the year that Bernhard Langer won the Masters. In the Butler Cabin afterward, before millions watching on TV the interviewer said to him, "Winning the Masters must be the greatest moment in your life." To which the champion replied, "This is no doubt the greatest moment in my golf career, but it doesn't compare to the fact that 2,000 years ago today my Lord and Savior rose from the dead to give me eternal life!"
I was off my couch, ecstatic that Jesus and what He has done for us was getting such global recognition!
This is exactly what it means to glorify God and to live with enough biblical sanity to know that all we have and all we are is directly attributable to God's grace and provision in our lives. Think about it. Where would you be today if God had not given you the mental horsepower to figure stuff out, the opportunities for education and promotion, the talents to do things well, the spiritual gifts to participate successfully in His work, the income to keep food on the table, or the wisdom of His Word to help you know how to live? The list is long when it comes to what God has graciously given you. To say nothing of the gift of salvation through Jesus' death and resurrection! The fact is that you and I would be nothing if it weren't for God's generous and undeserved supply.
So, since all we have is from God, it's important that we don't act like we are self-made people. In fact, when King Nebuchadnezzar took God's glory for himself, he was banished to eating grass in the field like an animal until he got the picture straight about who should get the glory for his power and position (Daniel 4:29-34
). And Herod was eaten by worms and died for letting the people call him god (Acts 12:21-23
). God takes it seriously when we rob Him of His glory!
Granted, it's not always easy to know just what to say when you want to transfer the applause from yourself to God. But just knowing that it's important to give credit where credit is due is a good beginning. Every once in a while, someone will tell me what a great sermon I preached, and in that moment I am keenly aware that what I do with the spotlight is very important. I have to tell you, when I take the compliment for myself I end up feeling small and disloyal. But when I acknowledge that I had no idea what they needed to hear, I can say with confidence, "We both know where the blessing came from!" and I love to tell people that if they were blessed by the sermon it's a sure sign of how much God loves them. Every time I turn the spotlight where it belongs, I end up feeling grateful to God and joyful that I was able to give Him the glory.
So take the Bible's advice: Keep the spotlight on Jesus—then know the joy of what it means to live for His glory.