Luke 15
…

6  

comes home, and calls together his friends and neighbors to tell them, 'Rejoice with me, for I have found my lost sheep!' 
8  

Or what woman who has ten silver coins and loses one of them does not light a lamp, sweep her house, and search carefully until she finds it?…
" Yes there is joy, real joy, wonderful joy when Jesus comes into your heart."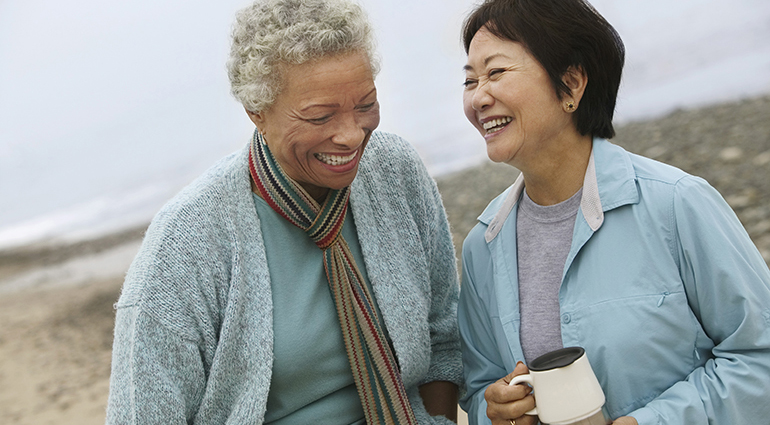 I sing for joy at what your hands have done. Psalm 92:4
I'm fast approaching a new season—the "winter" of old age—but I'm not there yet. Even though the years are galloping by and sometimes I'd like to slow them down, I have joy that sustains me. Each day is a new day given me by the Lord. With the psalmist, I can say, "It is good to praise the Lord . . . proclaiming your love in the morning and your faithfulness at night"! (Psalm 92:1–2). Even though my life has its struggles and the pain and difficulties of others sometimes overwhelm me, God enables me to join the psalmist in "[singing] for joy at what [His] hands have done" (v. 4). Joy for blessings given: family, friends, and satisfying work. Joy because of God's wondrous creation and His inspired Word. Joy because Jesus loved us so much He died for our sins. And joy because He gave us the Spirit, the source of true joy (Romans 15:13). Because of the Lord, believers in Him can "flourish like a palm tree . . . [and] still bear fruit in old age" (Psalm 92:12–14).
What fruit is that? No matter our circumstances or season of life, we can be examples of His love through the life we lead and the words we say. There is joy in knowing and living for the Lord and telling others about Him.
Dear Lord, thank You for the joy that is ours through the Spirit.
God is the giver of joy.
January 26, 2018

When You're STILL Suffering

From: Crosswalk.com
"Weeping may tarry for the night, but joy comes with the morning." Psalm 30:5b (ESV) Over the last two years, our family has been through incredibly hard things: a marriagerescued from the brink of failure, the physical death of several family members, and the miscarriage of our darling daughter Eilise. I have suffered like never before. In some ways, I am still suffering. Last April, my husband Robert and I had the privilege of spending time away together. We were able to come alongside people from across the United States who were also facing huge challenges and glean wisdom from many who've walked this path ahead of us. It was there, in the middle of nowhere among the trees and the nature trails, that the Lord so sweetly helped me better understand the words of His servant, David. He was no stranger to sorrow, and those words finally settled into my heart, soothing the very raw places. "Weeping may tarry for the night, but joy comes with the morning" (Psalm 30:5b). In the midst of my pain, I found myself questioning the legitimacy of this well-known Scripture. I cried out many times, "Sorrow is supposed to only last for a night, joy is supposed to come in the morning! That's what Your Word says. So why is the pain dragging on? Why do Your children sometimes struggle for days, months or even years?" I'd forgotten what it's like to watch the sunrise. I expected morning to come in an instant. I believed my sorrow should disappear altogether — and all at once. But that's not how morning works. The sun doesn't suddenly appear in the sky. The world doesn't transition from dark to light abruptly. During the night of weeping, the darkness is overwhelming, suffocating and disorienting. And, more often than not, it gets darker before day breaks. Then, softly and subtly, things begin to change. The world is more grey than black. We begin to be able to make out the shapes of our surroundings. Our eyes begin to adjust and everything looks just a little bit different. As we lift our heads, we can distinguish the horizon. It turns a soft shade of pink and color creeps in to the world around us — still dull, but adding color nonetheless. Then pink turns to orange and the sky gets brighter and brighter. Faster and faster, things are changing. Before you realize it's even happened, the sun becomes visible, the birds wake up and sing. The dull colors become sharp and crisp as radiant morning bursts forth and the day begins. The darkness of night becomes a thing of the past, just a memory. Weeping has been replaced with jubilant song, mourning turns to dancing, and sorrow at last gives way to joy. Yes, there will be reminders of what happened in the dark. But, once exposed to the light, these reminders have no power, and they cause no fear. In my own journey, the sun is almost out. So, let this be an encouragement for anyone who might still be hurting. Whether you're in the darkest hour, or inching closer to sunrise, look for the grey. Then watch for the pink. I know you'd probably rather see the sun out right now, but there's hope — even while it's still dark. Adjust your eyes to see the small amounts of light that surround you. Knowing that morning always comes eventually, there's hope that your joy will be fully restored, and you can delight in the small ways your world is brightening. Before we know it, like David, we'll be able to say: "You have turned for me my mourning into dancing …" (Psalm 30:11a, ESV). And we'll be dancing in the sunshine. Heavenly Father, I long to honor You even in my suffering. Help me see Your faithfulness, even when my emotions seem tossed to and fro by grief. Allow me to feel the comfort of the Holy Spirit as I wait for my morning to dawn. And, let Your light shine through me so others would see Your goodness and the Name of Jesus would be made great. In Jesus' Name, Amen.
Turn Your Idols into Dust
From:  Hannah Goodwyn, author
Jesus often spoke in parables to teach his followers truths about the way God sees us and how we should live. He also revealed visions and dreams to strong believers in order to warn or alert them. In the same way, God sometimes illustrates a point to me about His ways or my spiritual state based on a personal experience. Sitting in church this past Sunday, I felt the Holy Spirit quicken a recent memory of my visit to a museum where I encountered a gold-plated statue honoring the Greek goddess Athena. This moment became etched in my mind as God began to set the scene for what would be a powerful teaching lesson directly from His heart. Walking into the temple hall, I gazed at the altar. As I inched closer, I began to recognize the fierce look of the illuminated statue. Towering over me was a gold-encased figure that commanded my attention. Her shine was brilliant and her detail had to have been carved with careful hands. This golden woman brought such a terrible feeling upon me. I sensed myself honoring this idol with my silent respect. Standing before it, I was arrested, mesmerized by its enormity and grandeur. I was ignorant of the man who stood behind me. With a whisper, he seized my soul. It was Christ himself. With assurance in His eyes, He offered mercy. In tandem, we reached out our hands to the golden idol, turning it to dust. Immediately, I felt this overwhelming peace deep within me. As I reviewed these images, I realized that all too often we allow "idols" to replace God in our hearts. Instead of honoring the Lord with our energy, our desires, and our time, we invest them in worthless dreams and fleeting pleasures. Our culture also has created idols that many committed Christians glorify. Even the "American Dream" becomes a dangerous ideal when it consumes our lives. We are hounded by the desire to gain wealth so that we may find true fulfillment. Men and women alike give themselves to their careers to achieve "power" in the marketplace. Even beyond these seemingly legitimate ideals are the secret sins we feed with our pride – namely greed, gluttony, lust, and hatred. We build these idols because we find comfort in our greed, security in our possessions, and even power as we judge each other. Obeying the commandments God gave to Moses on Mt. Sinai is central to our faith. His first two commands speak directly to our tendency as flawed people to turn away from our Savior.
You must not have any other god but me. You must not make for yourself an idol of any kind or an image of anything in the heavens or on the earth or in the sea. You must not bow down to them or worship them, for I, the Lord your God, am a jealous God who will not tolerate your affection for any other gods. I lay the sins of the parents upon their children; the entire family is affected — even children in the third and fourth generations of those who reject me. But I lavish unfailing love for a thousand generations on those[a] who love me and obey my commands. (Exodus 20:3-6, NLT)
God is jealous for our affection. He doesn't want half of your heart, but all of you. Our sins and false senses of security bring us no relief. As Habakkuk 2:18 states, idols are lifeless statues. These gods are made by our hands and can do nothing for us (Psalm 115:4-7). They only distract from the one True God. In the vision, God in the flesh was quick to forgive my idolatry. His mercy wiped away the mistakes I was making even in that moment.
But God demonstrates his own love for us in this: While we were still sinners, Christ died for us. (Romans 5:8, NIV)
Even in the midst of our darkness, Christ reaches out His hand of forgiveness. Grab hold of His grace and allow Him to turn the gods you've worshiped into ashes on the floor.