John 15:9-17 As the Father has loved me, so have I loved you.Abide in my love.  If you keep my commandments, you will abide in my love, just as I have kept my Father's commandments and abide in his love. 
The Heart's True Home
From: Our Daily Bread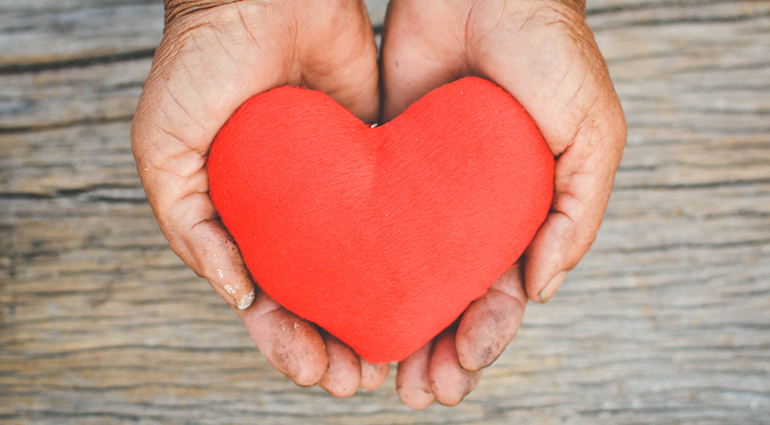 We had a West Highland Terrier for a number of years. "Westies" are tough little dogs, bred to tunnel into badger holes and engage the "enemy" in its lair. Our Westie was many generations removed from her origins, but she still retained that instinct, put into her through years of breeding. On one occasion she became obsessed by some "critter" under a rock in our backyard. Nothing could dissuade her. She dug and dug until she tunneled several feet under the rock.
Now consider this question: Why do we as humans pursue, pursue, pursue? Why must we climb unclimbed mountains, ski near-vertical slopes? Run the most difficult and dangerous rapids, challenge the forces of nature? Part of it is a desire for adventure and enjoyment, but it's much more. It's an instinct for God that has been implanted in us. We cannot not want to find God.
We don't know that, of course. We only know that we long for something. "You don't know what it is you want," Mark Twain said, "but you want it so much you could almost die."
God is our heart's true home. As church father Augustine said in that most famous quotation: "You have made us for Yourself, O Lord, and our hearts are restless until they rest in You."
And what is the heart? A deep void within us that only God can fill.
Help me, Lord, to recognize my deep longing for You. Then fill me with the knowledge of You. Draw me near.
Beneath all our longings is a deep desire for God.
The Red Notebook
From: Our Daily Journey
Read:
Malachi 3:6-18
A scroll of remembrance was written to record the names of those who feared him and always thought about the honor of his name (Malachi 3:16).
Since my children have been able to speak, I've recorded things they've said in a red notebook which now features a bent cover and curled page corners. A few times each year we read through the entries and reminisce about the (mostly) funny and (occasionally) insightful things the kids said as toddlers and young children. Some of the entries mark moments I still recall, but others would be lost forever if it weren't for the "red notebook."
The Old Testament prophet Malachi spoke about a book (or scroll) of remembrance. It contained the names of a group of people within the Jewish nation. God considered those people to be a special treasure because they "feared him and always thought about the honor of his name" (Malachi 3:16). They remained faithful when others decided it was useless to serve and obey Him.
The ones who abandoned God asked, "What have we gained by obeying his commands or by trying to show [the Lord] that we are sorry for our sins? . . . For those who do evil get rich" (Malachi 3:14-15). This sense of disillusionment is familiar to many of us. Consistently serving God is often discouraging and it rarely leads to what we might desire. It can be frustrating when we face challenges though we're striving to do what's right.
How can we, like the people God treasured in Malachi's day, honor Him? By submitting to His wisdom and guiding power. We can trust that, "[God] will not forget how hard you have worked for him and how you have shown your love to him" (Hebrews 6:10). If we truly know Him through His Son Jesus, our future with Him is secure. This means He will remember us in the life to come where we'll enjoy His presence forever (Revelation 21:27).
This verse is a description of total reliance on God. Just as the eyes of a servant are riveted on his master, our eyes should be directed to and focused on God. This is how knowledge of His countenance is gained and how God reveals Himself to us (see Isaiah 53:1). Our spiritual strength begins to be drained when we stop lifting our eyes to Him. Our stamina is sapped, not so much through external troubles surrounding us but through problems in our thinking. We wrongfully think, "I suppose I've been stretching myself a little too much, standing too tall and trying to look like God instead of being an ordinary humble person." We have to realize that no effort can be too high.
For example, you came to a crisis in your life, took a stand for God, and even had the witness of the Spirit as a confirmation that what you did was right. But now, maybe weeks or years have gone by, and you are slowly coming to the conclusion— "Well, maybe what I did showed too much pride or was superficial. Was I taking a stand a bit too high for me?" Your "rational" friends come and say, "Don't be silly. We knew when you first talked about this spiritual awakening that it was a passing impulse, that you couldn't hold up under the strain. And anyway, God doesn't expect you to endure." You respond by saying, "Well, I suppose I was expecting too much." That sounds humble to say, but it means that your reliance on God is gone, and you are now relying on worldly opinion. The danger comes when, no longer relying on God, you neglect to focus your eyes on Him. Only when God brings you to a sudden stop will you realize that you have been the loser. Whenever there is a spiritual drain in your life, correct it immediately. Realize that something has been coming between you and God, and change or remove it at once.