3 But the Lord is faithful, and he will strengthen you and protect you from the evil one.

6 Be strong and courageous. Do not be afraid or terrified because of them, for the LORD your God goes with you; he will never leave you nor forsake you."
I am a blessed person. I had a dad who would have died to protect me. My Heavenly Father did die for me on the cross. It is a blessing to have a dad and a Heavenly Father who would do that for me.
"Will You Lay Down Your Life?"
From: Utmost.org
Jesus does not ask me to die for Him, but to lay down my life for Him. Peter said to the Lord, "I will lay down my life for Your sake," and he meant it (John 13:37). He had a magnificent sense of the heroic. For us to be incapable of making this same statement Peter made would be a bad thing— our sense of duty is only fully realized through our sense of heroism. Has the Lord ever asked you, "Will you lay down your life for My sake?" (John 13:38). It is much easier to die than to lay down your life day in and day out with the sense of the high calling of God. We are not made for the bright-shining moments of life, but we have to walk in the light of them in our everyday ways. There was only one bright-shining moment in the life of Jesus, and that was on the Mount of Transfiguration. It was there that He emptied Himself of His glory for the second time, and then came down into the demon-possessed valley (seeMark 9:1-29). For thirty-three years Jesus laid down His life to do the will of His Father. "By this we know love, because He laid down His life for us. And we also ought to lay down our lives for the brethren" (1 John 3:16). Yet it is contrary to our human nature to do so.
If I am a friend of Jesus, I must deliberately and carefully lay down my life for Him. It is a difficult thing to do, and thank God that it is. Salvation is easy for us, because it cost God so much. But the exhibiting of salvation in my life is difficult. God saves a person, fills him with the Holy Spirit, and then says, in effect, "Now you work it out in your life, and be faithful to Me, even though the nature of everything around you is to cause you to be unfaithful." And Jesus says to us, "…I have called you friends…." Remain faithful to your Friend, and remember that His honor is at stake in your bodily life.
Made Alive
From: Our Daily Bread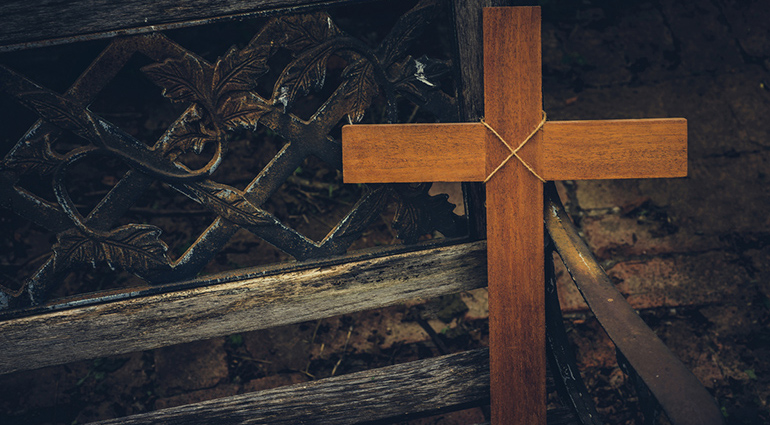 As a young man, my dad was traveling with a group of friends to an out-of-town sporting event when the tires of their car slipped on the rain-soaked roads. They had an accident—a bad accident. One of his friends was paralyzed and another was killed. My dad was declared dead and taken to the morgue. His shocked and grief-stricken parents came to identify him. But my dad revived from what turned out to be a deep coma. Their mourning turned to joy.
In Ephesians 2, the apostle Paul reminds us that apart from Christ we are "dead in [our] transgressions and sins" (v. 1). But because of His great love for us, "God, who is rich in mercy, made us alive with Christ even when we were dead in transgressions" (vv. 4–5). Through Christ we have been brought from death to life.
So in every sense, we all owe our life to the Father in heaven. Through His great love, He has made it possible for those of us who were dead in sin to have life and purpose through His Son.
Thank You, Father, for love that conquers sin, life that conquers death, and grace that has conquered my heart. May my life be a sweet aroma of praise to You.
We owed a debt we could not pay, but Jesus paid the debt He did not owe.
Got You Figured Out
From: Our Daily Journey
Our pastor wasn't pleased that his newspaper had been arriving late each morning—for two weeks. So he impatiently stood at his front door, ready to verbally pounce on the newspaper deliveryman and unleash his anger over the tardy papers. Before he did, however, he thought better of it. Instead, he asked, "How's it going, Tom?" When he did, he found out that Tom's house had burned to the ground two weeks before. He and his family were homeless. Tom had recently picked up extra work on a local farm to earn more money. Now he had to wake up even earlier than usual. It had been the worst two weeks of his life.
Needless to say, my pastor was humbled. He told us he had thought he had Tom all figured out as a lazy, thoughtless person. He was wrong.
This reminds me of another time people jumped to conclusions. In Luke 13:1-4, Jesus told his listeners that those murdered by Pilate in the temple and the eighteen who died when a tower in Siloam crushed them didn't suffer because they were worse sinners than anyone else.
Back then (and sometimes today) people believed that suffering always resulted from people's sins. In other words, they brought it on themselves. So whenever something bad happened to others, people thought they had it all figured out: Someone must have sinned. That's why Jesus' disciples asked Him, "Why was this man born blind? Was it because of his own sins or his parents' sins?" (John 9:2). But Jesus replied, "It was not because of his sins or his parents' sins" (John 9:3).
It's dangerous to label others and think we have them figured out. Instead, may we pray and ask God to help us extend His grace to those we're struggling with—realizing we can't know it all.