Fitting In
From: Our Daily Bread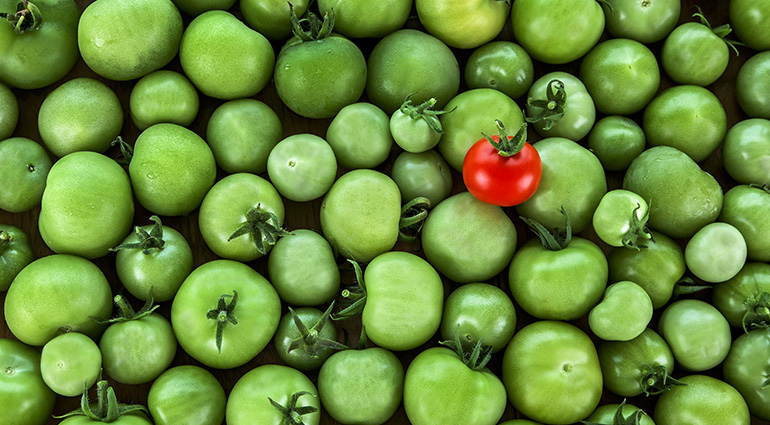 Then those who feared the Lord talked with each other, and the Lord listened and heard. Malachi 3:16
Lee is a diligent and reliable bank employee. Yet he often finds himself sticking out like a sore thumb for living out his faith. This reveals itself in practical ways, such as when he leaves the break room during an inappropriate conversation. At a Bible study, he shared with his friends, "I fear that I'm losing promotion opportunities for not fitting in."
Believers during the prophet Malachi's time faced a similar challenge. They had returned from exile and the temple had been rebuilt, but there was skepticism about God's plan for their future. Some of the Israelites were saying, "It is futile to serve God. What do we gain by carrying out his requirements . . . ? But now we call the arrogant blessed. Certainly evildoers prosper, and even when they put God to the test, they get away with it" (Malachi 3:14–15).
How can we stand firm for God in a culture that tells us we will lose out if we don't blend in? The faithful in Malachi's time responded to that challenge by meeting with like-minded believers to encourage each other. Malachi shares this important detail with us: "The Lord listened and heard" (v. 16).
God notices and cares for all who fear and honor Him. He doesn't call us to "fit in" but to draw closer to Him each day as we encourage each other. Let's stay faithful!
Lord, help us to keep on encouraging one another to stay faithful to You in this faithless world.
Our faith may be tested so that we may trust God's faithfulness.
Jesus Christ, M.D.
From: CBN, and Brooke Keith, Author
"He heals the brokenhearted and binds up their wounds." Psalm 147:3 ESV
The fragility of our humanity is visible from birth. The moment we are born, nurses rush to bundle us in warm blankets, checking our vital signs and making us cry to assure we can. Anxious parents counting our fingers and toes await our return to their arms. Their hearts bursting with joy and fear … this little life now totally dependent upon them.
I've learned the hard way that the anxiety of parenting doesn't end here. It only gets harder. The older they get the more we worry. The more we worry the older we get.
With four children I've been through my share of knee scrapes and colds. But I've also seen the scarier stuff. Our middle son has asthma and found it really hard to fight off germs. He literally kept strep throat for six months once. Our eldest son was once hospitalized with fluid in his abdominal cavity and an acute illness that was extremely serious. Our newest baby was born with a hole in his heart, though through prayer and by grace it closed up just weeks after birth.
And while all of this sounds scary, working with a children's charity for so many years I've learned that even the things that scare me are trivial. Because I see so much sickness, the doctor's office isn't a place that I enjoy. In fact, I don't even think of it when they are healthy, but when my kids get sick, someone breaks out in a mystery rash or someone spikes a fever – I want to know what's going on. I forget about the movie I'm watching and I set aside my copy of People and I realize I need the doctor.
When I face these moments, I think of how eloquently Jesus compared our physical lives to our spiritual bodies. Looking across at His listeners, Jesus declared,
"Those who are well have no need of a physician, but those who are sick. Go and learn what this means: 'I desire mercy, and not sacrifice.' For I came not to call the righteous, but sinners." Matthew 9:12-13 ESV
When things are going our way and anxiety is far from us, we are happy to curl up on the couch of life, read our favorite book, and sip a cup of warm tea. The ordinary way of life we live can grow so comfortable we don't see the signs we need the doctor. Before we know it we have become too busy to pray, too tired to help others. We stop going in for regular checkups.
When Jesus spoke to the masses it is easy to assume He spoke to the lost. And He did. But He also spoke to those who are found who, like we all do from time to time, forget we are not perfect. Our flaws are many. Our hearts and thoughts fail us. Our bodies become frail and weary.
We all need the Doctor, those with spiritual sniffles and those with "heart" attacks. None of us can turn up our noses at the other – we are all sinners. God wants us to be merciful to one another, remembering we are all products of imperfection.
What shape is your spiritual body in? Whether you need a check-up, a stress test, major surgery, a first-time appointment or just want to stop in to pick His brain …
The Doctor is in and He always accepts walk-ins!
January 12, 2018


How to Rediscover Joy in Your Work
AMY CARROLL

From: Crosswalk.com
"Do you see someone skilled in their work? They will serve before kings; they will not serve before officials of low rank." Proverbs 22:29 (NIV)
As I faced the heaviest workload of my life, I fretted. To-do lists multiplied, and details started to feel overwhelming. Each day, I worked from sunup to sundown, and lay awake at night thinking about what the next 24 hours held.
I was exhausted, discouraged and wondering if all my work meant anything.
Then two things happened that changed my perspective.
I remembered a prayer I'd prayed months before at the beginning of my gargantuan project. I prayed, "Lord, help me to do all that You call me to do in this season and not one thing more."
The Lord also brought to mind a conversation that I had with my friend, Suzie, where she shared a new concept. Suzie had prayed God would convert her work to worship. What a beautiful idea! Each morning she spent time with God, reading her Bible and praying, and then she moved into her work, letting God's presence flow seamlessly into each task.
As I reflected on the bad attitude I was starting to develop, I realized I had failed on both counts. I was overworking, and I was compartmentalizing my work as if it weren't related to any other part of my life. Those two missteps were making me miserable by skewing my perspective about the labor of my hands.
Here's what happens when we work with wrong beliefs:
1) We overwork
Instead of following my prayer "Lord, help me to do all that You call me to do in this season and not one thing more" by listening for direction, I just dove right into my tasks — where I ended up frustrated, feeling like I was on a never-ending treadmill.
Exhaustion is a sure indicator we need to consult God about our schedule. We need to ask Him questions such as: What do You want me to do? What do You want me to stop? What boundaries should I set on my work?
God is amazingly faithful, and I've experienced His provision over and over with my time. When I listen for His directions for work and rest, it all gets done within a timeframe that astounds me. Working within His plan reminds me that His good gifts include both joy in our work and fulfillment of the other needs of our souls — love, friendship, community and rest.
2) We compartmentalize our work
One of my most harmful misconceptions over the years is seeing my spiritual life as something separate from my "real life."
As Proverbs 22:29 says, "Do you see someone skilled in their work? They will serve before kings; they will not serve before officials of low rank."
Although we might never work for a person with a prestigious title, and regardless of whether our tasks are inside or outside the home, we still work for the King of Kings. An element of skill in our work is knowing who our true Boss is — and working for His pleasure. It's seeking His direction so we're working smarter, not harder. It's following Him to find joy in what we're accomplishing.
Our triune God has created us as fully integrated beings with a body, soul and spirit. God designed work as good — even in the Garden of Eden. Worship flows into the way we treat our bodies, which includes how we feed our minds and the plans we have for our work. Seeing our spiritual life connected to our workload helps us do everything as if we're doing it for God, because whether we recognize it or not, we really are!
Making our work into worship gives it worth.
In truth, because God created us as spiritual beings, we'll automatically worship while we work. The question is, Who are we worshipping? Are we worshipping ourselves by setting our own agendas and goals, or are we worshipping God by following His? The results are completely different.
Let's worship God with our work so we can find joy and fulfillment again!
Dear Lord, I need to regain joy in my tasks. Help me to worship You as I work, doing it all for the King of Kings. In Jesus' Name, Amen.