…

27  

All things have been entrusted to Me by My Father. No one knows the Son except the Father, and no one knows the Father except the Son and those to whom the Son chooses to reveal Him. 
29  

Take My yoke upon you and learn from Me; for I am gentle and humble in heart, and you will find rest for your souls.…
Fleeing to Strength
From: Our Daily Bread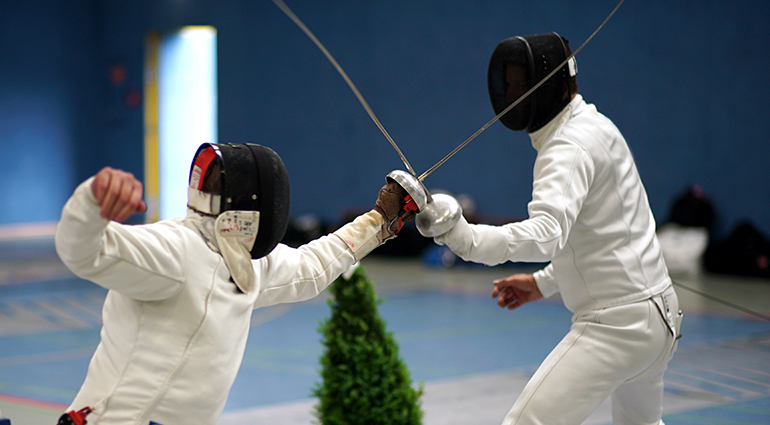 "Parry four!"
When I began fencing in high school, my coach would shout the correct defensive position ("parry") against the move he was making. When he extended his weapon and lunged, to repel the attack I had to listen and respond immediately.
That active listening brings to mind the prompt obedience Scripture calls for in the area of sexual temptation. In 1 Corinthians 6:18 Paul writes to believers tempted to solicit pagan temple prostitutes, telling them to "flee from sexual immorality." Sometimes we are to "stand firm" in challenging circumstances (Galatians 5:1; Ephesians 6:11), but here the Bible practically shouts our best defense: "Run away!"
Immediate action guards against compromise. Small compromises can lead to devastating defeats. An unrestrained thought, a glance in the wrong place on the Internet, a flirting friendship when you're already married—each are steps that take us where we shouldn't go and put distance between us and God.
When we flee temptation, God also provides a place to run. Through Jesus's death on the cross for our sins, He offers us hope, forgiveness, and a new beginning—no matter where we've been or what we've done. When we run to Jesus in our weakness, He sets us free to live in His strength.
Lord Jesus, out of love You gave Yourself on the cross for us. I give myself to You in obedience to Your will.
God alone can meet our deepest needs and give us soul-deep satisfaction.
,
Perfectly Desperate
From: Our Daily Journey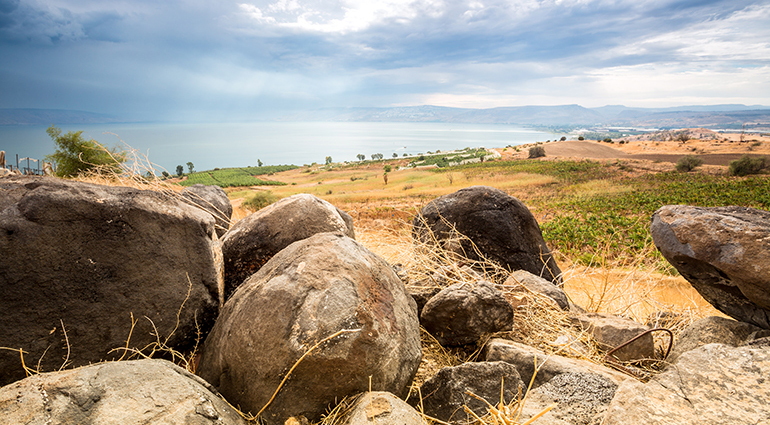 "The Sermon on the Mount produces despair," Oswald Chambers said. But he saw that as something good, because at "the point of despair we are willing to come to [Jesus] as paupers to receive from Him."
When we ponder the Sermon on the Mount, we might well be tempted to despair. Jesus seems to stand reality on its head. Let's look at just the first of the sermon's three chapters.
Be happy when you're persecuted? (Matthew 5:11-12). Anger is as bad as murder? (Matthew 5:22). Lust equals adultery? (Matthew 5:28). Don't resist an evil person? (Matthew 5:39). Love your enemies? (Matthew 5:44). And if we think we can live up to these standards, we suddenly crash into this: "You are to be perfect, even as your Father in heaven is perfect" (Matthew 5:48). What?
At that point we may think the only hope we have is to redefine perfection. But there's a better way. Consider this statement from Jesus: "I did not come to abolish the law of Moses or the writings of the prophets. No, I came to accomplish their purpose" (Matthew 5:17). And what is that purpose?
The apostle Paul may help answer this. He once pointed out how the church in Galatia misunderstood the law's purpose. "After starting your new lives in the Spirit, why are you now trying to become perfect by your own human effort?" he asked (Galatians 3:3). Then he added, "Does God give you the Holy Spirit and work miracles among you because you obey the law? Of course not! It is because you believe the message you heard about Christ" (Galatians 3:5).
Paul explained, "The law was our guardian until Christ came; it protected us until we could be made right with God through faith" (Galatians 3:24). Instead of despair, we can come to Jesus in the humble realization that we can't do it apart from Him.
"So you are no longer a slave, but a son; and since you are a son, God has made you also an heir." Galatians 4:7
For some lucky students it's a day off of school, but it's possible the fact that today is Presidents' Day may have slipped your notice. Nestled between Valentine's Day and St. Patrick's Day, Presidents' Day gets lost in the shuffle of cards, roses, and shamrocks. But nonetheless, it's an important day. Remembering presidents like Washington and Lincoln, to whom we owe a great debt, puts our lives in a richer perspective.
Think, for instance, of President Lincoln. He will be remembered forever for eliminating the shame of slavery in the United States. Driven by his convictions against the tide of popular opinion and entrenched racism, Lincoln signed the Emancipation Proclamation—an executive order freeing the slaves. In so doing, he joins the exclusive club of persons like Wilberforce and even Moses who risked much to proclaim freedom for the oppressed.
The New Testament is no stranger to the dynamics of slavery. In Paul's day, every major city had a place in the market where slaves were bought or sold. When a slave was brought to the auction block, he knew that his fate would be sealed by the one who paid the highest price for him. There were three possible outcomes. The slave could be purchased to become a slave to his new owner. Or, the winner of the bid could set the newly purchased slave free. Clearly, most slaves standing naked before the gawking bidders hoped for that highly unlikely possibility. But more unlikely still was the prospect that, legally, the highest bidder could adopt the slave and make him a son, which would mean that the former slave would have full family privileges and an equal place in the family inheritance. This option was so remote that it was more than a slave could hope for. Hopelessly stuck in servitude, the thought of becoming a son was the stuff that impossible dreams are made of.
And, as you're thinking of that, think of yourself. There are only two kinds of people in this world. Those who are in bondage to Satan and those who by God's grace are His sons! In fact, according to Romans 6: 1-23
, all of us were born slaves to the regime of hell. And then Jesus in His love and mercy showed up in the marketplace of sin and saw you on the slave block, naked and bound with no hope. As the bidding grew more intense, He lifted his nail-scarred hand, pointed to you, and all the bidding ceased—for no one could out pay the price He paid for you! And as your feet were unshackled, soldiers led you to His side and then you heard words you thought you would never hear: "I love you, I want to make you my son, a full heir!" "I want to make you my daughter!"
And now, with God as your Father, full family privileges are yours. Access to a loving Father, the inheritance of the indwelling Holy Spirit, full rights to treasures like peace, comfort, confidence, joy, and the assurance of the fact that soon heaven will be yours—all belong to you forever!
And, as you can imagine, slaves who became sons and daughters were forever grateful and happily served their father without hesitation. Since we too are no longer slaves but sons and daughters, it seems to me that my life and yours should be spontaneously lived to love and serve Him as well!
Lincoln freed the slaves, but only Jesus can make a slave a son—only Jesus can make a slave a daughter!
No wonder the hymn writer penned . . .
My chains fell off, my heart was free;
I rose, went forth, and followed Thee.
Amazing love! How can it be that Thou, my God, shouldst die for me!