At the Potter's House
18 This is the word that came to Jeremiah from the Lord: 2 "Go down to the potter's house, and there I will give you my message." 3 So I went down to the potter's house, and I saw him working at the wheel. 4 But the pot he was shaping from the clay was marred in his hands; so the potter formed it into another pot, shaping it as seemed best to him.
5 Then the word of the Lord came to me. 6 He said, "Can I not do with you, Israel, as this potter does?" declares the Lord. "Like clay in the hand of the potter, so are you in my hand, Israel. 7 If at any time I announce that a nation or kingdom is to be uprooted, torn down and destroyed, 8 and if that nation I warned repents of its evil, then I will relent and not inflict on it the disaster I had planned. 9 And if at another time I announce that a nation or kingdom is to be built up and planted,10 and if it does evil in my sight and does not obey me, then I will reconsider the good I had intended to do for it.
11 "Now therefore say to the people of Judah and those living in Jerusalem, 'This is what the Lord says: Look! I am preparing a disaster for you and devising a plan against you. So turn from your evil ways,each one of you, and reform your ways and your actions.' 12 But they will reply, 'It's no use. We will continue with our own plans; we will all follow the stubbornness of our evil hearts.'"
Unfinished Works
From: Our Daily Bread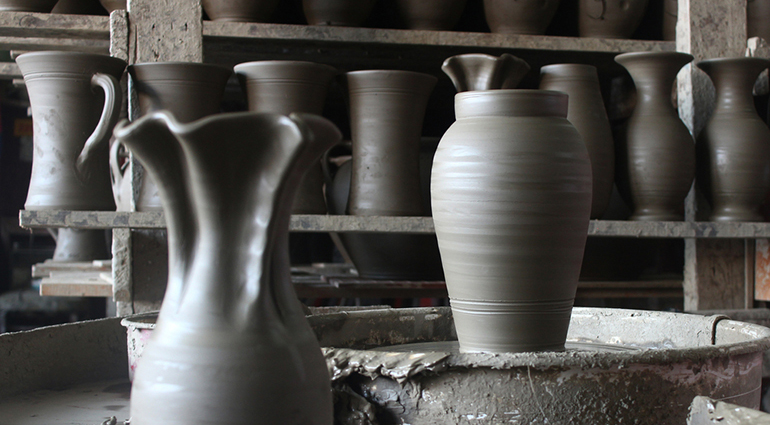 Who will rescue me from this body that is subject to death? Thanks be to God, who delivers me through Jesus Christ our Lord! Romans 7:24–25
At his death, the great artist Michelangelo left many unfinished projects. But four of his sculptures were never meant to be completed. The Bearded Slave, the Atlas Slave, the Awakening Slave, and the Young Slave, though they appear unfinished, are just as Michelangelo intended them to be. The artist wanted to show what it might feel like to be forever enslaved.
Rather than sculpting figures in chains, Michelangelo made figures stuck in the very marble out of which they are carved. Bodies emerge from the stone, but not completely. Muscles flex, but the figures are never able to free themselves.
My empathy with the slave sculptures is immediate. Their plight is not unlike my struggle with sin. I am unable to free myself: like the sculptures I am stuck, "a prisoner of the law of sin at work within me" (Rom 7:23). No matter how hard I try, I cannot change myself. But thanks be to God, you and I will not remain unfinished works. We won't be complete until heaven, but in the meantime as we welcome the transforming work of the Holy Spirit, He changes us. God promises to finish the good work He has begun in us (Phil. 1:6).
God, thank You that You make us new creatures through the work of Your Son Jesus Christ, freeing us from our slavery to sin.
He is the potter; we are the clay.
Eternal Perspective
From: Our Daily journey
Read:
Acts 7:54-60
"Look, I see the heavens opened and the Son of Man standing in the place of honor at God's right hand!" (Acts 7:56).
Tricia Mingerink's young adult Christian fantasy series The Blades of Acktar contains a scene where the protagonist is forced to watch friends and family martyred for their faith. A fearful person, she was struck by the peace with which each martyr faced death. In a moment of clarity, she realized that these believers were not bound by their immediate circumstances. The fear borne out of her exclusive focus on the present melted away as she embraced a perspective of eternity in God's presence.
The story of Stephen demonstrates a similar response to suffering. While facing a group of irate Jewish leaders, Stephen lifted his eyes to heaven and saw a vision of Jesus standing at the right hand of God (Acts 7:54-56). His joyous proclamation of this sight drove the leaders into such a murderous frenzy that "they rushed at him and dragged him out of the city and began to stone him" (Acts 7:57-58).
But this assault didn't cause Stephen to take his eyes off Jesus. "As they stoned him, Stephen prayed, 'Lord Jesus, receive my spirit.' He [then] fell to his knees, shouting, 'Lord, don't charge them with this sin!' " (Acts 7:59-60). Even when facing his own death, Stephen was able to follow Jesus' example and intercede on his murderers' behalf.
When Jesus said we should "seek the Kingdom of God above all else" (Matthew 6:33), He was challenging us to move away from an exclusive focus on the here and now. In seeking God's kingdom here on earth, we prepare our hearts for the eternity beyond and understand that the present reality does not have the final say in our story.
May we adopt an eternal perspective as the Holy Spirit helps us see all of life through God's eyes and heart.
Held by the Grip of God
From: Utmost.org
Never choose to be a worker for God, but once God has placed His call on you, woe be to you if you "turn aside to the right hand or to the left" (Deuteronomy 5:32). We are not here to work for God because we have chosen to do so, but because God has "laid hold of" us. And once He has done so, we never have this thought, "Well, I'm really not suited for this." What you are to preach is also determined by God, not by your own natural leanings or desires. Keep your soul steadfastly related to God, and remember that you are called not simply to convey your testimony but also to preach the gospel. Every Christian must testify to the truth of God, but when it comes to the call to preach, there must be the agonizing grip of God's hand on you— your life is in the grip of God for that very purpose. How many of us are held like that?
Never water down the Word of God, but preach it in its undiluted sternness. There must be unflinching faithfulness to the Word of God, but when you come to personal dealings with others, remember who you are— you are not some special being created in heaven, but a sinner saved by grace.
"Brethren, I do not count myself to have apprehended; but one thing I do…I press toward the goal for the prize of the upward call of God in Christ Jesus" (Philippians 3:13-14).