Don't plan your life without God.
Jeremiah's Letter to the Exiles      Jeremiah 29: 11
…10   "For thus says the LORD, 'When seventy years have been completed for Babylon, I will visit you and fulfill My good word to you, to bring you back to this place.
11   For I know the plans that I have for you,' declares the LORD, 'plans for welfare and not for calamity to give you a future and a hope.
12   'Then you will call upon Me and come and pray to Me, and I will listen to you.…
April 26, 2017


When You See God's Plan Unfold
SHAY SHULLFrom: Crosswalk.com
"God can do anything, you know — far more than you could ever imagine or guess or request in your wildest dreams!" Ephesians 3:20 (MSG)
I'm not sure when I first read Ephesians 3:20, but it's one I've marked, scribbled, highlighted, circled and underlined as many times as I can in my Bible. It's the verse I go back to, time and time again, when I don't see my plans unfolding the way I think they should … when I think I have it all figured out, and yet God isn't moving the same direction.
Hey, God … I'm over here! Come this way. I have plans! Do it my way!
No … it doesn't work that way. Often, we make these grand plans and then as the days and weeks go by, we realize we must sit and be patient as we watch His plans unfold. No time was this truer than on my journey to become a mother.
Husband, check. Good jobs, check. House ready for a family, check.
Baby? Nope. Not coming.
I had plans to start a family, but God didn't seem to get the message. So, I prayed. And waited. And I clung to Scripture reminding me God can do anything … even more than what I could ever expect. As Ephesians 3:20 reminded me, "God can do anything, you know — far more than you could ever imagine or guess or request in your wildest dreams."
How, God? How can you make me a mom in a way better than I'm expecting?
I was a mix of disbelief, doubt and hope. One year went by. Then two. A miscarriage. Failed attempts at fertility procedures. More drugs, injections and trips to the doctor than I could count. I was weary.
But God's Word tells us in Jeremiah 31:25 that He will "refresh the weary and satisfy the faint." (NIV)
And now, almost a decade later, I sit here with four precious children. One surprise baby after I officially quit "trying" to have a baby. Then when she was seven months old, another surprise baby. Two surprises, one girl and one boy. But then God did something even more amazing than that …
Ten months after having my second surprise baby, God made it crystal clear to me I wasn't done being a mom … that I needed to mother those who didn't have one. AsJames 1:27 says, we're called to look after the orphans. His great plan for me all those years ago was to be a mom by birth and also a mom by adoption. After our first trip to China to get our precious little girl, we knew He was still at work in us. So, 18 short months later, we found ourselves back in China to bring home a second daughter. One, two, three, four precious kids.
These kids bring me so much joy — whether we're taking walks, riding bikes, cooking together or gathering around the table for a meal — I never want to forget how every moment, every day, every memory with them is a gift beyond my wildest dreams.
I had once been weary, but I clung to the hope and promise that comes fromEphesians 3:20. I never saw myself being a mom to these four kids … but God did. He knew what I needed even when I didn't.
Rest in that promise, friends: The promise of the cross always delivers more than our hearts could even imagine.
Dear God, I thank You for the plans You have for me. I praise You, knowing that whatever You have in store for me is ultimately far better than anything I could imagine for myself. Please increase my trust in You. In Jesus' Name, Amen.
Someone to Touch
From: Our Daily Bread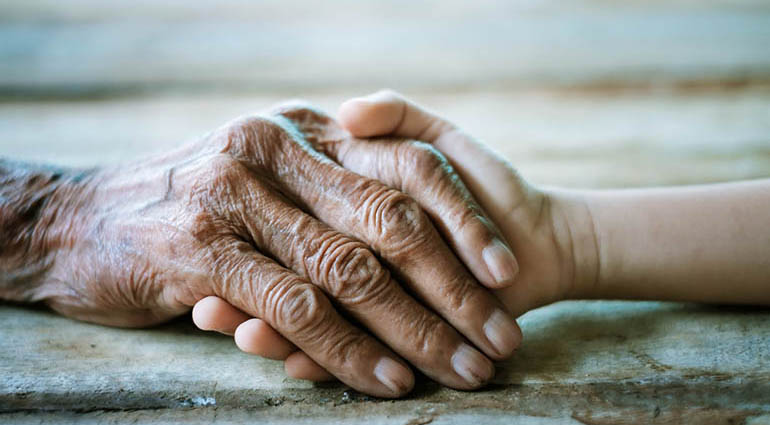 Jesus reached out his hand and touched the man. Luke 5:13
Commuters on a Canadian Metro train witnessed a heart-moving conclusion to a tense moment. They watched as a 70-year old woman gently reached out and offered her hand to a young man whose loud voice and disturbing words were scaring other passengers. The lady's kindness calmed the man who sank to the floor of the train with tears in his eyes. He said, "Thanks, Grandma," stood up, and walked away. The woman later admitted to being afraid. But she said, "I'm a mother and he needed someone to touch." While better judgment might have given her reason to keep her distance, she took a risk of love.
Jesus understands such compassion. He didn't side with the fears of unnerved onlookers when a desperate man, full of leprosy, showed up begging to be healed. Neither was He helpless as other religious leaders were—men who could only have condemned the man for bringing his leprosy into the village (Lev. 13:45–46). Instead, Jesus reached out to someone who probably hadn't been touched by anyone for years, and healed him.
Thankfully, for that man and for us, Jesus came to offer what no law could ever offer—the touch of His hand and heart.
Father in heaven, please help us to see ourselves and one another in that desperate man—and in the merciful eyes of Your Son who reached out and touched him.
No one is too troubled or unclean to be touched by Jesus.
Myth No More
From: Our Daily Journey
Read:
1 Peter 2:1-12
You can show others the goodness of God, for he called you out of the darkness into his wonderful light (1 Peter 2:9).
"We were sure that we, and our civilization, had grown out of the nursery myths of God, angels, and heaven." Peter Hitchens said those words in describing his younger years when he and his brother Christopher Hitchens, who would become an outspoken atheist, were moving from nominal faith to atheism. Peter ceremonially burned a Bible at age fifteen to declare his disbelief in God.
Later, in his adult years, Peter felt unrest in his soul. One day, while viewing Rogier van der Weyden's painting Last Judgment, deep conviction filled his heart. The wrongs he'd committed and his rebellion against God required justice. That day, Hitchens began a journey into the arms of Jesus—seeing God no more as myth but as his Maker.
Peter Hitchens' youthful view of God is nothing new. In 1 Peter, the apostle wrote to believers in Jesus who were considered "strange, superstitious, and disloyal to Roman society," as one commentator puts it. Unbelievers stumbled over Jesus because they did "not obey God's word, and so [faced] the fate that was planned for them" (1 Peter 2:8). What was it that pierced Hitchens' heart? It was the truth that a just God must judge the world. He must turn to right the wrongs that have been committed against Him and others.
An innate desire for justice burns within our hearts. Why? Because we're made in God's image (Genesis 1:27). And He has also provided the perfect path for us to move from being condemned because of our unjust ways (Romans 3:23) to being made clean by His mercy (1 Peter 2:10). As we trust in Him and His ways, God removes our disgrace (1 Peter 2:6). "Through the mediation of Jesus," our lives can be made to please our just God (1 Peter 2:5).
The justice we seek reveals He's no myth.