Not everyone is truly content with with his or her life. Often times we are unsatisfied and seek more for what we don't have and who we are. Through scripture however, we are commanded to be content with all we have in life. Use these Bible verses to remind you not of you don't have and who you are not, but of what you do have, who you are, and who you can be.
25  "Therefore I tell you, do not worry about your life, what you will eat or drink; or about your body, what you will wear. Is not life more than food, and the body more than clothes? 26  Look at the birds of the air; they do not sow or reap or store away in barns, and yet your heavenly Father feeds them. Are you not much more valuable than they?

32   For the pagans run after all these things, and your heavenly Father knows that you need them. 33  But seek first his kingdom and his righteousness, and all these things will be given to you as well.
Peace and Contentment
From: Our Daily Journey
This year, I entered into a new age bracket—the forties. Unlike the unsettling twenties where many of life's major decisions are often made (such as choosing a career or deciding who to marry) and the tumultuous thirties (where one may be establishing a career or working towards financial stability), for some the forties mean a time of greater peace. This has been true for me: I find my life settling into a new, calm state. I'm not sure how long this feeling will last, but for now at least, I'm enjoying peace and contentment.
In 1 Kings 6, the Israelites were also enjoying some peace and contentment. It was "480 years after the people of Israel [had been] rescued from their slavery in the land of Egypt" (1 Kings 6:1). During this period, the nation had gone from the unsettling years of wandering in the desert to establishing their nation in the Promised Land. Now, under Solomon's rule, the people of Judah and Israel "were very contented, with plenty to eat and drink" and "all of Judah and Israel lived in peace and safety" (1 Kings 4:20,25).
During this time, Solomon "began to construct the Temple of the Lord" (1 Kings 6:1). Of this verse, one Bible teacher commented: "We ought to see the time of peace and prosperity as an opportunity to do great things for the Lord!"
That's a good reminder for me. Instead of allowing my current bliss to lull me into complacency, I should seize this moment of peace to serve God and to use the resources He's blessed me with for His kingdom.
Jesus tells us: "Seek the Kingdom of God above all else, and live righteously" (Matthew 6:33). These words apply to all seasons of life—whether we have little or plenty. And should God bless us with more, may we enjoy His blessings as well as consider how we can use them for His glory.
[Written by Joe Stowell for Our Daily Bread.]
If anyone cleanses himself . . . , he will be a vessel for honor, sanctified and useful for the Master, prepared for every good work. —2 Timothy 2:21
With 4 years of seminary under my belt, I walked into my first ministry with a long agenda. As a new pastor, I thought I was there to change that place. Instead, God used that place to change me.
The board members were supportive, but they relentlessly kept my feet to the fire in administrative details. I needed to learn how to work with lay leadership, how to be careful in my work, and how to dream with others.
We often think God has assigned us to change the world around us when in reality He is interested in changing us. Why? To make each of us "a vessel for honor, sanctified and useful for the Master, prepared for every good work" (2 Tim. 2:21
). God often uses the most unlikely people in the most unlikely places to teach us some of life's most difficult lessons. And just when we think we've arrived, He is instructing us further.
Not long ago I entered a new season of ministry. I may be a "seasoned veteran," but I'm still learning, still growing, and still amazed at how God continues to shape this vessel for His noble purposes.
If you want to be an agent of change, don't resist the true Agent of Change. He has your best interest—and His—at heart!
What changes we would love to make
In others' lives, for Jesus' sake!
But first we must learn at His feet
The things that will make us complete. —Branon
Only when we are changed can we be agents of change.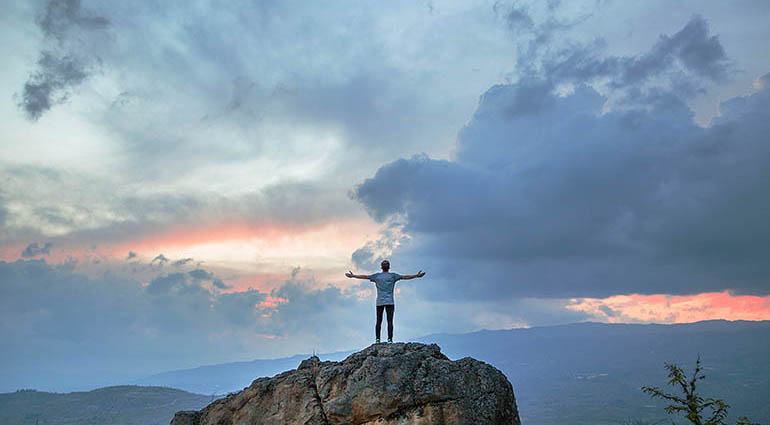 Jesus said, "Father, forgive them, for they do not know what they are doing." And they divided up his clothes by casting lots. Luke 23:34
When a friend betrayed me, I knew I would need to forgive her, but I wasn't sure that I could. Her words pierced deeply inside me, and I felt stunned with pain and anger. Although we talked about it and I told her I forgave her, for a long time whenever I'd see her I felt tinges of hurt, so I knew I still clung to some resentment. One day, however, God answered my prayers and gave me the ability to let go completely. I was finally free.
Forgiveness lies at the heart of the Christian faith, with our Savior extending forgiveness even when He was dying on the cross. Jesus loved those who had nailed Him there, uttering a prayer asking His Father to forgive them. He didn't hang on to bitterness or anger, but showed grace and love to those who had wronged Him.
This is a fitting time to consider before the Lord any people we might need to forgive as we follow Jesus's example in extending His love to those who hurt us. When we ask God through His Spirit to help us forgive, He will come to our aid—even if we take what we think is a long time to forgive. When we do, we are freed from the prison of unforgiveness.
Lord Jesus Christ, through Your grace and power as You dwell in me, help me to forgive, that Your love will set me free.
Even on the cross, Jesus forgave those who hurt Him.