Matthew 28:19-20  
(NKJV)
19 Go therefore[a] and make disciples of all the nations, baptizing them in the name of the Father and of the Son and of the Holy Spirit, 20 teaching them to observe all things that I have commanded you; and lo, I am with you always, even to the end of the age." Amen.[b]
What on Earth?
From: Our Daily Bread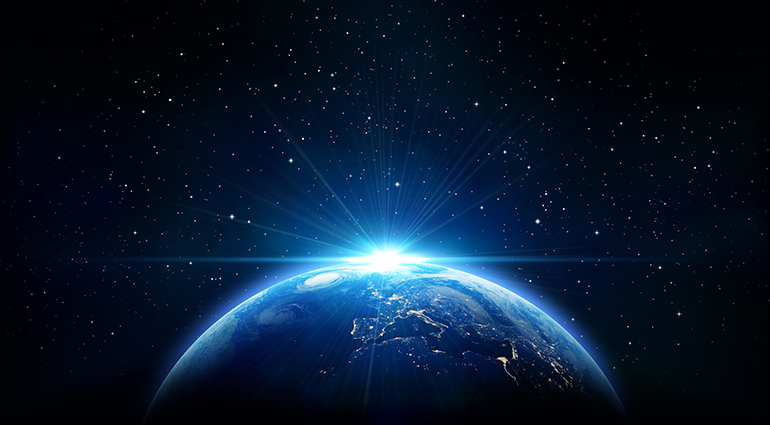 My God will meet all your needs according to the riches of his glory in Christ Jesus. Philippians 4:19
When Andrew Cheatle lost his cell phone at the beach, he thought it was gone forever. About a week later, however, fisherman Glen Kerley called him. He had pulled Cheatle's phone, still functional after it dried, out of a 25-pound cod.
Life is full of odd stories, and we find more than a few of them in the Bible. One day tax collectors came to Peter demanding to know, "Doesn't your teacher pay the temple tax?" (Matt. 17:24). Jesus turned the situation into a teaching moment. He wanted Peter to understand His role as king. Taxes weren't collected from the children of the king, and the Lord made it clear that neither He nor His children owed any temple tax (vv. 25–26).
Yet Jesus wanted to be careful not to "cause offense" (v. 27), so He told Peter to go fishing. (This is the odd part of the story.) Peter found a coin in the mouth of the first fish he caught.
What on earth is Jesus doing here? A better question is, "What in God's kingdom is Jesus doing?" He is the rightful King—even when many do not recognize Him as such. When we accept His role as Lord in our lives, we become His children.
Life will still throw its various demands at us, but Jesus will provide for us. As former pastor David Pompo put it, "When we're fishing for our Father, we can depend on Him for all we need."
Lord, teach us to bask in the wonderful realization that You provide everything we need.
We are children of the King!
God's Love Letter
From: Our Daily Journey
Read:
1 Peter 1:13-25
You have been born again, but not to a life that will quickly end. Your new life will last forever because it comes from the eternal, living word of God (1 Peter 1:23).
Many years ago, a love-struck groom on a military base penned a love letter to his young bride. But then the letter was lost by the postal service. Forty-six years later, a crew dismantling an old post office discovered it. They turned it over to the postmaster who found the man and his wife and gave it to them days after their fiftieth wedding anniversary! The love expressed in the letter had endured the test of several decades.
What the young man wrote to his wife was heartfelt, but it pales in comparison to the love letter God has extended to us in Scripture. Peter reminded a group of believers in Jesus, who had come to faith outside of Judaism, of the Word of God they had received—the message of the gospel. These were people who were struggling to form a community of faith in the midst of a foreign land.
The believers had been "ransomed" from their former sinful lifestyles (1 Peter 1:18-20). They'd been born again through the work of the life-changing message of Jesus (1 Peter 1:23). This living and enduring Word—through the power of Jesus, the eternal Word (John 1:1)—awakened new life within them, initiated their living in a way set apart for Him, drew them toward obedience to Him, and reinforced the permanence of their new life in Christ (1 Peter 1:22,24). Peter shared that the "Good News" of Jesus would stand forever because the God who made it possible was eternal and faithful (1 Peter 1:25).
As we continue to live in the midst of a broken world, let's renew our faith and love in Jesus by opening and reading God's love letter to us—the Bible. Through the Scriptures, we can be reminded of all that Jesus provides and turn to Him for new life, deeper love, and an eternal, living hope.
To mistake freedom from sin only on the conscious level of our lives for complete deliverance from sin by the atonement through the Cross of Christ is a great error. No one fully knows what sin is until he is born again. Sin is what Jesus Christ faced at Calvary. The evidence that I have been delivered from sin is that I know the real nature of sin in me. For a person to really know what sin is requires the full work and deep touch of the atonement of Jesus Christ, that is, the imparting of His absolute perfection.
The Holy Spirit applies or administers the work of the atonement to us in the deep unconscious realm as well as in the conscious realm. And it is not until we truly perceive the unrivaled power of the Spirit in us that we understand the meaning of 1 John 1:7 , which says, "…the blood of Jesus Christ His Son cleanses us from all sin." This verse does not refer only to conscious sin, but also to the tremendously profound understanding of sin which only the Holy Spirit in me can accomplish.
I must "walk in the light as He is in the light…"— not in the light of my own conscience, but in God's light. If I will walk there, with nothing held back or hidden, then this amazing truth is revealed to me: "…the blood of Jesus Christ His Son cleanses [me] from all sin" so that God Almighty can see nothing to rebuke in me. On the conscious level it produces a keen, sorrowful knowledge of what sin really is. The love of God working in me causes me to hate, with the Holy Spirit's hatred for sin, anything that is not in keeping with God's holiness. To "walk in the light" means that everything that is of the darkness actually drives me closer to the center of the light.