The Burial of Jesus     John 19: 40
…

39  

Nicodemus, who had previously come to Jesus at night, also brought a mixture of myrrh and aloes, about seventy-five pounds.
41  

Now there was a garden in the place where Jesus was crucified, and in the garden a new tomb in which no one had yet been laid.…
(Pictures of loved ones and followers taking Jesus down from the cross.)
The Price of Love
From: Our Daily Bread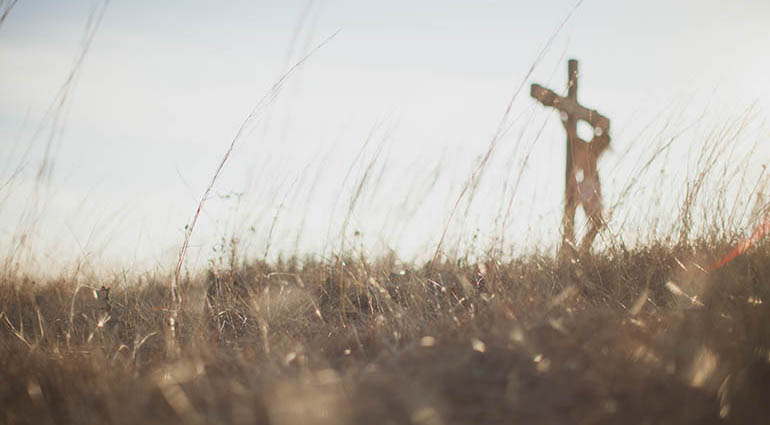 Our daughter burst into tears as we waved goodbye to my parents. After visiting us in England, they were starting their long journey back to their home in the US. "I don't want them to go," she said. As I comforted her, my husband remarked, "I'm afraid that's the price of love."
We might feel the pain of being separated from loved ones, but Jesus felt the ultimate separation when He paid the price of love on the cross. He, who was both human and God, fulfilled Isaiah's prophecy 700 years after Isaiah gave it when He "bore the sin of many" (Isa. 53:12). In this chapter we see rich pointers to Jesus being the suffering Servant, such as when He was "pierced for our transgressions" (v. 5), which happened when He was nailed to the cross and when one of the soldiers pierced His side (John 19:34), and that "by his wounds we are healed" (Isa. 53:5).
Because of love, Jesus came to earth and was born a baby. Because of love, He received the abuse of the teachers of the law, the crowds, and the soldiers. Because of love, He suffered and died to be the perfect sacrifice, standing in our place before the Father. We live because of love.
Lord Jesus Christ, the Lamb of God who takes away our sins, have mercy on us, and help us to extend mercy and love to others. Show us how we might share Your love with others today.
Jesus was the perfect sacrifice who died to give us life.
The Failure To Pay Close Attention
Asa was not completely obedient in the outward, visible areas of his life. He was obedient in what he considered the most important areas, but he was not entirely right. Beware of ever thinking, "Oh, that thing in my life doesn't matter much." The fact that it doesn't matter much to you may mean that it matters a great deal to God. Nothing should be considered a trivial matter by a child of God. How much longer are we going to prevent God from teaching us even one thing? But He keeps trying to teach us and He never loses patience. You say, "I know I am right with God"— yet the "high places" still remain in your life. There is still an area of disobedience. Do you protest that your heart is right with God, and yet there is something in your life He causes you to doubt? Whenever God causes a doubt about something, stop it immediately, no matter what it may be. Nothing in our lives is a mere insignificant detail to God.
Are there some things regarding your physical or intellectual life to which you have been paying no attention at all? If so, you may think you are all correct in the important areas, but you are careless— you are failing to concentrate or to focus properly. You no more need a day off from spiritual concentration on matters in your life than your heart needs a day off from beating. As you cannot take a day off morally and remain moral, neither can you take a day off spiritually and remain spiritual. God wants you to be entirely His, and it requires paying close attention to keep yourself fit. It also takes a tremendous amount of time. Yet some of us expect to rise above all of our problems, going from one mountaintop experience to another, with only a few minutes' effort.
Our Real and Present God
From: Our Daily Journey
In 2005, two researchers coined "moral therapeutic deism" (MTD) as a description for the prevailing religious views of younger Americans. MTD is a constellation of beliefs that can be summed up this way: God exists and provides a moral way of ordering your life so that you can fulfill the ultimate goal of your life—to be happy and feel good about yourself. Although God is mostly removed and uninvolved in your life, He will welcome you to heaven when you die if you've been good.
Unfortunately, MTD describes many people's religious views, not only the younger generation's. While we may balk at some of the assertions above, practically speaking, many of us grapple with the idea that God is actively present in our lives. Perhaps we've prayed desperately for the healing of someone we love, only to find ourselves weeping at a grave. Perhaps we've asked God to change a relationship or provide a job or bring justice to the oppressed—only to have loneliness, unemployment, or injustice threaten to overwhelm us in the end.
Scripture promises us, however, that God is near and that He is active in our lives. He's never far away; He surrounds us. Before Jesus ascended to the Father, He told His bewildered, fearful disciples that He would send the Holy Spirit who would never leave them (John 14:16-17). The Spirit would continue to lead them "into all truth," the same truth that Jesus brought to us and that He announced on the cross and in His resurrection (John 14:17).
Whatever our experiences—including at times being disappointed or troubled by our inability to understand God's actions or silence—we have Jesus' promise that His Spirit is here. God is a very real and present God.