Conceived in Crisis
From: Our Daily Bread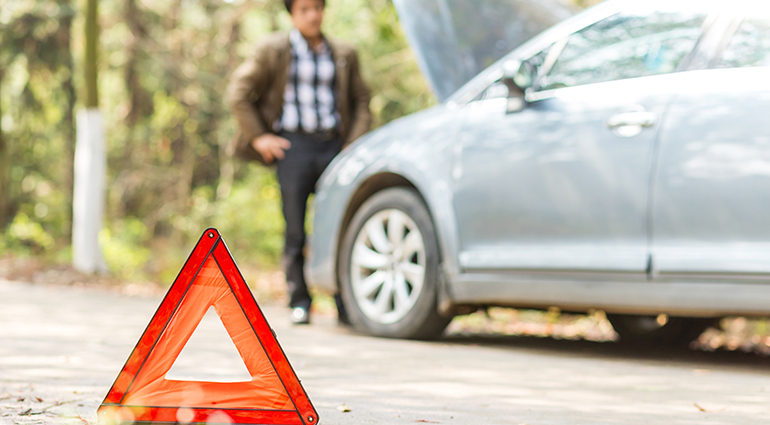 I will take refuge in the shadow of your wings until the disaster has passed. Psalm 57:1
Marc recalls a moment from his childhood when his father called the family together. Their car had broken down, and the family would run out of money by the end of the month. Marc's dad paused and prayed. Then he asked the family to expect God's answer.
Today Marc recalls how God's help arrived in surprising ways. A friend repaired their car; unexpected checks arrived; food showed up at the door. Praising God came easily. But the family's gratitude had been forged in a crisis.
Psalm 57 has long provided rich inspiration for worship songs. When David declared, "Be exalted, O God, above the heavens" (v. 11), we might imagine him gazing up at a magnificent Middle Eastern night sky or perhaps singing in a tabernacle worship service. But in reality David, fearful for his life, was hiding in a cave.
"I am in the midst of lions," David said in the psalm. These "ravenous beasts" were "men whose teeth are spears and arrows, whose tongues are sharp swords" (v. 4). David's praise was conceived in crisis. Although he was cornered by enemies who wanted him dead, David could write these amazing words: "My heart, O God, is steadfast . . . . I will sing and make music" (v. 7).
Whatever crisis we face today, we can run to God for help. Then, we can praise Him as we wait expectantly, confident in His infinitely creative care for us.
Your next crisis is your next opportunity to trust our unfailing God.
"And God is able to bless you abundantly, so that in all things at all times, having all that you need, you will abound in every good work." 2 Corinthians 9:8 (NIV)
I was tired.
In five short years, I'd become a mother to 13, grown a ministry of 60 staff members which provided schooling and discipleship to over 700 children, and learned to function in a completely different culture.
I sat at a school and watched children dance as they sang in a language I still only half-understood. My mind wandered back over the years:
The day I moved halfway around the world, from Nashville to Uganda, thinking I'd only stay a year.
The day God planted in my heart to begin Amazima, with the goal of teaching His truth to families in my village.
The day a house collapsed on a little girl I had adopted. What started as a short-term foster situation became a permanent adoption as she and her siblings filled up my heart and home following their grandmother's death.
The joy when, with a few friends and a few dollars and a lot of faith, Amazima sent 40 children to school for the first time.
I shifted in my rickety chair as the students recited a poem, but instead of their words I heard a whisper, "Let's do it again."
I knew it was from the Lord, as the thought rose from a place deep inside.
Recently, Amazima staff leadership and I discussed opening a secondary school in Uganda. We felt it would simply be too much. We were already spread thin. But as the idea persisted, we committed to spend a few days praying and fasting over it together. Today was the last day before we'd make a decision.
"Let's do it again," I felt the whisper a second time.
Later that day, I haphazardly flipped open my Bible, still mulling over the words I felt the Lord had spoken to me. My eyes fell on 2 Corinthians 9:8, and tears filled my eyes as I read, "And God is able to bless you abundantly, so that in all things at all times, having all that you need, you will abound in every good work."
All things. All times. All that we need.
The next morning, I told the leadership team I felt God leading us to build the school. It would require more than we had, but I was confident He wanted to use it to make disciples. Thus began years of research, planning, dreaming and praying.
Another five years have passed, and in our first year operating The Amazima Secondary School, 72 students received a Christian education from compassionate, Jesus-loving teachers. As I listened to parents describe how this school is changing lives, I blinked back tears and remembered His words to me.
"Let's do it again."
He's spoken those words many times, calling me out of my comfort zone to places where I would not have enough time or resources and would have to lean on Him. And each time He has been all things, in all times, and given everything I needed.
When I was joyfully preparing to marry the most wonderful man, but also grieving the life of "just me and the girls," He whispered, "Let's do it again. Come with Me again to this place of uncertainty where you lean on Me to be all you need."
When we wondered about opening our home to addicts, AIDS patients and homeless people, He spoke softly, "Let's do it again. And I will be with you, and where you don't have enough, I will be enough."
When I was pregnant with our first son, excited yet terribly worried he'd alter our family dynamic, that our girls might draw comparisons between the way they entered our family and the way he did, those same words rose up, "Let's do it again."
In the past decade, God has drawn me to places of uncertainty, trepidation, even hardship. Time and again, He's asked me to trust Him, and He's given me all I ever needed. Maybe you agree, or you're still uncertain whether God will provide. I've been there.
But today, I sat on the other side. I saw clearly that even in the most difficult times, God always provides, always uses all of it for my good and His glory as He draws me closer to Him.
Whatever your circumstance, God will be all things in all times. He will be all you need.
Father God, thank You for always drawing us closer. Give us eyes to see Your work in and around us, and increase our faith so we can trust You more. Thank You for being faithful to us again and again. In Jesus' Name, Amen
"His disciples asked Him privately, 'Why could we not cast it out?' " (Mark 9:28). The answer lies in a personal relationship with Jesus Christ. "This kind can come out by nothing but" concentrating on Him, and then doubling and redoubling that concentration on Him. We can remain powerless forever, as the disciples were in this situation, by trying to do God's work without concentrating on His power, and by following instead the ideas that we draw from our own nature. We actually slander and dishonor God by our very eagerness to serve Him without knowing Him.
When you are brought face to face with a difficult situation and nothing happens externally, you can still know that freedom and release will be given because of your continued concentration on Jesus Christ. Your duty in service and ministry is to see that there is nothing between Jesus and yourself. Is there anything between you and Jesus even now? If there is, you must get through it, not by ignoring it as an irritation, or by going up and over it, but by facing it and getting through it into the presence of Jesus Christ. Then that very problem itself, and all that you have been through in connection with it, will glorify Jesus Christ in a way that you will never know until you see Him face to face.
We must be able to "mount up with wings like eagles" (Isaiah 40:31), but we must also know how to come down. The power of the saint lies in the coming down and in the living that is done in the valley. Paul said, "I can do all things through Christ who strengthens me" (Philippians 4:13) and what he was referring to were mostly humiliating things. And yet it is in our power to refuse to be humiliated and to say, "No, thank you, I much prefer to be on the mountaintop with God." Can I face things as they actually are in the light of the reality of Jesus Christ, or do things as they really are destroy my faith in Him, and put me into a panic?