Acts 8:26-40  
 (ESV)
Philip and the Ethiopian Eunuch
26 Now an angel of the Lord said to Philip, "Rise and go toward the south[a] to the road that goes down from Jerusalem to Gaza." This is a desert place.
 27 And he rose and went. And there was an Ethiopian, a eunuch, a court official of Candace, queen of the Ethiopians, who was in charge of all her treasure. He had come to Jerusalem to worship
 28 and was returning, seated in his chariot, and he was reading the prophet Isaiah. 29 And the Spirit said to Philip, "Go over and join this chariot."
Pictures of ordinary interruptions
Divine interruptions are when God takes you away from what you are doing for a good reason.
Divine Interruptions
From: Our Daily Bread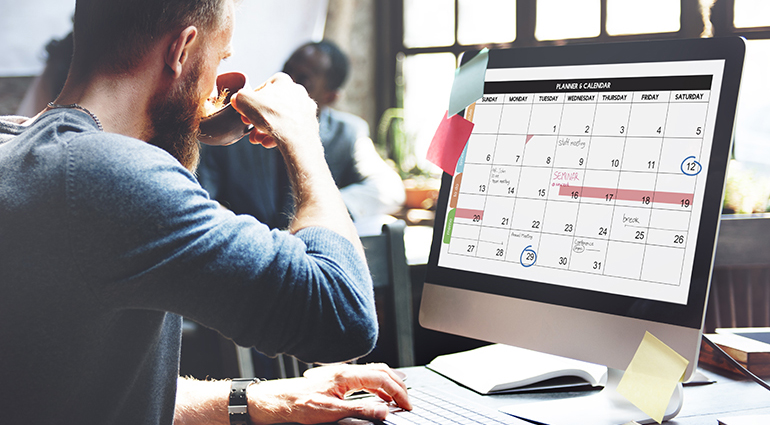 Jesus asked him, "What do you want me to do for you?" "Lord, I want to see," he replied.  Luke 18:40–41
Experts agree that a staggering amount of time is consumed each day by interruptions. Whether at work or at home, a phone call or an unexpected visit can easily deflect us from what we feel is our main purpose.
Not many of us like disruptions in our daily lives, especially when they cause inconvenience or a change of plans. But Jesus treated what appeared to be interruptions in a far different way. Time after time in the Gospels, we see the Lord stop what He is doing to help a person in need.
While Jesus was on His way to Jerusalem where He would be crucified, a blind man begging by the side of the road called out, "Jesus, Son of David, have mercy on me!" (Luke 18:35–38). Some in the crowd told him to be quiet, but he kept calling out to Jesus. Jesus stopped and asked the man, "'What do you want me to do for you?' 'Lord, I want to see,' he replied. Jesus said to him, 'Receive your sight; your faith has healed you' " (vv. 41–42).
When our plans are interrupted by someone who genuinely needs help, we can ask the Lord for wisdom in how to respond with compassion. What we call an interruption may be a divine appointment the Lord has scheduled for that day.
Lord Jesus, fill us with Your wisdom and compassion that we may respond as You did to people in need.
Interruptions can be opportunities to serve.
What It Takes to Withstand Evil
From: Stormie Omartian, author
Before each specific assignment Navy SEALs are given, they thoroughly assess their equipment. Each item they have with them is chosen for a specific reason—to protect themselves, fight the enemy, win the battle, survive, and return safely. Every aspect of their equipment is of the best quality and must be in perfect working order or condition. Because all of this has to be carried with them on their body, they assemble their camouflage uniform with precision and great thought. They know they can't go into battle safely or effectively if they are missing something important or carrying extra baggage. Everything they take with them is designed to facilitate and anticipate their every need. By the time they are on a mission they are more than ready.
As prayer warriors we must do the same. God doesn't want us carrying anything that is unnecessary because it will weigh us down and hinder what He has called us to do. And we must not go to battle without the things we need in order to win. Our battle is spiritual, and what we accomplish in the spirit realm is as important as what the highly trained, prepared, and equipped soldier does in the physical. We must know our weapons and be highly skilled in using them. But first we must put on the armor God has given us in order to stand strong against the enemy.
The apostle Paul said, "Be strong in the Lord and in the power of His might. Put on the whole armor of God, that you may be able to stand against the wiles of the devil " (Ephesians 6:10-11). He didn't say, "If you are smart you might take up the whole armor." Or, "If you feel like it and have the time, take up the armor." Or, "Try to take up the armor at least once or twice a year." God's Word says, "Take up the whole armor of God" (Ephesians 6:13). This is not suggested; it is commanded.
The Bible would not have told us to take up the whole armor of God in order to withstand evil if evil could have been withstood without doing that.
To "stand against" literally means to stand in front of and in opposition to the forces and plans of evil. It means to be the one standing after the battle. It also means to stand in preparation for the next battle. Standing against the wiles of the devil certainly doesn't mean do nothing. If we are to do nothing until He comes, why do we need to wrestle against the enemy? "We do not wrestle against flesh and blood, but against principalities, against powers, against the rulers of the darkness of this age, against spiritual hosts of wickedness in the heavenly places" (Ephesians 6:12). Why does Jesus give us spiritual weapons to withstand evil forces if He doesn't want us to use them?
The reason we must put on the whole armor of God is to withstand evil. We don't war against people, but against a spiritual hierarchy of invisible power.
The forces of evil are invisible powers with a structure and specific levels of authority. We are not only to use our armor to protect and defend ourselves from them—as important as that is—but also to go on the offensive against them as well. When we do that, we close doors to the enemy and open doors to the will of God to be done on earth. We advance God's kingdom.
Lord, help me to put on the full spiritual armor You have provided for me so that I can "stand against the wiles of the devil" every day. In Jesus' name I pray.
Alluring
From: Our Daily Journey
Read:
Matthew 14:13-21
As soon as Jesus heard the news, he left in a boat to a remote area to be alone. But the crowds heard where he was headed and followed on foot from many towns (Matthew 14:13).
The owner of the coffee shop I escape to when I have a writing deadline told me she wants it to be the "community's living room." And I think it is. There are heart surgeons, business people, judges, medical students, teachers, kids from local schools, college students, parents, pastors, and writers who frequent it. Although I'm new to the area, I've already come to recognize many of the patrons. The people who work there are friendly and welcoming. The coffee and food are good. The atmosphere is cozy and alluring. It's a go-to place in our community.
My little haven calls to mind the fact that wherever Jesus showed up became a go-to place. In Matthew 14:13 we read that He was in a remote place. But it didn't matter! As soon as the crowds found out where He was, they left their towns and went out to Him. Part of the reason people were drawn to Jesus was that He was full of God's healing power (Matthew 14:14). They were also drawn by the way He brought out the wisdom of the Scriptures (Luke 5:1). But central to the attraction to Jesus was the way He made all types of people comfortable around Him (Matthew 9:11). When they looked at Christ, they saw love and compassion in His eyes (Matthew 14:14).
Everything about Jesus was alluring. So wherever He happened to be—whether a home, seaside, wilderness, or even the cross—there was a pull, a magnetism that drew people close.
When we follow Jesus, when we're filled with Him (Colossians 2:9-10), we too will be alluring. Our lives, houses, workplaces, and churches will be go-to places. May we His disciples—and the places we frequent—be alluring through His power and love within us.