Wake up! Strengthen what remains and is about to die, for I have found your deeds unfinished in the sight of my God. Revelation 3:2
Wake-Up Call!
From: Our Daily Bread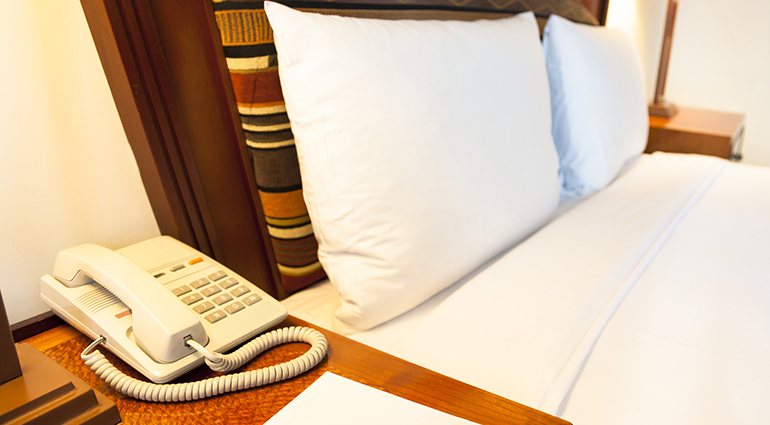 During the years when I traveled frequently and stayed in a different city every night, I always scheduled a wake-up call when I checked into a hotel. Along with a personal alarm, I needed a jangling telephone to help get me out of bed and moving in the morning.
The book of Revelation contains a spiritual wake-up call in the apostle John's letters to the seven churches in the province of Asia. To the church in Sardis he wrote this message from Jesus Himself: "I know your deeds; you have a reputation of being alive, but you are dead. Wake up! Strengthen what remains and is about to die, for I have found your deeds unfinished in the sight of my God" (Rev. 3:1–2).
In the midst of spiritual fatigue, we may fail to notice the lethargy that creeps into our relationship with God. But the Lord tells us to "remember . . . what you have received and heard; hold it fast, and repent" (v. 3).
Many people find that scheduling some extra time each morning to read the Bible and talk to the Lord in prayer helps them stay spiritually alert. It's not a job but a joy to spend time with Jesus and know that He prepares us for whatever lies ahead that day.
Lord, enable us to hear and respond to Your wake-up call today.
Spending time with Jesus is a joy!
Ever Been Mad at God?
From: Brad Henry, author
Have you ever been mad at God? Most of us have; because in a sense at times we lose the light to our path. We start to get into trouble in this life when we try to figure out where God is taking us. We get into a vicious cycle of "Since this happened God must be doing this" or "since I didn't get this job this must be what He wants." Satan loves when we try to figure out God because then our focus is on us and not others. Many problems in this life come from our own selfish desires.
If we could figure out God, He would not be God! So why do we spend countless hours fretting about our future? The farther we are from Jesus, the more control we desire. The closer we are to Jesus, the more we see His love for us. Sometimes we see wicked men succeed (in a worldly sense) and sometimes we see the righteous suffer (in a worldly sense). When we question this, we are trying to figure out God's scales for justice. I have questioned God for many years. Why did He take my dad when I was 13? Why did I smoke that joint and it ruined many aspects of my life? Why did our son get Autism? Why? Why? Why? My problem and yours with God will always be an issue when we try to make this world heaven.
No wonder we are frustrated with the plans we see. We see injustice, but we don't see behind the scenes. At Disney World, there is a whole city underneath the Magic Kingdom. People are changing clothes, making outfits, and doing all the work to make everything above ground go according to plan. I am sure it looks like chaos underneath, so on top all we see is a smoothly functioning theme park. In this life, we equate joy with being in control. We want to make sure we have all the parts and pieces going in the right direction as that will ensure safety for us.
No matter how much money you have, how secure your job, your health or your future – it can all evaporate in an instant; YES an instant.
The verse that follows is at the end of the book of Job. After all the questions and concerns, God finally answers Job and his friends. This is just part of what God says:
"Can you make lightning appear and cause it to strike as you direct? Who gives intuition to the heart and instinct to the mind? Who is wise enough to count all the clouds? Who can tilt the water jars of heaven when the parched ground is dry and the soil has hardened into clods? Can you stalk prey for a lioness and satisfy the young lions' appetites as they lie in their dens or crouch in the thicket? Who provides food for the ravens when their young cry out to God and wander about in hunger?" Job 38:35-41 NLT
Even though the lion hunts, God brings the lion its prey. Don't ever be so arrogant that you think all your hard work, long hours, and playing politics will get you the next big deal or the next championship. We do what we can with the talents God gave us BUT the victory is the Lord's and the Lord's alone.
You can work 24 hours a day, give it all you can – and if God does not want it to happen, it won't. If you want to get mad at God, then transfer that over to Satan who has twisted you into thinking that God does not love you. That is a lie of Satan; it is not from God. God is the only place you can turn to. Today, stop believing a lie that you are the master of your ship and in control of your destiny. All we are called to do is put our hand to the plow with our talents, but it is God and God alone who sends the rain. Oh, and by the way, STOP trying to make this life heaven. When you look to death and heaven as your reward, then nothing on this earth can steal your joy, nothing! That is true victory.
We do not grow into a spiritual relationship step by step— we either have a relationship or we do not. God does not continue to cleanse us more and more from sin— "But if we walk in the light," we are cleansed "from all sin" (1 John 1:7). It is a matter of obedience, and once we obey, the relationship is instantly perfected. But if we turn away from obedience for even one second, darkness and death are immediately at work again.
All of God's revealed truths are sealed until they are opened to us through obedience. You will never open them through philosophy or thinking. But once you obey, a flash of light comes immediately. Let God's truth work into you by immersing yourself in it, not by worrying into it. The only way you can get to know the truth of God is to stop trying to find out and by being born again. If you obey God in the first thing He shows you, then He instantly opens up the next truth to you. You could read volumes on the work of the Holy Spirit, when five minutes of total, uncompromising obedience would make things as clear as sunlight. Don't say, "I suppose I will understand these things someday!" You can understand them now. And it is not study that brings understanding to you, but obedience. Even the smallest bit of obedience opens heaven, and the deepest truths of God immediately become yours. Yet God will never reveal more truth about Himself to you, until you have obeyed what you know already. Beware of becoming one of the "wise and prudent." "If anyone wills to do His will, he shall know…" (John 7:17).