9 Let us not become weary in doing good, for at the proper time we will reap a harvest if we do not give up.

9 Have I not commanded you? Be strong and courageous. Do not be afraid; do not be discouraged, for the LORD your God will be with you wherever you go."

27 Jesus looked at them and said, "With man this is impossible, but not with God; all things are possible with God."
Held by God
From: Our Daily Bread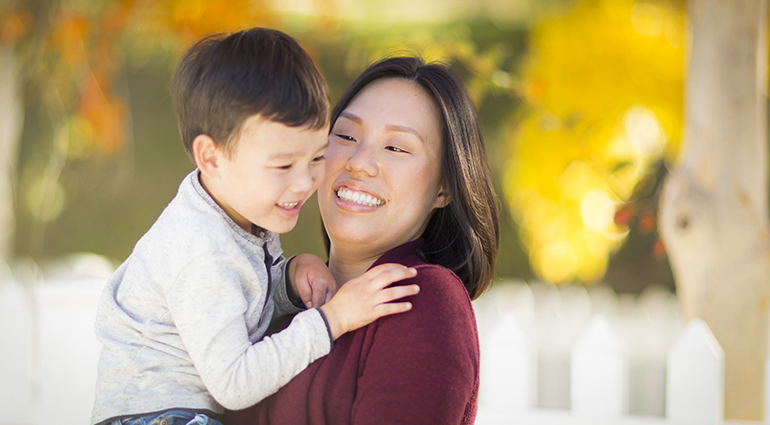 I have calmed and quieted myself, I am like a weaned child with its mother; like a weaned child I am content. Psalm 131:2
As I was nearing the end of lunch with my sister and her children one afternoon, my sister told my three-year-old niece, Annica, it was time to get ready for her nap. Her face filled with alarm. "But Aunt Monica did not hold me yet today!" she objected, tears filling her eyes. My sister smiled. "Okay, she may hold you first—how long do you need?" "Five minutes," she replied.
As I held my niece, I was grateful for how, without even trying, she constantly reminds me what it looks like to love and be loved. I think sometimes we forget that our faith journey is one of learning to experience love—God's love—more fully than we can imagine (Eph. 3:18). When we lose that focus, we can find ourselves, like the older brother in Jesus's parable of the prodigal son, trying desperately to win God's approval while missing out on all He has already given us (Luke 15:25–32).
Psalm 131 is one prayer in Scripture that can help us to "become like little children" (Matt. 18:3) and to let go of the battle in our mind over what we don't understand (Ps. 131:1). Instead, through time with Him we can return to a place of peace (v. 2), finding the hope we need (v. 3) in His love—as calm and quiet as if we were children again in our mothers' arms (v. 2).
Lord, we are so grateful for those in our lives who remind us what it means to love and be loved. Help us to be ever more deeply rooted in Your love.
Like children, we can learn to rest in the love of God.
The glorious habitation
From: Charles Spurgeon
"Lord, thou hast been our dwelling place in all generations." Psalm 90:1
Suggested Further Reading: 1 John 4:13-16
Will you take my master's house on a lease for all eternity, with nothing to pay for it, nothing but the ground rent of loving and serving him for ever? Will you take Jesus, and dwell in him throughout eternity, or will you be content to be a houseless soul? Come inside, sir; see, it is furnished from top to bottom with all you want. It has cellars filled with gold, more than you will spend as long as you live; it has a parlour where you can entertain yourself with Christ, and feast on his love; it has tables well stored with food for you to live on for ever; it has a drawing-room of brotherly love where you can receive your friends. You will find a resting room up there where you can rest with Jesus; and on the top there is a look-out, whence you can see heaven itself. Will you have the house, or will you not? Ah, if you are houseless, you will say, "I should like to have the house; but may I have it?" Yes; there is the key. The key is, "Come to Jesus." But you say "I am too shabby for such a house." Never mind; there are garments inside. As Rowland Hill once said:
"Come naked, come filthy, come ragged, come poor,
Come wretched, come dirty, come just as you are."
If you feel guilty and condemned, come, and though the house is too good for you, Christ will make you good enough for the house. He will wash you, and cleanse you, and you will yet be able to sing with Moses, with the same unfaltering voice, "Lord, thou hast been my dwelling place throughout all generations."
Children's bread given to dogs
From: Charles Spurgeon
'And she said, Truth, Lord: yet the dogs eat of the crumbs which fall from their masters' table.' Matthew 15:27
Suggested Further Reading: Isaiah 64:4–9
Instead of trying to make your case out to be better, believe in its thorough badness, and yet be of good cheer. You cannot exaggerate your sin, and even if you could, it would be wiser to err in that direction than the other. A man called at my house some time ago for charity; an arrant beggar, I have no doubt. Thinking that the man's rags and poverty were real, I gave him a little money, some of my clothes, and a pair of shoes. After he had put them on and gone out, I thought, 'Well, after all, I have done you a bad turn very likely, for you will not get so much money now as before, because you will not look so wretched an object.' Happening to go out a quarter of an hour afterwards, I saw my friend, but he was not wearing the clothes I had given him, not he; why, I should have ruined his business if I could have compelled him to look respectable. He had been wise enough to slip down an archway, take all the good clothes off, and put his rags on again. Did I blame him? Yes, for being a rogue, but not for carrying on his business in a businesslike manner. He only wore his proper livery, for rags are the livery of a beggar. The more ragged he looked, the more he would get. Just so is it with you. If you are to go to Christ, do not put on your good doings and feelings, or you will get nothing; go in your sins, they are your livery. Your ruin is your argument for mercy; your poverty is your plea for heavenly alms; and your need is the motive for heavenly goodness. Go as you are, and let your miseries plead for you.
For meditation: The filthy rags of sin are the natural uniform of all human beings (Romans 3:23). The Lord Jesus Christ wore them spiritually on the cross in our place and in return offers you now his spotless robe of righteousness (Isaiah 61:10; Zechariah 3:3–5), which is the Christian's uniform and ticket to heaven. But you won't even be able to gatecrash heaven (John 10:1), if you reject Christ's righteousness and continue to wear the filthy rags of your sin (Matthew 22:11–13).
For My Own Sake
From: Sarah Limardo, author, and CBN
When I really need to hear the voice of God in my life, I find myself escaping into the words of Isaiah. I'm intrigued by God's words, His active speaking through dialogue, which always strikes me.
One morning, as I read my Bible before class, I stumbled across what is now my favorite verse, Isaiah 43:25, NIV, "I, even I, am he who blots out your transgressions, for my own sake, and remembers your sins no more."
I stared at this verse as my heart dove out of my chest and into these words, deeper and deeper, and swaddled itself in the insane amount of intentional love I found there.
I tend to fall into that category of folks who know they're forgiven and receive it but still can't shake the "wretch like me" attitude. As I stared at this verse, God took that attitude, turned it on its head, and shook it until understanding wove itself through every thread of my heart.
I pictured God saying these words to me. Like He was suddenly sitting in my tiny room with me, leaning over my Bible and saying, "For my sake. Forgiving you is about Me, not you. It's that I want you near me. I want to be with you."
This verse comes right after God is telling the Israelites how they haven't brought Him offerings and didn't call on Him. Rather they have "burdened" Him with sins and "wearied" Him. (Isaiah 43:25)
How many times had I done the same? How many times had I told God with my mouth that I loved him, but done something contrary to what a love for God looked like? I'd stopped counting, and I was left wanting to prove the love I thought had been overshadowed by my sins. I wanted to draw close to the God I loved.
It was never about me. It's about God's love for me. It's the great story of…everything. It was never about us.
I took my Bible with me everywhere in the days following. I couldn't part from the love that kept echoing in my heart, "For my own sake."
We see this same principle echoed throughout everything—God forgiving our sins for His sake because He made us and desires us. Nearly a chapter later, in Isaiah 44:23, NIV, Isaiah writes, "Sing for joy, your heavens, for the Lord has done this; shout aloud, you earth beneath. Burst into song, you mountains, you forests and all your trees, for the Lord has redeemed Jacob, he displays his glory in Israel."
Cast off that "wretch like me" attitude, because God has forgotten your sins, redeemed you, and loves you! He frees us to sing for joy and shout it out—we're commanded to embrace this attitude of joy because we have such a strong foundation for it. If you've asked for forgiveness, He's given it to you. So why not take hold of it?
Our redemption is something to be celebrated and enjoyed. Love the gift He's given you!