Your Safe Place
From: Our Daily Bread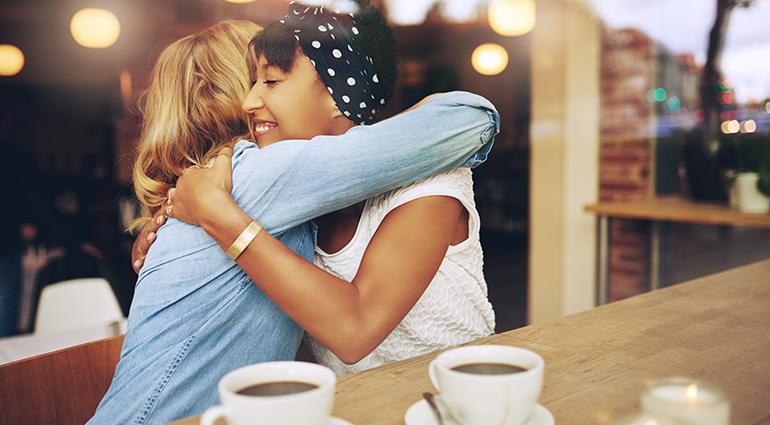 The name of the Lord is a fortified tower; the righteous run to it and are safe. Proverbs 18:10
My daughter and I were arranging to attend an extended family gathering. Because she was nervous about the trip, I offered to drive. "Okay. But I feel safer in my car. Can you drive it?" she asked. I assumed she preferred her more spacious vehicle to my compact one so I responded, "Is my car too cramped?" "No, it's just that my car is my safe place. Somehow I feel protected there."
Her comment challenged me to consider my own personal "safe place." Immediately I thought of Proverbs 18:10, "The name of the Lord is a fortified tower; the righteous run to it and are safe." In Old Testament times, the walls and watchtower of a city provided warning of danger from without and shielding for its citizens within. The writer's point is that God's name, which stands for His character, person, and everything that He is, provides true protection for His people.
Certain physical places promise longed-for safety in moments that seem dangerous. A sturdy roof overhead in the midst of a storm. A hospital offering medical care. The embrace of a loved one.
What is your "safe place"? Wherever we seek safety, it is God's presence with us in that place that provides the strength and protection we really need.
Dear God, thank You that no matter what worries and concerns we have today, when we think about You, we find safety in Your presence.
Where is your safe place?
God is a safe place in life's storms.
When the Lights Go Out
From: CBN, and Paul Linzey, author
It was Friday night, we'd gone out for dinner and barely made it back into the garage before the downpour.
When the power went off, I was writing at my computer and my wife was reading an e-book on her tablet. The plan was to watch a movie a little later, but there we were with no electricity, no lights, no internet, and no television.
"What do we do now?" she asked.
I reached into the desk drawer for the flashlight that doubles as a cell phone power source, plugged in my phone, and turned on the mobile hotspot so we could maintain internet connection. Then I walked over to the kitchen pantry where we keep two battery-operated camping lanterns, pulled one out, and placed it on the kitchen counter, where its light sprayed throughout the kitchen, dining room, and living room. Not a lot, but enough.
For the next hour, rain poured from the sky as if God had picked up the Atlantic Ocean and was dumping it on us. Linda took the lantern over to the couch to read; my laptop had plenty of charge for me to finish the work I was doing.
Although the rest of the house was dark, and the temperature grew warmer because the air conditioner was off, we didn't have a crisis when the lights went out. During the previous weekend, we had checked the batteries in those emergency lamps and charged my mobile power back-up. Because we were ready, there was no emergency when the storm caused a blackout. We didn't panic and there wasn't a crisis.
The same can be true if something terrible happens and life itself comes to an end. If we've taken time to prepare in advance, even death isn't a crisis, and we don't have to panic.
In Philippians 1:21 NIV the Apostle writes, "to live is Christ, and to die is gain." That doesn't sound like a man who is afraid of the dark or of death. He was prepared for whatever might happen.
Job is another who had a deep confidence when facing the storms of life. Despite all the pain and ugliness that he faced, he still declared, "I know that my Redeemer lives." Job 19:25 NKJV
When the lights finally came back on, we watched an old Alfred Hitchcock movie starring James Stewart and Doris Day. It was a lovely evening—despite the storm raging on the outside.
Love Meter
From: Our Daily Journey
Read:
1 John 4:9-10
God showed his great love for us by sending Christ to die for us while we were still sinners (Romans 5:8).
A "love calculator" can be found on the Internet. As strange as it may sound, all you're instructed to do once you're on the website is to key in your name and the name of the person you're interested in, and the love meter calculates your "love percentage"—supposedly revealing your chances of a successful romantic relationship. I wonder how many have naïvely tried to find true love using this website!
God doesn't leave us second-guessing how much He loves us. The Bible speaks of God's love being demonstrated by His generous gift of His Son—solid proof that He loves us (John 3:16). In fact, we "know what real love is" only "because Jesus gave up his life for us" (1 John 3:16). His willing death demonstrated the enormity and intensity of that affection (Romans 5:6-8) and revealed God's heart: "God showed how much he loved us by sending his one and only Son into the world so that we might have eternal life through him. This is real love . . . that he loved us and sent His Son as a sacrifice to take away our sins" (1 John 4:9-10).
No one compelled Jesus to die. Three times He said He willingly died for us (John 10:11,15,18). Paul said that "God presented Jesus as the sacrifice for sin. . . . Jesus sacrificed his life, shedding his blood" (Romans 3:25). Because His death was divinely authored, it's not a meaningless tragedy. He purposefully died for us, taking our sin and its consequences on Himself (Romans 4:25; 2 Corinthians 5:21).
Because "all of this is a gift from God, who brought us back to himself through Christ" (2 Corinthians 5:18), we need never doubt His love. The cross of Jesus is God's love meter. And it shows we're greatly loved beyond measure.