A friend loves at all times, And a brother is born for adversity.
Do not rejoice when your enemy falls, And do not let your heart be glad when he stumbles; Or the LORD will see it and be displeased, And turn His anger away from him.
"Whoever forces you to go one mile, go with him two. "Give to him who asks of you, and do not turn away from him who wants to borrow from you.
"He who receives a prophet in the name of a prophet shall receive a prophet's reward; and he who receives a righteous man in the name of a righteous man shall receive a righteous man's reward. "And whoever in the name of a disciple gives to one of these little ones even a cup of cold water to drink, truly I say to you, he shall not lose his reward."
HONOR YOUR FATHER AND MOTHER; and YOU SHALL LOVE YOUR NEIGHBOR AS YOURSELF."
Brother to Brother

A new command I give you: Love one another. John 13:34
My brother and I, less than a year apart in age, were quite "competitive" growing up (translation: we fought!). Dad understood. He had brothers. Mom? Not so much.
Our story could have fit in the book of Genesis, which might well be subtitled A Brief History of Sibling Rivalry. Cain and Abel (Gen. 4); Isaac and Ishmael (21:8–10); Joseph and everyone not named Benjamin (ch. 37). But for brother-to-brother animosity, it's hard to beat Jacob and Esau.
Esau's twin brother had cheated him twice, so he wanted to kill Jacob (27:41). Decades later Jacob and Esau would reconcile (ch. 33). But the rivalry continued on in their descendants, who became the nations of Edom and Israel. When the people of Israel prepared to enter the Promised Land, Edom met them with threats and an army (Num. 20:14–21). Much later, as Jerusalem's citizens fled invading forces, Edom slaughtered the refugees (Obad. 1:10–14).
Happily for us, the Bible contains not just the sad account of our brokenness but the story of God's redemption as well. Jesus changed everything, telling His disciples, "A new command I give you: Love one another" (John 13:34). Then He showed us what that means by dying for us.
As my brother and I got older, we became close. That's the thing with God. When we respond to the forgiveness He offers, His grace can transform our sibling rivalries into brotherly love.
Lord, we invite You to transform our relationships with Your healing love.
Sibling rivalry is natural. God's love is supernatural.
Faithful in the Pain
Read:
Habakkuk 1:1–2:4
The righteous will live by their faithfulness to God (Habakkuk 2:4).
Joni Eareckson Tada, a world-renowned artist, author, and speaker, became a quadriplegic as the result of an accident in 1967. She admits that every morning she wakes up tired and convinced that she can't face another day with quadriplegia. But she takes her weakness to God, seeking His grace, and continues to serve others—her joy in Jesus radiating through her smile.
Having spent years bound by her wheelchair, Joni embodies the concept of tireless faithfulness spoken of by Habakkuk. After receiving word of Judah's impending judgment through the Babylonians, the prophet honed in on God's reminder that the righteous would live by faithfulness to Him (Habakkuk 2:4). According to J.J Parsons, "The Hebrew word 'faith' is emunah, which suggests perseverance, fidelity and steadfastness, notwithstanding appearances or circumstances that might tempt us to waver."
Abraham demonstrated emunah when he believed God's promise of an heir, and "the Lord counted him as righteous because of his faith" (Genesis 15:6). Similarly, Joseph displayed emunah when he was sold into slavery by his brothers, waylaid by Potiphar's wife (Genesis 39:6-18), and forgotten in prison (Genesis 40:12-23). Hebrews 11 catalogs the triumphs and trials of many who brought their weakness to God and experienced emunah, while also pointing out "all these people earned a good reputation because of their faith, yet none of them received all that God had promised" (Hebrews 11:39).
Pain is real and can't be avoided this side of eternity. And yet, we don't lose hope; we dare to faithfully persevere by God's strength, for "no eye has seen, no ear has heard, and no mind has imagined what God has prepared for those who love him" (1 Corinthians 2:9).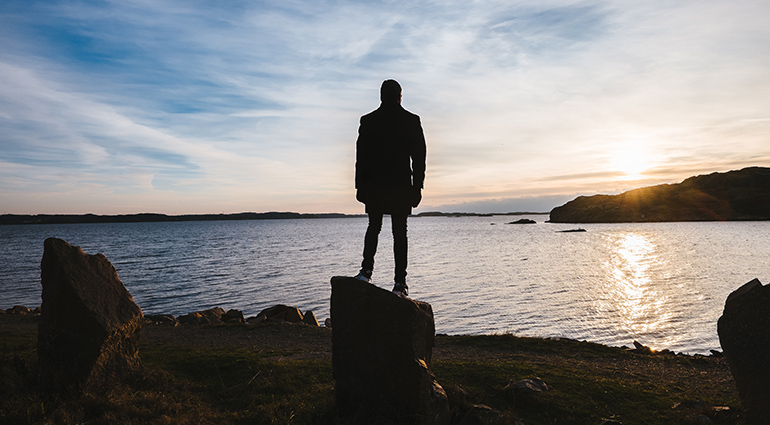 Our Lord never tolerates our prejudices— He is directly opposed to them and puts them to death. We tend to think that God has some special interest in our particular prejudices, and are very sure that He will never deal with us as He has to deal with others. We even say to ourselves, "God has to deal with other people in a very strict way, but of course He knows that my prejudices are all right." But we must learn that God accepts nothing of the old life! Instead of being on the side of our prejudices, He is deliberately removing them from us. It is part of our moral education to see our prejudices put to death by His providence, and to watch how He does it. God pays no respect to anything we bring to Him. There is only one thing God wants of us, and that is our unconditional surrender.
When we are born again, the Holy Spirit begins to work His new creation in us, and there will come a time when there is nothing remaining of the old life. Our old gloomy outlook disappears, as does our old attitude toward things, and "all things are of God" (2 Corinthians 5:18). How are we going to get a life that has no lust, no self-interest, and is not sensitive to the ridicule of others? How will we have the type of love that "is kind…is not provoked, [and] thinks no evil"? (1 Corinthians 13:4-5). The only way is by allowing nothing of the old life to remain, and by having only simple, perfect trust in God— such a trust that we no longer want God's blessings, but only want God Himself. Have we come to the point where God can withdraw His blessings from us without our trust in Him being affected? Once we truly see God at work, we will never be concerned again about the things that happen, because we are actually trusting in our Father in heaven, whom the world cannot see.
[Written by Joe Stowell for Our Daily Bread.]
"You were bought at a price; therefore glorify God in your body and in your spirit." 1 Corinthians 6:20
Long before the US professional baseball season begins each spring, team owners and managers are busy negotiating trades and contracts. They'll pay large sums of money to get the athlete who will help them win the championship. When the season starts, all eyes are on the newly acquired talent to see if he was worth the cost. The ultimate measure of the player's success is whether his contribution to the team is a good return on the investment.
In 1 Corinthians 6:20
, Paul reminds us that we too have been "bought at a price." The context paints a compelling picture of Christ's great sacrifice. He liberated us from the cruel slavemaster of sin by buying us with the high price of His own life.
Getting a grip on God's great and loving investment in us should motivate us to gladly consider making His sacrifice rich in dividends. How is that return on His investment measured? By living to bring glory to Him! Our eyes, hands, feet, thoughts, dreams, and desires have been purchased to reflect the wondrous glory of God's will and wisdom. In other words, we are no longer our own.
Paul concluded, "Therefore glorify God in your body" (1 Corinthians 6:.20). Living to reflect His glory is the return on investment that makes the Owner of our lives look good!
Redemption's price our Savior paid
When all our sins on Him were laid;
He took our guilt, He bore our shame
That we may glorify His name. —D. De Haan
Our choice to bring glory to God yields a great return on Christ's investment.