Ephesians 5:25: "For husbands, this means love your wives, just as Christ loved the church. He gave up his life for her."
Genesis 2:24: "Therefore a man shall leave his father and his mother and hold fast to his wife, and they shall become one flesh."
Ecclesiastes 4:12: "Though one may be overpowered, two can defend themselves. A cord of three strands is not quickly broken."
Mark 10:9: "Therefore what God has joined together, let no one separate."
Ephesians 5:25-33: "Husbands, love your wives, as Christ loved the church and gave himself up for her, that he might sanctify her, having cleansed her by the washing of water with the word, so that he might present the church to himself in splendor, without spot or wrinkle or any such thing, that she might be holy and without blemish. In the same way husbands should love their wives as their own bodies. He who loves his wife loves himself. For no one ever hated his own flesh, but nourishes and cherishes it, just as Christ does the church, …"
Pictures of couples who have been married fifty years.
Trust Tally
From: Our Daily Bread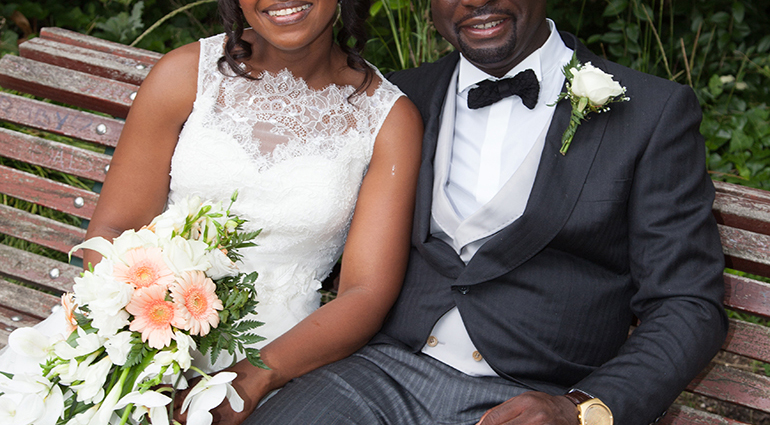 See, the Lord your God has given you the land. . . . Do not be afraid; do not be discouraged. Deuteronomy 1:21
Before my husband and I surrendered our lives to Christ, we seriously considered divorce. But after committing to love and obey God, we recommitted to each other. We sought wise counsel and invited the Holy Spirit to transform us individually and as a couple. Our heavenly Father continues to help us develop healthy communication skills. He's teaching us how to love and trust Him—and one another—no matter what happens.
Yet, even as we head toward celebrating our twenty-fifth anniversary, I occasionally forget everything God has done in and through our trials. Sometimes, I struggle with a deep-seated fear of the unknown—experiencing unnecessary anxiety instead of relying on God's track record.
In Deuteronomy 1, Moses affirmed the Lord's reliability. He encouraged the Israelites to move forward in faith so they could enjoy their inheritance (v. 21). But God's people demanded details about what they'd be up against and what they'd receive before committing to trust Him with their future (vv. 22–33).
Followers of Christ are not immune to succumbing to fear or anxiety. Worrying about what difficulties we may or may not encounter can keep us from depending on faith, and may even damage our relationships with God and others. But the Holy Spirit can help us create a trust tally of the Lord's past faithfulness. He can empower us with courageous confidence in God's trustworthiness yesterday, today, and forever.
Lord, thank You for affirming that we don't need to know everything that lies ahead when we know You. We know You never change.
God's past faithfulness proves His everlasting dependability.
Heaven Rules
From: Our Daily Journey
The front page of the newspaper showed an overjoyed woman clapping her hands above her head. She wore not only a huge smile but also a T-shirt bearing the name of her favorite political candidate. Next to her photo was another picture of equal size. It showed a disappointed young man slumped over in defeat. Both were reacting to the results of a government election.
People everywhere have different opinions about what makes a good leader and which type of government would best suit their nation. But no matter who's the top leader in our country, it's comforting to remember that God is our ultimate authority.
King Nebuchadnezzar came to understand this fact in an unusual way. In a dream, he saw a fruitful tree cut down but not uprooted. Then an angel appeared and shouted a message, which contained this thought, "The Most High rules over the kingdoms of the world" (Daniel 4:17).
Fear gripped the king as he woke up (Daniel 4:5). What did this mean for him? None of his magicians, fortune-tellers, or astrologers could tell him, so he asked Daniel to explain the symbolism. Empowered by the Holy Spirit (Daniel 4:8), Daniel revealed that the tree represented the king, who would be humbled by living in a pasture and grazing grass like a cow (Daniel 4:25). The king would receive his vast empire back only when he acknowledged that God was in charge of everything—that "heaven rules" (Daniel 4:26). Everything happened as Daniel predicted, with the king eventually being reinstated with more honor than ever before (Daniel 4:33-34).
While many leaders have good intentions, all people are imperfect. There's only one completely perfect, holy, and fair authority—God—and thankfully, He's the King whose rule is everlasting!
"Then Peter got down out of the boat, walked on the water and came toward Jesus. But when he saw the wind, he was afraid and, beginning to sink, cried out, 'Lord, save me!'" Matthew 14:29-30
Normally, my favorite way to drive a speedboat is full-tilt, skipping across the water with the wind in my face. But this time my usual penchant for speed was tempered by the precious cargo being towed behind the boat—two of my granddaughters, Sophie, who was 4, and Maggie, who was 6, were going tubing for the first time. Our plan was to pull them gently along behind the boat on a huge tube designed with little cockpits for them to sit in.
So, I'm sitting in the driver's seat of the speedboat and Maggie and Sophie are decked out in their life vests, nestled down into the tube, ready to go on their first-ever tube ride. And, good grandfather that I am, I resisted the lure of the boat's horsepower and gently eased the throttle down ever so slowly, not wanting to scare the little girls who were already feeling a little tentative. But though well-intended, I was clueless. The tube was not designed to go slow. When pulled fast enough, the tube planes out on top of the water. When pulled slowly, water gushes over the front of the tube and actually pulls it underwater.
Well, you can imagine the terrified look on Sophie and Maggie's faces as the tube took on more and more water! Their panicked cries of desperation could be heard all across the lake. Think of it, only 4 and 6 years old, and headed to Davy Jones's locker!  Needless to say, I stopped the boat immediately and we began reeling the tube in. The whole time we were pulling the tube in, we kept calling, "Look up here, it's going to be okay! We've got you; you're alright. Look up here!"
As they got close to us and heard our assuring words, their panic subsided and you could see their faces relax. They were no longer focused on the water around them and the real danger in the lake. Getting close to and keeping their eyes on the one helping them made all the difference.
To me that seems a lot like what happened to Peter in Matthew 14:1-34
. No tubes and no speed boat, but real danger nevertheless. His bravery and courage took him quite a distance—in fact, all the way outside of a boat onto storm-tossed waves in the howling wind. For a few minutes, it was just him and Jesus, and Peter was able to do the impossible. He was walking on water! But then his attention got diverted. Suddenly he saw the churning water and the angry waves, and, Scripture records, he became afraid. The circumstances didn't change, but the focus of his attention did.
But then Jesus reached out, drawing Peter's focus away from the wind and back to Him. Back to the safety and security that Jesus always promises in the midst of the storm.
That's the reminder we need when we're in the midst of life's storms. It's so easy, isn't it, to fixate on the very real dangers and distress that come with life's problems. And yet our loving, gracious, infinitely powerful heavenly Father calls out to us: "Look up here; it's going to be okay. I've got you, and I will bring you in safely."
For Peter, it started with a simple, unadorned, heartfelt prayer. "Lord, save me!" We can cry out those same words as we look away from the waves and into the face of our Father today. As the old song says:
Turn your eyes upon Jesus,
Look full in His wonderful face,
And the things of earth will grow strangely dim
In the light of His glory and grace!
Remember, He didn't bring you this far to let you drown!