Matthew 4:18-22
Jesus Calls His First Disciples
18 As Jesus was walking beside the Sea of Galilee, he saw two brothers, Simon called Peter and his brother Andrew. They were casting a net into the lake, for they were fishermen. 19 "Come, follow me," Jesus said, "and I will send you out to fish for people." 20 At once they left their nets and followed him.
21 Going on from there, he saw two other brothers, James son of Zebedee and his brother John. They were in a boat with their father Zebedee, preparing their nets. Jesus called them, 22 and immediately they left the boat and their father and followed him.
( Jesus knew the disciples names before they were called. He knows your name also.)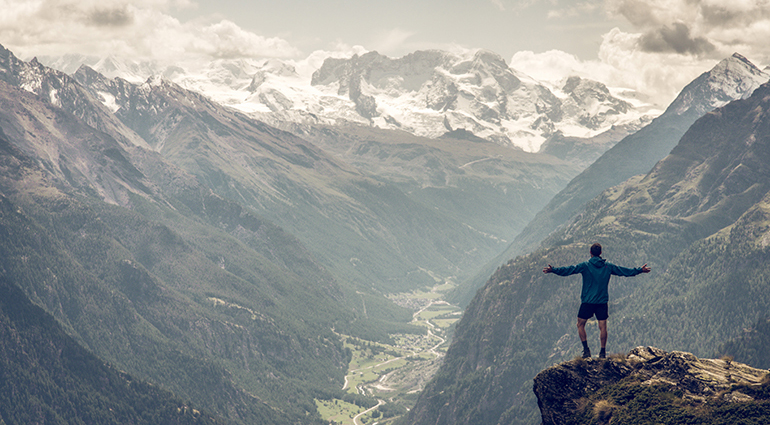 Jesus said to her, "Mary." She turned toward him and cried out in Aramaic, "Rabboni!" John 20:16
Advertisers have concluded that the most attention-grabbing word that viewers react to is their own name. Thus a television channel in the UK has introduced personalized advertisements with their online streaming services.
We might enjoy hearing our name on television, but it doesn't mean much without the intimacy that comes when someone who loves us says our name.
Mary Magdalene's attention was arrested when, at the tomb where Jesus's body had been laid after He was crucified on the cross, He spoke her name (John 20:16). With that single word, she turned in recognition to the Teacher whom she loved and followed, I imagine with a rush of disbelief and joy. The familiarity with which He spoke her name confirmed for her beyond a doubt that the One who'd known her perfectly was alive and not dead.
Although Mary shared a unique and special moment with Jesus, we too are personally loved by God. Jesus told Mary that He would ascend to His Father (v. 17), but He had also told His disciples that He would not leave them alone (John 14:15–18). God would send the Holy Spirit to live and dwell in His children (see Acts 2:1–13).
God's story doesn't change. Whether then or now, He knows those whom He loves (see John 10:14–15). He calls us by name.
Loving Father, living Jesus, comforting Holy Spirit, thank You that You know me completely, and that You love me unceasingly.
The God who created the cosmos also made you, and He calls you by name.
Read:
Matthew 5:1-48
God blesses those who are poor and realize their need for him, for the Kingdom of Heaven is theirs (Matthew 5:3).
When the father of a murdered teen showed a heart of forgiveness to his daughter's killer, waves of shock rippled through the courtroom. The serial killer, who had sat emotionless while the families of several victims voiced their pain and rage, broke down in tears at this unexpected moment of grace. Though painful, the father chose to show a taste of Christ-like love even in his pain.
Jesus' ministry from the beginning challenged the natural inclinations of His hearers. The Jewish expectation of the Messiah was one who would conquer their enemies and establish the reign of God's kingdom on earth. So when Jesus said, "Do not resist an evil person! If someone slaps you on the right cheek, offer the other also. . . . If a soldier demands that you carry his gear for a mile, carry it two miles" (Matthew 5:39-41), they were probably confused.
Similarly, in the Sermon on the Mount, Jesus started off with a series of seemingly contradictory statements. Blessed are the poor in spirit, those who mourn, the meek, those who hunger and thirst for righteousness, the merciful, the pure in heart, the peacemakers, those who are persecuted for righteousness sake, He said, for theirs is the kingdom of heaven, they shall be comforted, inherit the earth, obtain mercy, be called the sons of God, and see God(Matthew 5:3-10 NKJV).
With these statements, Jesus introduced to His followers a new way of thinking and perceiving the world. While the religious leaders of His day focused on actions, Jesus pointed to the heart as the source of adultery and murder (Matthew 5:21-29).
When Jesus lives in our hearts, we can express His kingdom life and thoughts and reveal to the world a new way of living.
The scales of judgement
By: Charles Spurgeon
"Tekel; Thou art weighed in the balances, and art found wanting." Daniel 5:27.
Suggested Further Reading: Psalm 62
Into those scales I must go. God will not take me on my profession. I may bring my witnesses with me; I may bring my minister and the deacons of the church to give me a character, which might be thought all-sufficient among men, but God will tolerate no subterfuge. Into the scales he will put me, do what I may; whatever the opinion of others may be of me, and whatever my own profession. And let me remember, too, that I must be altogether weighed in the scales. I cannot hope that God will weigh my head and pass over my heart—that because I have correct notions of doctrine, therefore he will forget that my heart is impure, or my hands guilty of iniquity. My all must be cast into the scales. Come, let me stretch my imagination, and picture myself about to be put into those scales. Shall I be able to walk boldly up and enter them, knowing whom I have believed, and being persuaded that the blood of Christ and his perfect righteousness shall bear me harmless through it all; or shall I be dragged with terror and dismay? Shall the angel come and say, "Thou must enter." Shall I bend my knee and cry, "Oh, it is all right," or shall I seek to escape? Now, thrust into the scale, do I see myself waiting for one solemn moment. My feet have touched the bottom of the scales, and there stand those everlasting weights, and now which way are they turned? Which way shall it be? Do I descend in the scale with joy and delight, being found through Jesus' righteousness to be full weight, and so accepted; or must I rise, light, frivolous, unsound in all my fancied hopes, and kick the beam?
For meditation: We all ought to check our weight before God does (2 Corinthians 13:5). The scales of God's judgement will show in our favor only if Jesus Christ, the Rock of Ages, is in us. Do you need to put on weight

In everything ye are enriched by him (1 Cor. 1:5).
Have you ever seen men and women whom some disaster drove to a great act of prayer, and by and by the disaster was forgotten, but the sweetness of religion remained and warmed their souls?
So have I seen a storm in later spring; and all was black, save where the lightning tore the cloud with thundering rent.
The winds blew and the rains fell, as though heaven had opened its windows. What a devastation there was! Not a spider's web that was out of doors escaped the storm, which tore up even the strong-branched oak.
But ere long the lightning had gone by, the thunder was spent and silent, the rain was over, the western wind came up with its sweet breath, the clouds were chased away, and the retreating storm threw a scarf of rainbows over her fair shoulders and resplendent neck, and looked back and smiled, and so withdrew and passed out of sight.
But for weeks long the fields held up their bands full of ambrosial flowers, and all the summer through the grass was greener, the brooks were fuller, and the trees cast a more umbrageous shade, because the storm passed by–though all the rest of the earth had long ago forgotten the storm, its rainbows and its rain.
–Theodore Parker
God may not give us an easy journey to the Promised Land, but He will give us a safe one.
–Bonar
It was a storm that occasioned the discovery of the gold mines of India. Hath not a storm driven some to the discovery of the richer mines of the love of God in Christ?
Is it raining, little flower?
Be glad of rain;
Too much sun would wither thee;
'Twill shine again.
The clouds are very black, 'tis true;
But just behind them shines the blue.
Art thou weary, tender heart?
Be glad of pain:
In sorrow sweetest virtues grow,
As flowers in rain.
God watches, and thou wilt have sun,
When clouds their perfect work have done.
–Lucy Larcom