Our Safe Place
From: Our Daily Bread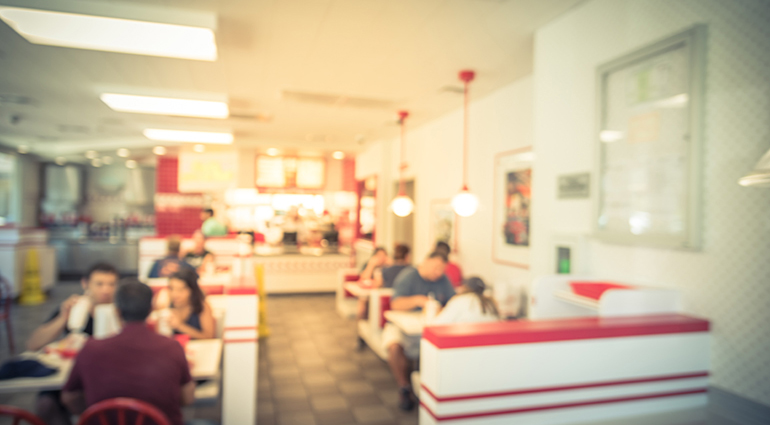 I will say of the Lord, "He is my refuge and my fortress, my God, in whom I trust." Psalm 91:2
My very first job was at a fast-food restaurant. One Saturday evening, a guy kept hanging around, asking when I got out of work. It made me feel uneasy. As the hour grew later, he ordered fries, then a drink, so the manager wouldn't kick him out. Though I didn't live far, I was scared to walk home alone through a couple of dark parking lots and a stretch through a sandy field. Finally, at midnight, I went in the office to make a phone call.
And the person who answered—my dad—without a second thought got out of a warm bed and five minutes later was there to take me home.
The kind of certainty I had that my dad would come to help me that night reminds me of the assurance we read about in Psalm 91. Our Father in heaven is always with us, protecting and caring for us when we are confused or afraid or in need. He declares: "When they call on me, I will answer" (Psalm 91:15 nlt). He is not just a place we can run to for safety. He is our shelter (v. 1). He is the Rock we can cling to for refuge (v. 2).
In times of fear, danger, or uncertainty, we can trust God's promise that when we call on Him, He will hear and be with us in our trouble (vv. 14–15). God is our safe place.
Dear Father, thank You for being my Rock and my safe place.
The living God will always be our shelter.
Peace of Christ
From: Our Daily Journey
Read:
John 14:23-31
I am leaving you with a gift—peace of mind and heart. And the peace I give is a gift the world cannot give. So don't be troubled or afraid (John 14:27).
In the middle of the twentieth century, Japan and the United States were embroiled in a bitter war which only came to an end with the detonation of two nuclear bombs. Yet in the decades that followed, these two countries worked hard to forge peace not only through the ceasing of hostility, but through military and economic cooperation and cultural exchange. Today, the two former enemies are close allies.
When we think about the concept of "peace," we often think only about the ceasing of conflict or struggle, as in the end of a war. And in this way, our understanding of peace is largely circumstantial—we think we have peace when our situation is no longer difficult or stressful. But Jesus tells us that the peace He leaves is not the same as the world offers: "I am leaving you with a gift—peace of mind and heart. And the peace I give is a gift the world cannot give. So don't be troubled or afraid" (John 14:27).
How do the world's peace and Jesus' peace differ? At least one difference is that experiencing Christ's peace doesn't depend on our circumstances, but a relationship. The peace of Jesus comes through the Father sending us His Son and Spirit (John 14:23,26). Through Christ's Spirit, our Counselor and Teacher, we experience His peace in us (John 14:26). This peace doesn't depend on perfect circumstances, but a perfect and personal triune God—who in Christ has won the victory over Satan and is returning again to restore all things (John 14:28,30).
Jesus cautioned us that we're certain to face troubling circumstances in our lives (John 16:33). But our peace doesn't come from avoiding the valleys, but in experiencing even in those moments the presence of God with us (Psalm 23:4).
Jesus' instructions with regard to judging others is very simply put; He says, "Don't." The average Christian is the most piercingly critical individual known. Criticism is one of the ordinary activities of people, but in the spiritual realm nothing is accomplished by it. The effect of criticism is the dividing up of the strengths of the one being criticized. The Holy Spirit is the only one in the proper position to criticize, and He alone is able to show what is wrong without hurting and wounding. It is impossible to enter into fellowship with God when you are in a critical mood. Criticism serves to make you harsh, vindictive, and cruel, and leaves you with the soothing and flattering idea that you are somehow superior to others. Jesus says that as His disciple you should cultivate a temperament that is never critical. This will not happen quickly but must be developed over a span of time. You must constantly beware of anything that causes you to think of yourself as a superior person.
There is no escaping the penetrating search of my life by Jesus. If I see the little speck in your eye, it means that I have a plank of timber in my own (see Matthew 7:3-5). Every wrong thing that I see in you, God finds in me. Every time I judge, I condemn myself (see Romans 2:17-24). Stop having a measuring stick for other people. There is always at least one more fact, which we know nothing about, in every person's situation. The first thing God does is to give us a thorough spiritual cleaning. After that, there is no possibility of pride remaining in us. I have never met a person I could despair of, or lose all hope for, after discerning what lies in me apart from the grace of God.