Philippians 2:5-11
5 Let this mind be in you, which was also in Christ Jesus:
6 Who, being in the form of God, thought it not robbery to be equal with God:
7 But made himself of no reputation, and took upon him the form of a servant, and was made in the likeness of men:
8 And being found in fashion as a man, he humbled himself, and became obedient unto death, even the death of the cross.
Unlocked
From: Our Daily Bread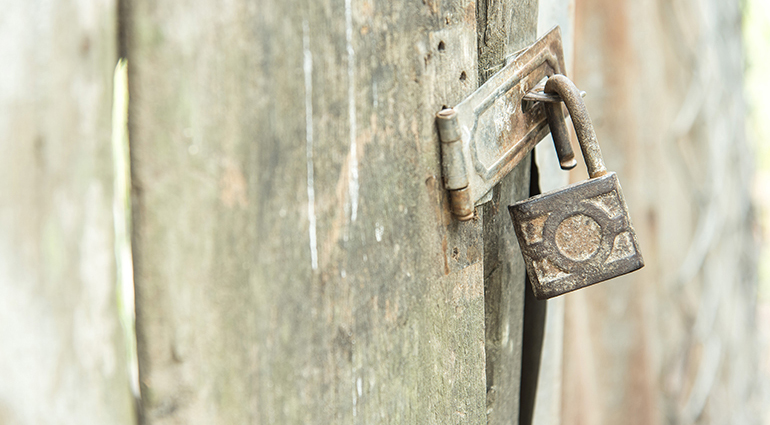 Once you were alienated from God . . . . But now he has reconciled you. Colossians 1:21–22
A boy born with cerebral palsy was unable to speak or communicate. But his mother, Chantal Bryan, never gave up, and when he was ten years old she figured out how to communicate with him through his eyes and a letter board. After this breakthrough, she said, "He was unlocked and we could ask him anything." Now Jonathan reads and writes, including poetry, by communicating through his eyes. When asked what it's like to "talk" with his family and friends, he said, "It is wonderful to tell them I love them."
Jonathan's story is profoundly moving and leads me to consider how God unlocks us from the prison of sin. As the apostle Paul wrote to the Christians at Colossae, once we were "alienated from God" (Colossians 1:21), our evil behavior making us His enemy, but through Christ's death on the cross we are now presented to God as "holy in his sight" (v. 22). We may now "live a life worthy of the Lord" as we bear fruit, grow in the knowledge of God, and are strengthened in His power (vv. 10–11).
We can use our unlocked voices to praise God and share His good news that we are no longer bound to a life of sin. As we continue in our faith, we can hold firm to our hope in Christ.
Lord God, You have released us from our chains of unbelief and given us words to praise You. May we share this freedom with others for Your glory.
The Lord unlocks us from our prison of sin.
FROM: STREAMS IN THE DESERT
The Lord hath sent strength for thee (Ps.68.28, PBV).
The Lord imparts unto us that primary strength of character which makes everything in life work with intensity and decision. We are "strengthened with might by his Spirit in the inner man." And the strength is continuous; reserves of power come to us which we cannot exhaust.
"As thy days, so shall thy strength be"—strength of will, strength of affection, strength of judgment, strength of ideals and achievement.
"The Lord is my strength" to go on. He gives us power to tread the dead level, to walk the long lane that seems never to have a turning, to go through those long reaches of life which afford no pleasant surprise, and which depress the spirits in the sameness of a terrible drudgery.
"The Lord is my strength" to go up. He is to me the power by which I can climb the Hill Difficulty and not be afraid.
"The Lord is my strength" to go down. It is when we leave the bracing heights, where the wind and the sun have been about us, and when we begin to come down the hill into closer and more sultry spheres, that the heart is apt to grow faint. I heard a man say the other day concerning his growing physical frailty, "It is the coming down that tires me!"
"The Lord is my strength" to sit still. And how difficult is the attainment! Do we not often say to one another, in seasons when we are compelled to be quiet, "If only I could do something!"
When the child is ill, and the mother stands by in comparative impotence, how severe is the test! But to do nothing, just to sit still and wait, requires tremendous strength.
"The Lord is my strength!" "Our sufficiency is of God" (2 Cor. 3:5. from The Silver Lining
The conversion of Saul of Tarsus
By: Charles Spurgeon
"And when we were all fallen to the earth, I heard a voice speaking unto me, and saying in the Hebrew tongue, Saul, Saul, why persecutest thou me? it is hard for thee to kick against the pricks." Acts 26:14
Suggested Further Reading: John 15:16-25
When you were first pricked in the heart, how personal the preacher was. I remember it well. It seemed to me that I was the only person in the whole place, as if a black wall were round about me, and I were shut in with the preacher, something like the prisoners at the penitentiary, who each sit in their cell and can see no one but the chaplain. I thought all he said was meant for me; I felt persuaded that some one knew my character, and had written to him and told him all, and that he had personally picked me out. Why, I thought he fixed his eyes on me; and I have reason to believe he did, but still he said he knew nothing about my case. Oh, that men would hear the word preached, and that God would so bless them in their hearing, that they might feel it to have a personal application to their own hearts. But note again—the apostle received some information as to the persecuted one. If you had asked Saul who it was he persecuted, he would have said, "Some poor fishermen, that had been setting up an impostor; I am determined to put them down." "Why, who are they? They are the poorest of the world, the very scum and dregs of society; if they were princes and kings we perhaps might let them have their opinion; but these poor miserable ignorant fellows, I do not see why they are allowed to carry out their infatuation, and I shall persecute them. Moreover, most of them are women I have been persecuting—poor, ignorant creatures. What right have they to set their judgement up above the priests? They have no right to have an opinion of their own, and therefore it is quite right for me to make them turn away from their foolish errors." But see in what a different light Jesus Christ puts it. He does not say, "Saul, Saul, why didst thou persecute Stephen?" or "Why art thou about to drag the people of Damascus to prison;" No—"Saul, Saul, why persecutest thou me?"
For meditation: What a personal Saviour the Lord Jesus Christ is! He personally calls his people to himself (Luke 19:5) and he takes it personally when they are persecuted (Luke 10:16).
God promised Jeremiah that He would deliver him personally— "…your life shall be as a prize to you…" (Jeremiah 39:18). That is all God promises His children. Wherever God sends us, He will guard our lives. Our personal property and possessions are to be a matter of indifference to us, and our hold on these things should be very loose. If this is not the case, we will have panic, heartache, and distress. Having the proper outlook is evidence of the deeply rooted belief in the overshadowing of God's personal deliverance.
The Sermon on the Mount indicates that when we are on a mission for Jesus Christ, there is no time to stand up for ourselves. Jesus says, in effect, "Don't worry about whether or not you are being treated justly." Looking for justice is actually a sign that we have been diverted from our devotion to Him. Never look for justice in this world, but never cease to give it. If we look for justice, we will only begin to complain and to indulge ourselves in the discontent of self-pity, as if to say, "Why should I be treated like this?" If we are devoted to Jesus Christ, we have nothing to do with what we encounter, whether it is just or unjust. In essence, Jesus says, "Continue steadily on with what I have told you to do, and I will guard your life. If you try to guard it yourself, you remove yourself from My deliverance." Even the most devout among us become atheistic in this regard— we do not believe Him. We put our common sense on the throne and then attach God's name to it. We do lean to our own understanding, instead of trusting God with all our hearts (see Proverbs 3:5-6).