A Prayer for the Ephesians
14 For this reason I kneel before the Father, 15 from whom every family[a]in heaven and on earth derives its name. 16 I pray that out of his glorious riches he may strengthen you with power through his Spirit in your inner being, 17 so that Christ may dwell in your hearts through faith. And I pray that you, being rooted and established in love, 18 may have power, together with all the Lord's holy people, to grasp how wide and long and high and deep is the love of Christ, 19 and to know this love that surpasses knowledge—that you may be filled to the measure of all the fullness of God.
20 Now to him who is able to do immeasurably more than all we ask or imagine, according to his power that is at work within us, 21 to him be glory in the church and in Christ Jesus throughout all generations, for ever and ever! Amen.
God of the Depths
From: Our Daily Bread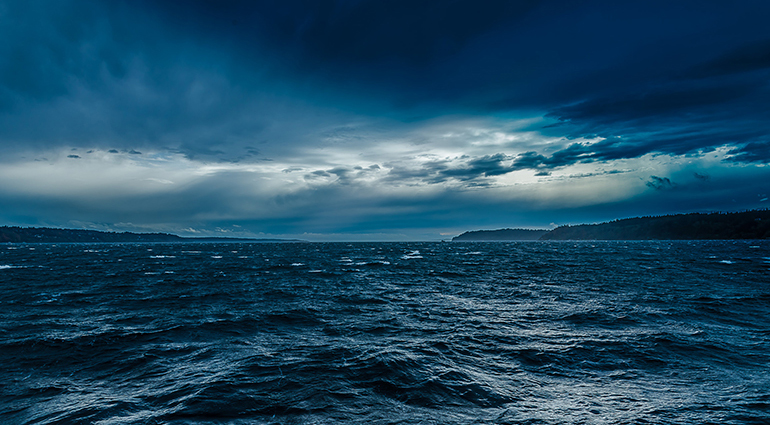 There is the sea, vast and spacious, . . . and Leviathan, which you formed to frolic there. Psalm 104:25–26
"When you go to the deep sea, every time you take a sample, you'll find a new species," says marine biologist Ward Appeltans. In one recent year, scientists identified 1,451 new types of undersea life. We simply don't know the half of what's down there.
In Job 38–40, God reviewed His creation for Job's benefit. In three poetic chapters, God highlighted the wonders of weather, the vastness of the cosmos, and the variety of creatures in their habitats. These are things we can observe. Then God spoke of the mysterious Leviathan—for an entire chapter. Leviathan is a creature like no other, with harpoon-deflecting armor (Job 41:7, 13), graceful power (v. 12), and "fearsome teeth" (v. 14). "Flames stream from its mouth . . . smoke pours from its nostrils" (vv. 19–20). "Nothing on earth is its equal" (v. 33).
Okay, so God talks about a huge creature we haven't seen. Is that the point of Job 41?
No! Job 41 broadens our understanding of God's surprising character. The psalmist expanded on this when he wrote, "There is the sea, vast and spacious, . . . and Leviathan, which you formed to frolic there" (Psalm 104:25–26). After the terrifying description in Job, we learn that God created a playpen for this most fearsome of all creatures. Leviathan frolics.
We have the present to explore the ocean. We'll have eternity to explore the wonders of our magnificent, mysterious, playful God.
Our exploration of creation teaches us about the Creator.
A Longer Process
From: Our Daily Journey
Read:
1 Peter 2:9-12
Live properly among your unbelieving neighbors. Then even if they accuse you of doing wrong, they will . . . give honor to God (1 Peter 2:12).
By nearly all accounts, the founder of a prominent multinational technology company was a difficult man to work for. Early on, his abrasive tone and management style caused many employees to leave the company. But those who endured his initial rudeness often came to win their boss' respect, and eventually developed a productive relationship with him. But that positive relationship was the fruit of a longer process; it certainly wasn't instantaneous.
In today's passage, when Peter describes how we should interact with non-believers, he implies a level of disagreement or hostility mentioning that they will "accuse you of doing wrong" (1 Peter 2:12). Often this idea becomes the foundation for how we relate to non-believers: We think we're so different in perspective and behavior that it's pointless to share any sort of relationship with them.
But in truth, that hostility isn't the end of the story, but only a midpoint of a larger process. Although it's true that we can often have profound disagreements with non-believers, our behavior, when it's truly Christ-like, can result in their receiving "God's mercy" (1 Peter 2:10). They may be so affected by how we live that they can't help but "give honor to God" (1 Peter 2:12). Such a transformation isn't possible if we turn away from them at the first sign of conflict.
It's far too easy (and natural) to avoid or abandon a difficult relationship, especially one in which there's a major disagreement. But we shouldn't be too quick to turn our backs on those who don't yet know Christ, no matter how profound our disagreements. If we do, we miss out on the chance to show them "the goodness of God," and how He can live in them as well (1 Peter 2:9).
We are all capable of being spiritually lazy saints. We want to stay off the rough roads of life, and our primary objective is to secure a peaceful retreat from the world. The ideas put forth in these verses from Hebrews 10 are those of stirring up one another and of keeping ourselves together. Both of these require initiative— our willingness to take the first step toward Christ-realization, not the initiative toward self-realization. To live a distant, withdrawn, and secluded life is diametrically opposed to spirituality as Jesus Christ taught it.
The true test of our spirituality occurs when we come up against injustice, degradation, ingratitude, and turmoil, all of which have the tendency to make us spiritually lazy. While being tested, we want to use prayer and Bible reading for the purpose of finding a quiet retreat. We use God only for the sake of getting peace and joy. We seek only our enjoyment of Jesus Christ, not a true realization of Him. This is the first step in the wrong direction. All these things we are seeking are simply effects, and yet we try to make them causes.
"Yes, I think it is right," Peter said, "…to stir you up by reminding you…" (2 Peter 1:13). It is a most disturbing thing to be hit squarely in the stomach by someone being used of God to stir us up— someone who is full of spiritual activity. Simple active work and spiritual activity are not the same thing. Active work can actually be the counterfeit of spiritual activity. The real danger in spiritual laziness is that we do not want to be stirred up— all we want to hear about is a spiritual retirement from the world. Yet Jesus Christ never encourages the idea of retirement— He says, "Go and tell My brethren…" (Matthew 28:10).