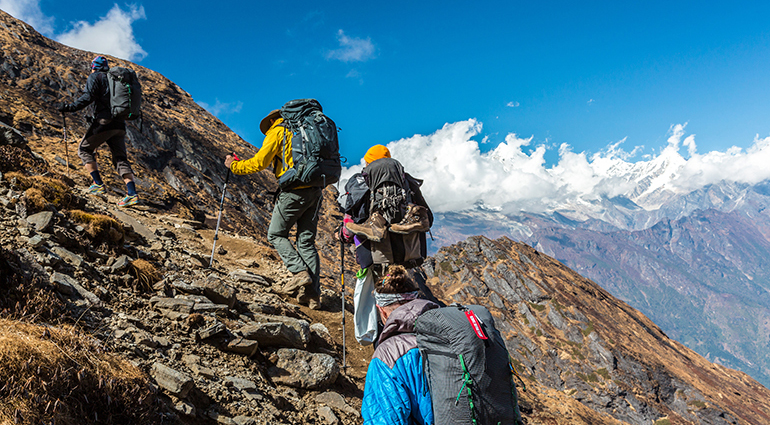 Some trust in chariots and some in horses, but we trust in the name of the Lord our God. Psalm 20:7
One of the tellers at my bank has a photograph of a Shelby Cobra roadster on his window. (The Cobra is a high-performance automobile built by the Ford Motor Company.)
One day, while transacting business at the bank, I asked him if that was his car. "No," he replied, "that's my passion, my reason to get up every morning and go to work. I'm going to own one someday."
I understand this young man's passion. A friend of mine owned a Cobra, and I drove it on one occasion! It's a mean machine! But a Cobra, like everything else in this world, isn't worth living for. Those who trust in things apart from God "are brought to their knees and fall," according to the psalmist (Psalm 20:8).
That's because we were made for God and nothing else will do—a truth we validate in our experience every day: We buy this or that because we think these things will make us happy, but like a child receiving a dozen Christmas presents or more, we ask ourselves, "Is this all?" Something is always missing.
Nothing this world has to offer us—even very good things—fully satisfies us. There is a measure of enjoyment in them, but our happiness soon fades away (1 John 2:17). Indeed, "God cannot give us happiness and peace apart from Himself," C. S. Lewis concluded. "There is no such thing."
I have found Him whom my soul so long has craved! Jesus satisfies my longings—through His blood I now am saved. Clara Williams
There is a longing in every heart that only Jesus can satisfy.
The power of Aaron's rod
'But Aaron's rod swallowed up their rods.' Exodus 7:12
Suggested Further Reading: Revelation 12:7–17
What multitudes of foes has our faith had to meet with; but how it has swallowed them all up. There were our old sins. The devil threw them down before us, and they turned to serpents. What multitudes! How they hiss in the air! How horrible are their deadly poison-fangs, the gaping jaws, their forked tongues! But the cross of Jesus, like Aaron's rod, destroys them all. Faith in Christ makes short work of all our sins, for it is written, 'The blood of Jesus Christ his Son cleanseth us from all sin.' Then the devil stirs up another generation of vipers, and shows us our inbred corruptions, our neglects of duty, our slackness in prayer, our unbeliefs, our backslidings, our wanderings of heart; and sometimes you and I get so tormented by these reptiles, that we grow alarmed, and are half inclined to flee. Do not run, brother, but throw down Aaron's rod, and it will swallow up all these serpents, even though they were poisonous as the cobra, or fierce as the rattlesnake. You shall overcome through the blood of the Lamb. Jesus is able 'to save them to the uttermost that come unto God by him.' The battle is the Lord's, and he will deliver them into your hands. The old enemy will throw down another host of serpents in the form of worldly trials, diabolical suggestions, temptations to blasphemy, ill thoughts of God, hard thoughts of his providence, rash thoughts of his promises, and such like, till you will be almost distracted. You will wonder how you can meet such a host as this. Remember to stand fast, and throw down Aaron's rod—your simple trust and faith in Jesus Christ—and it must and shall swallow up all these rods.
For meditation: Pharoah's magicians could to some extent mimic the work of God (Exodus 7:11,22; 8:7), but they were really no match for him (Exodus 7:12) and their power had strict limitations (Exodus 8:18–19; 2 Timothy 3:8–9). Satan and his servants can also do some amazing things (2 Thessalonians 2:9–10; Revelation 13:13–15), but the Christian trusts in and is indwelt by One who is greater (1 John 4:4).
God Talks to Teens
Author: Martha Noebel
My son, Daniel, is approaching his junior year of high school. We are looking for scholarship information and colleges. It is an exciting time for our family. There are so many questions and yet I couldn't help but wonder as I repeatedly heard him share his goal for life, what did God want him to do?
I prayed God would show him what He wanted Daniel to be. As I heard Daniel speak of his choice for life, I longed to hear him speak what I felt God had shown me about him. I explained to him he needed to ask God His opinion. I told him God has a plan for his life and exhorted him to ask God. I promised him God would answer his question about his destiny.
"For I know the plans I have for you," declares the LORD, "plans to prosper you and not to harm you, plans to give you hope and a future." Jeremiah 29:11 (NIV)
"Many are the plans in a person's heart, but it is the LORD's purpose that prevails." Proverbs 19:21 (NIV)
The next morning I dropped him off at school. We had not discussed this issue at all that morning. As he got out of the car, he stopped and looked back at me and said he had not heard from God. What a surprise! He had prayed and was actively looking to God for an answer. I was so excited. I asked him to give God a little more time. Then I prayed, "God please answer him."
About a month later, I was filling out information about his college choices when I told him what I had put down for his life choice. I listed architect, business administration, etc.; when all of a sudden I heard him say to take architect off the list. I froze. I could not believe what I was hearing. I asked him if he had changed his mind. He told me God had spoken to him. I was so excited I could hardly believe it. Then the words I longed to hear came out of his mouth. He said what he would be doing was not his first choice and yet he knew he had heard from God. His words were God wanted him to be a preacher.
That is what I felt God was calling him to do. I had felt that his whole life. There were no signs it would ever happen and now, well, you could have knocked me over with a feather.
So who said God doesn't talk to teens? God talks to teens! He talked to mine. He showed him His plans for himself. He will be leading the Devotion this week at their youth meeting. He has really come a long way.
God longs to speak to our kids. He will pour Himself into them as they seek His will. Daniel is still my big, strong, young man who loves to argue with his sister (we're working on that part). But he now knows he has decisions to make and someone bigger than himself is actively a part of his life.
Let's pray for our kids. Let us encourage our teens to seek God for the choices they are making. God will answer them. It is never too early or too late and is always the best thing to do.
"Fathers, do not exasperate your children; instead, bring them up in the training and instruction of the Lord." Ephesians 6:4 (NIV)
"These commandments that I give you today are to be on your hearts. Impress them on your children. Talk about them when you sit at home and when you walk along the road, when you lie down and when you get up." Deuteronomy 6:6-7(NIV)