The Cross is a reminder of what it cost God to save us. 
Wearing the cross is a sign of our belief in the risen Savior.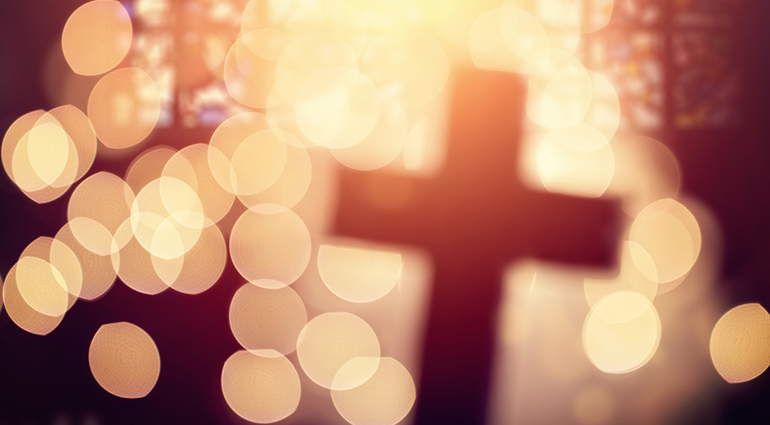 [Nothing] will be able to separate us from the love of God that is in Christ Jesus our Lord. Romans 8:39
My coworker Tom keeps an 8″ by 12″ glass cross on his desk. His friend Phil, who like Tom is a cancer survivor, gave it to him to help him look at everything "through the cross." The glass cross is a constant reminder of God's love and good purposes for him.
That's a challenging idea for all believers in Jesus, especially during difficult times. It's much easier to focus on our problems than on God's love.
The apostle Paul's life was certainly an example of having a cross-shaped perspective. He described himself in times of suffering as being "persecuted, but not abandoned; struck down, but not destroyed" (2 Corinthians 4:9). He believed that in the hard times, God is at work, "achieving for us an eternal glory that far outweighs them all. So we fix our eyes not on what is seen, but on what is unseen" (vv. 17–18).
To "fix our eyes . . . on what is unseen" doesn't mean we minimize the problems. Paul Barnett, in his commentary on this passage, explains, "There is to be confidence, based on the certainty of God's purposes for [us] . . . . On the other hand, there is the sober recognition that we groan with hope mingled with pain."
Jesus gave His life for us. His love is deep and sacrificial. As we look at life "through the cross," we see His love and faithfulness. And our trust in Him grows.
Father, teach us who You are. Increase our trust in You. Fill our minds with Your perspective.
Look at everything through the cross.
Substitution
"For he hath made him to be sin for us, who knew no sin; that we might be made the righteousness of God in him." 2 Corinthians 5:21
Suggested Further Reading: 1 Peter 2:18-25
Of this God in Christ, our text says that he knew no sin. It does not say that he did not sin; that we know: but it says more than that; he did not know sin; he knew not what sin was. He saw it in others, but he did not know it by experience. He was a perfect stranger to it. It is not barely said, that he did not take sin into his heart, but he did not know it. It was no acquantance of his. He was the acquaintance of grief; but he was not the acquaintance of sin. He knew no sin of any kind,—no sin of thought, no sin of birth, no original, no actual transgression; no sin of lip, or of hand, did ever Christ commit. He was pure, perfect, spotless; like his own divinity, without spot or blemish, or any such thing. This gracious person, is he who is spoken of in the text. He was a person utterly incapable of committing anything that was wrong. It has been asserted lately, by some ill-judged one, that Christ was capable of sin. I think it was Irving who started some such idea, that if Christ was not capable of sinning, he could not have been capable of virtue. "For," say they, "if a man must necessarily be good, there is no virtue in his goodness." Away with their ridiculous nonsense! Is not God necessarily good? And who dares deny that God is virtuous? Are not the glorified spirits in heaven necessarily pure? And yet are they not holy because of that very necessity? Are not the angels, now that they are confirmed, necessarily faultless? And shall any one dare to deny angelic virtue! The thing is not true; it needs no freedom in order to create virtue. Freedom and virtue generally go together; but necessity and virtue are as much brother and sister as freedom and virtue. Jesus Christ was not capable of sin.
For meditation: It would have been awful for the sinless Christ to suffer just for one sin of one man. But for him to suffer for all the sins of a countless multitude past, present and future must have been appalling beyond all imagination. How God must hate sin! How he must love poor sinners! Did Christ die for you (Galatians 2:20)?

The cup which my Father hath given me, shall I not drink it? (John 18:11)
This was a greater thing to say and do than to calm the seas or raise the dead. Prophets and apostles could work wondrous miracles, but they could not always do and suffer the will of God. To do and suffer God's will is still the highest form of faith, the most sublime Christian achievement.
To have the bright aspirations of a young life forever blasted; to bear a daily burden never congenial and to see no relief; to be pinched by poverty when you only desire a competency for the good and comfort of loved ones; to be fettered by some incurable physical disability; to be stripped bare of loved ones until you stand alone to meet the shocks of life–to be able to say in such a school of discipline, "The cup which my Father has given me, shall I not drink it?'–this is faith at its highest and spiritual success at the crowning point.
Great faith is exhibited not so much in ability to do as to suffer.
–Dr. Charles Parkhurst
To have a sympathizing God we must have a suffering Saviour, and there is no true fellow-feeling with another save in the heart of him who has been afflicted like him. We cannot do good to others save at a cost to ourselves, and our afflictions are the price we pay for our ability to sympathize. He who would be a helper, must first be a sufferer. He who would be a saviour must somewhere and somehow have been upon a cross; and we cannot have the highest happiness of life in succoring others without tasting the cup which Jesus drank, and submitting to the baptism wherewith He was baptized.
The most comforting of David's psalms were pressed out by suffering; and if Paul had not had his thorn in the flesh we had missed much of that tenderness which quivers in so many of his letters.
The present circumstance, which presses so hard against you (if surrendered to Christ), is the best shaped tool in the Father's hand to chisel you for eternity. Trust Him, then. Do not push away the instrument lest you lose its work.
Strange and difficult indeed
We may find it,
But the blessing that we need
Is behind it.
The school of suffering graduates rare scholars.
Fear No Evil
From: Jane Samuel, Author
"… I will fear no evil …" Psalm 23:4 (NKJV)
Have you ever screamed, thinking you stepped on a spider, only to realize it was a stray black thread? Or has your heart ever raced at that phone call from school, only to learn that little Johnny had won an award? Or have you ever panicked when your texts went unanswered, simply to discover your spouse's phone battery had died?
If you are like me, you probably answered, "Yes!" to at least one or all of these.
Don't we have a tendency to imagine the worst? We admit a fearful thought; our creative mind chimes in, willingly embellishing details to nonexistent situations. We picture it in vivid color as it flashes across the backdrop of our make-believe set. We choose a comfortable seat and watch it, mesmerized as if it were an award-winning movie. Only when the credits roll, do we realize this made-up scenario was nothing but a far-fetched invention of our fearful fancy.
So is there an antidote to overactive harmful imagination?
I've started chewing on this curative capsule from the brave, bold, optimistic Psalmist: I will fear no evil. Psalm 23:4 (NKJV)
What if this cold is more than just a cold?  I will fear no evil.
What if I run out of money? I will fear no evil.
What if something bad happens to my spouse? I will fear no evil.
What if my kids fall in with the wrong crowd? I will fear no evil.
What if someone breaks into my house? I will fear no evil.
What if I get into an accident? I will fear no evil.
How about you? Do you fear evil? Do you combat an unfounded, irrational fear that keeps you from enjoying life? Do you suffer a chronic expectation of the worst?
If so, contemplate with me, David's reason as to why he said he would fear no evil.
"… I will fear no evil; for You are with me …" Psalm 23:4 (NKJV italics mine)
Let's read that again.
For You are with me. 
Isn't the knowledge of our Shepherd's constant and comforting presence reassuring?
Friend, we are called to live unafraid of evil.
Evil people.
Evil things.
Evil places.
Evil events.
Evil threats.
Evil diseases.
Evil outcomes.
Evil days.
Fearful thoughts will come. We can't prevent that. And not all those will be unfounded or irrational. Some will be justifiable and shake us to the core. But if we allow the truth of God's Word to descend into our spirit, we will be able to draw it out at the right moment. Like a warrior armed and ready for battle we will be equipped. We will be prepared to wield it in the face of an alarming report. Brandish it at the news of possible lay off. Believe it at the threat of impending lawsuit. Trust it in the midst of irreparable loss. As long as our Shepherd is with us, we fear no evil.
Yea, though I walk through the valley of the shadow of death, I will fear no evil; For You are with me. Your rod and Your staff they comfort me. You prepare a table before me in the presence of my enemies. You anoint my head with oil; my cup runs over. Surely Your goodness and mercy will follow me all the days of my life, and I will dwell in the house of the LORD forever. (Psalm 23:5-6 NKJV)