Your Family Is Your Treasure
Your wife and family should be a real treasure to you. These are priceless and should not be ignored. Love and honor your family.
"If you seek her as silver and search for her as for hidden treasures; then you will discern the fear of the LORD and discover the knowledge of God." 
– Proverbs 2:4-5 NASB
For centuries, scholars were baffled by the mysteries of "hieroglyphs," the inscriptions written on Egypt's pyramids and ancient documents. These symbols remained unintelligible even to the most brilliant specialists. There was new hope when the "Rosetta stone" was discovered in 1799 during Napoleon's Egyptian expedition. This stone provided new clues about hieroglyphs, but their mysteries still remained unsolved.
Many scholars concluded that the task would prove impossible, but a young Frenchmen, Jean François Champollion, became determined to find a solution. As a young man, he had mastered ancient languages, including Coptic, the language spoken in Egypt in the years after the birth of Jesus. He became so immersed that he described thinking and even dreaming in Coptic.
Equipped with this special insight, Champollion was able to decipher the mysteries of the hieroglyphs, solving problems that others felt could not be solved.
Many look at their problems and give up, concluding that they are too difficult. Others never dig beneath the surface, and fail to go deeper.
Some have this attitude toward the Bible and our faith. Facing life's challenges, they doubt that God ever could give them an understanding of mysteries, or reveal deeper truths to them. Others are content with a shallow faith and superficial knowledge. Yet the Bible tells us that God is ready to reveal greater spiritual riches to anyone who asks. To all who seek wisdom as they would search for "hidden treasures."
In your life, ask God to open your eyes. Believe that He can give you deeper insights. Become more passionate about His Word. As you have questions, ask Him for revelation and understanding. And keep digging. Remember that He promises to reveal deeper things, if you seek His wisdom as you would seek for buried treasure.
Jesus Is The Real Treasure
Philippians 3:7 – I once thought these things were valuable, but now I consider them worthless because of what Christ has done. 8 Yes, everything else is worthless when compared with the infinite value of knowing Christ Jesus my Lord. For his sake I have discarded everything else, counting it all as garbage, so that I could gain Christ 9 and become one with him.
Lord Jesus, as I meditate on the Apostle Paul's words, I smell the aroma of a free man, a joyful man, and a grace-man—a man I want to become more like. Things he once treasured became Paul's "garbage." Old stuff that used to consume him, no longer even amused him. Enjoying an intimate and robust relationship with you mean more to Paul that any other competing currency and treasure.
I no longer count on my own righteousness through obeying the law; rather, I become righteous through faith in Christ. For God's way of making us right with himself depends on faith. 
Though I'm not as free as Paul, I am as justified as he is. For I too can say, with humility and über-joy, that you are my righteousness. I don't trust in doing good stuff, or not doing bad stuff, for my acceptance with God—not in my tears or my sincerity, not my service or my repentance, not in my giving or my striving.
10 I want to know Christ and experience the mighty power that raised him from the dead. I want to suffer with him, sharing in his death.
That is why I can say with Paul, I want to know you better and better, Jesus—more deeply and fully, spilling over into a life of living to your glory. So grant me the power of the Spirit to love well—to love holiness, people, and my community. And grant me a greater willingness to suffer with you, Jesus. Give me your heart, tears, and compassion, for the broken people and broken places in our world. So very Amen I pray, in your lovely and loving name. (By: Scotty Smith)
Treasure God's Word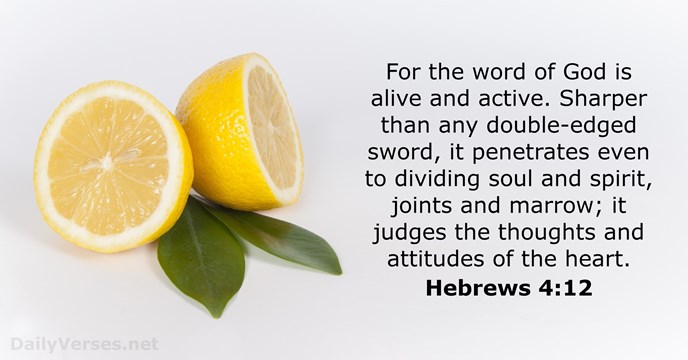 As Christians it is important to seek the will of God and try to stick to it. How do we do this? We must turn to the Word of God and the Holy Spirit in prayer.
______________________________________________________
Everything written in the Scriptures was written to teach us, in order that we might have hope through the patience and encouragement which the Scriptures give us. (Romans 15:4)
Yes, grass withers and flowers fade, but the word of our God endures forever. (Isaiah 40:8)
So then, anyone who hears these words of mine and obeys them is like a wise man who built his house on rock. (Matthew 7:24)
The word of God is alive and active, sharper than any double-edged sword. It cuts all the way through, to where soul and spirit meet, to where joints and marrow come together. It judges the desires and thoughts of the heart. (Hebrews 4:12)
God keeps every promise he makes. He is like a shield for all who seek his protection. (Proverbs 30:5)
Your word is a lamp to guide me and a light for my path (Psalm 119:105)
Be like newborn babies, always thirsty for the pure spiritual milk, so that by drinking it you may grow up and be saved. (1 Peter 2:2)