"For who is God, but the LORD? And who is a rock, except our God? — the God who equipped me with strength and made my way blameless." Psalm 18:31-32 (ESV)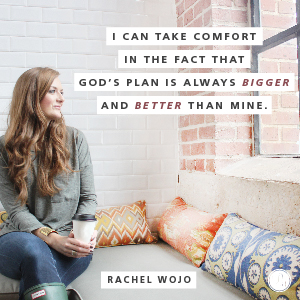 The alarm would sound any minute. It was time. Time to open my eyes, sit up and face another day. I started the inner pep talk immediately. Maybe today will be different. Things can't get any worse. Well, maybe they can. No, God's got this. I had this conversation in my head before my feet ever hit the floor.
Circumstances overwhelmed me and had begun to take a toll on my body as well. I knew God was with me; I'd known that since I was a child. But the perfect life had taken a wild detour, and I found myself in a very imperfect world.
The unexpected journey through divorce and losing my mom to cancer had been tough enough. Now looking ahead, my daughter's label of "terminal disease" seemed bigger than God.
In my desperation, I didn't just pray: I cried to the Lord. I needed more than another sermon illustration. More than a checklist of do's and don'ts. I really needed to know that God was not just near, but that He would get me through this. But how?
My habit of reading the Psalms kicked in, and I fumbled to one of my favorites where today's key verse can be found: "For who is God, but the LORD? And who is a rock, except our God? — the God who equipped me with strength and made my way blameless."
As I meditated on the verses, the phrase "who equipped me with strength" captured my attention. I found myself begging: Lord, I need the kind of strength only You can give. I need this equipping process, Jesus. Will You please help me?
I dangled my feet over the side of the bed and continued reading. The Psalmist reflected: "You gave a wide place for my steps under me, and my feet did not slip" (Psalm 18:36, ESV).
The Holy Spirit prompted me through this reflection. That's it! That's what I need to remember! When I feel like giving up, I don't have to comprehend the entire journey. I only need enough strength to take one more step.
I can take comfort in the fact that God's plan is always bigger and better than mine.
Echoing the words of the psalmist, I whispered to God that the battle felt enormously overwhelming. I asked Him to equip me with strength only He can give (Psalm 18:39a).
Finally, I moved my dangling feet from the bedside and placed them solidly on the ground, knowing His power would carry me through whatever came my way that day.
Have you felt like giving up lately? Does the thought of seeing yourself on top of the mountain ahead seem too far-fetched to imagine? Let's stop thinking about the vastness of the journey. Let's recognize that when things seem out of control, God is always in control. He is with us, and giving us the strength to take one more step.
When You Need a Helping Hand
"At that time Mary got ready and hurried to a town in the hill country of Judea, where she entered Zechariah's home and greeted Elizabeth." Luke 1:39-40 (NIV)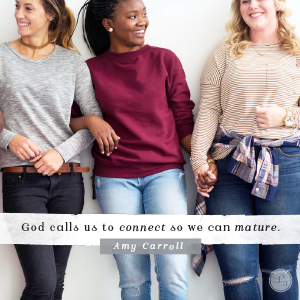 God is the world's greatest matchmaker. I'm not talking about the kind of romantic matches made online, but rather about connections made between women in need and those who can help.
As I grew older in years and in my faith, God consistently placed women in my path who modeled all kinds of things I needed to know. My mom taught me about keeping a home that's peaceful and full of love. In my teen years, a young woman named Layne showed me what it looked like to cultivate a pure heart.
Later, Deborah lived out being a loving wife even though she never knew I was watching. Macon taught me about mothering small children, and Mona was an example of how to use my words wisely.
Each woman had something to share with me that I needed in order to grow.
Christmas is approaching, and in Luke 1, one of our familiar Christmas passages, God gives us a beautiful picture of what it looks like when He gives the gift of friendship to help us in difficult situations. He joins together a young woman, Mary, with an older woman, Elizabeth, and encourages both of them in the linking. If we'll zoom in a little, there are some important lessons for us.
1. Mary sought out a woman to help her.
When I slowed my reading of today's key verses, they left me with lots of questions. Why did Mary need to pack up and leave home to go see Elizabeth? Where was her mother? Her friends?
No matter the answers, one fact is clear. Mary needed a woman with whom she could connect. In fact, Scripture tells us she hurried there!
We live in a lonely culture where 60% of women say they're lonely and 20% say they're lonely all the time. Mary gives us an example to follow when we fall into the loneliness pit. She didn't sit at home and wish someone were there. She didn't "vague-book" something on social media to manipulate someone to reach out. She packed up and went to spend face-to-face time with Elizabeth.
Mary was blessed with a close connection because of her initiation.
2. Elizabeth chose to connect, rather than to compete.
When we think through the circumstances, Elizabeth could have gotten her feelings hurt. After all, Mary made an unannounced visit
and she was carrying the Messiah, the hope of the whole world, in her womb.
Because she was already married and her husband was a priest, Elizabeth held a superior social ranking. Elizabeth could have compared herself to Mary and felt resentment. She could have thought, "Who is she to be carrying the Messiah instead of me?" Instead, she instantly poured out blessing and affirmation to her cousin Mary, a young, pregnant girl trembling with the implications of her amazing assignment.
3. Joy was the result of their connection.
The remaining description of Mary and Elizabeth's interaction in Luke 1 is a more beautiful scene than I can even imagine. It's filled with loud declarations of blessing, Spirit-filled babies leaping with joy, and a song so exquisite that it's nicknamed "The Magnificat."
The outcome of these women's connection was great joy. Not only were they happy in the moment, but they were forever enriched by the match that God had made between the two of them. God calls us to connect so we can mature. Mary was supported, and Elizabeth had a chance to share her maturity and support. That same joy can be in store for you and me!
We All Need Help
(People helping others)
---
Let us then with confidence draw near to the throne of grace, that we may receive mercy and find grace to help in time of need. (Hebrews 4:16)
Every one of us needs help. We are not God. We have needs. We have weaknesses. We have confusion. We have limitations of all kinds. We need help.
But every one of us has something else: We have sins. And therefore at the bottom of our hearts we know that we do not deserve the help we need. And so we feel trapped.
I need help to live my life, and to handle death, and to cope with eternity — help with my family, my spouse, my children, my loneliness, my job, my health, my finances. I need help. But I don't deserve the help I need.
So what can I do? I can try to deny it all and be a superman or a superwoman, who doesn't need any help. Or I can try to drown it all and throw my life into a pool of sensual pleasures. Or I can simply give way to the paralysis of despair.
But God declares over this hopeless situation: Jesus Christ became a High Priest to shatter that despair with hope, and to humble that superman or superwoman, and to rescue that drowning wretch.
Yes, we all need help. Yes, none of us deserves the help we need. But no to despair and pride and lechery. Look at what God says. Because we have a Great High Priest, the throne of God is a throne of grace. And the help we get at that throne of grace is mercy and grace to help in time of need. Grace to help! Not deserved help — gracious help. That's why the High Priest, Jesus Christ, shed his own blood.
You are not trapped. Say no to that lie. We need help. We don't deserve it. But we can have it. You can have it right now and forever. If you will receive and trust in your High Priest, Jesus the Son of God, and draw near to God through him.