You've been chosen by God
How knowing you were handpicked by the creator can help during tough times
It feels pretty special when you get chosen for something. Whether it is chosen to play on the sports team or asked to lead a group at school or work, it makes us feel valued as a person.
When Paul writes to the church in 1 Thessalonians he wants to remind them first of all "we know that God has chosen you". Paul, Silas and Timothy want to encourage the church by assuring them that God has chosen them to be his.
1 Thess 1.4-5: "For we know, brothers loved by God, that he has chosen you, because our gospel came to you not only in word, but also in power and in the Holy Spirit and with full conviction."
Remember, you are loved by God
Let's think about why it would be an encouragement to the church that God had chosen them.
These Christians faced ridicule, and persecution, and rejection every day. Paul writes in verse 6: "for you received the word in much affliction." There was violent protest against the gospel and the church right from day one (see Acts 17.1-9).
Many of the people in the church would have feared for their safety at some point, some would have been excluded by their friends, some would even have been cut off from their families. So can you see how powerful it would have been, and how encouraging it would have been, to read Paul's words "we know brothers, LOVED by God, that he has chosen you".
Are you hated by your neighbours for being a Christian? Well… you are loved by God.
Are you excluded by your friends or family? Well… God has chosen you to belong to him!
Perhaps you find that idea surprising – that God had chosen these people to join his church? But the idea that God chooses a people to bless and to save is as old as the Old Testament itself.
God made it clear that he had chosen to love Israel, to bless Israel, to rescue Israel from slavery over every other nation. And God chose to do this NOT because Israel was anything great or spectacular – God chose to love and bless them because he promised he would!
Jesus continues to choose people
When we arrive in the New Testament, we see Jesus chose disciples to follow him. Jesus chooses the men who will carry on his gospel mission after he has returned to heaven.
"You did not choose me, but I chose you and appointed you that you should go and bear fruit and that your fruit should abide, so that whatever you ask the Father in my name, he may give it to you."—John 15.16
And elsewhere in the New Testament, Paul talks about a God who chooses people in Christ, even before the world began!
"Blessed be the God and Father of our Lord Jesus Christ, who has blessed us in Christ with every spiritual blessing in the heavenly places, even as he chose us in him before the foundation of the world, that we should be holy and blameless before him."—Ephesians 1.3-4
For the Apostle Paul, the idea that God chooses a people to belong to him is a matter of fact. He doesn't write this as a point of debate or controversy. He reminds the Thessalonians that they have been chosen by God to bless them and encourage them!
"Hang in there church – even if everyone is against you, God is for you!"
Being chosen should be the ultimate encouragement
Now, if you've hung around the church long enough you'll know that this is a topic that divides Christians today!
Christians debate the issue of election, God's choosing, or "predestination" as you'll sometimes hear it called. We reject the idea often because it raises tricky questions for us. And since most of us are polite people, we think "best not talk about this, since I don't want to offend other Christians or disagree with them".
Well that's fair enough. But, of course, that means we miss out!
We miss out on the encouragement it is to know that God has CHOSEN to call us into his family. What a privilege that is! We certainly don't deserve it, do we?
If we're going to be "Bible" Christians, then rather than argue about this topic we would want to encourage one another with it!
Do you know a Christian who is picked on and persecuted for their faith?
Do you know a Christian who lost a few friends because they decided to follow Jesus?
Do you know someone whose family reject them because of their faith in Christ?
Well, what more could you say, what could be better than to remind them: "Others might push you away – but God loves you, and he has chosen you".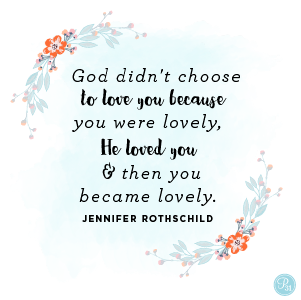 Growing up, I was an uncoordinated kid.
One of the ones who was often chosen last for the kickball team in gym class. And even then, only because there was no one else left to pick.
If you, too, have ever been picked last, the idea of being chosen by God might sound rather foreign. Some of us might even need to rethink what it means to be chosen. 
To be chosen by God means we are His first choice and His best choice. Unlike the kids in the gym, He didn't shrug His shoulders and say, "Well, I guess I'll take her if no one else will."
Not at all.
When Jesus' hands were nailed to a cross, His fingers pointed to you and me – He intentionally chose to die for us. He chose you and He chose me and He chooses us every day. 
Isn't that amazing?
The book of Hosea in the Bible beautifully illustrates this concept for us. Hosea was a prophet whom God told to marry a prostitute and thereby show the nation of Israel how she'd been unfaithful by worshipping false gods. Hosea chose Gomer, a woman who would birth his children, yet leave him time and again for another lover. (For more, see Hosea chapters 1 and 2.) 
All through the book of Hosea, we see both judgment and hope, destruction and restoration. Hosea proclaims both sides of God, which reflect His one heart – God's faithful love for His people, warning them for their good. 
Just like God chose the nation of Israel and Hosea the prophet chose Gomer to reveal His love, God chose you. In fact, you are a chosen woman of God.
It's so easy to look in the foggy mirror that is my life and see all the reasons why I shouldn't be chosen and loved: I'm selfish, I wander from God, I have mixed motives, I'm not good enough – oh, the reasons are unending! 
However, the more accurate mirror of God's Word reflects the truth that I am chosen and loved. And, that my friend, includes you. 
In today's key verse, God's Word to Israel reminds us that even though we have made mistakes and might feel rejected and unworthy of love, God still pursues us. The message of Hosea is still God's message to us.
In other words, Israel's identity was a chosen and loved people of God. Our identity is chosen and loved women of God. 
Thankfully, I've learned God doesn't love me because I am cleaned up, religious or even because I am a Christian. He loves me because He is love. We didn't earn His love and we can't lose His love either. 
The Bible says, "while we were still sinners, Christ died for us" (Romans 5:8b, ESV). He didn't choose to love you because you were lovely, He loved you and then you became lovely. Your value comes from His inherit value. 
Look into the mirror of your soul and see Gomer reflected back at you. She was the beloved bride and so are you. Embrace your true identity as a chosen and loved woman of God!
Lord, thank You for choosing me, even when I feel unworthy to be chosen. And thank You for loving me when I didn't do anything to earn Your love. Please speak words of truth over me when I'm tempted to doubt I am chosen and loved. In Jesus' Name, Amen.
***
TRUTH FOR TODAY:
1 John 4:9-10, "God showed how much he loved us by sending his one and only Son into the world so that we might have eternal life through him. This is real love – not that we loved God, but that he loved us and sent his Son as a sacrifice to take away our sins." (NLT)
Romans 8:38-39, "For I am sure that neither death nor life, nor angels nor rulers, nor things present nor things to come, nor powers, nor height nor depth, nor anything else in all creation, will be able to separate us from the love of God in Christ Jesus our Lord." (ESV)