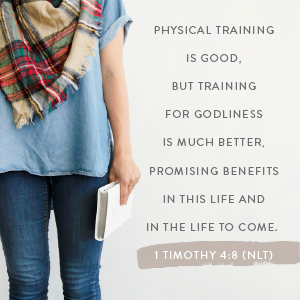 As soon as I open my eyes each day, they are quietly waiting for me on the floor. Royal blue and florescent orange, with bright orange laces. My running shoes sit within arm's length of where I rise every morning.
I purposely place these shoes beside my bed every night, so I'll put them on first thing in the morning. If I walk past my colorful shoes and slip on my warm bedroom slippers, get coffee, check my email or get distracted with something else, the chances of a morning workout greatly diminish with each passing minute.
You see, when I put on those running shoes, something happens. It's as if those shoes hold some motivational power. For some reason, once my feet are ready to go, my body is ready too, and I feel motivated and eager to work out.
One morning as I laced up my shoes, I chuckled at how this one simple habit has helped me stay motivated and consistent in physical exercise. I realized my outward actions fueled an inward motivation to do something that will benefit my health and help me stay physically fit and strong.
I couldn't help but consider how much more spiritually fit and strong I am when I adhere to spiritual habits in my daily routine as well. If my Bible also stays within arm's reach of my bed each morning and habitually becomes the first thing I reach for, then spending time with Jesus is kind of like putting on those running shoes. It becomes an outward action that fuels an inner motivation to live a life that pleases God and helps me stay strong in my faith.
The Bible is obviously much more important than an old pair of running shoes.
But Paul understood this comparison when he wrote to a young church pastor, Timothy, to encourage him and give him guidelines for strong spiritual leadership.
Paul had learned the importance of staying spiritually strong and the benefit of developing spiritual habits in his life — like spending time in the Scriptures, prayer and daily worship. He knew this would be good advice to a young man like Timothy who had little experience leading a church. Paul understood the importance of staying spiritually fit, especially in the face of opposition, and he wanted to make sure Timothy understood that as well.
We all know it's crucial for healthy living to eat nutritious foods and exercise, but today's verse reminds us it's even more important we stay spiritually healthy. We benefit from a healthy body during our time on earth, but staying spiritually fit offers benefits now and for eternity.
There are many mornings when I simply don't feel like exercising, and I bet you can relate. There are days when my to-do list screams, my phone rings continually, or I just feel lazy, tired or unmotivated. So I've learned if I don't intentionally make it a priority and form habits to help purposefully add exercise into my day, I won't make the time.
We are the only ones who have control over setting priorities in our lives — and if we don't intentionally make staying spiritually fit and spending time with God of utmost importance, then it won't happen. And without habitual spiritual nourishment, we will never be spiritually fit and strong.
When we form habits in our spiritual lives that help us stay strong, we'll have the inner motivation to live out outward actions that glorify God. When hearts and spirits are ready to go, our bodies will be too.
____________________________________
From:  devotion.knowing-jesus.com
Spiritual Maturity
The need for maturity in the body of Christ is the focus of most of Paul's messages. It is the mature Christian who is an overcomer; a faithful steward – a wise virgin. The carnal believer is unfaithful, unwise and overcome.. 0vercome by satan; the flesh; the world. The void between spirituality and carnality lies in the life-choices of the Christian, and you alone will stand before the judgement seat of Christ: for we must all appear before the judgment seat of Christ, that each one may receive the things done in the body, according to what he has done, whether good or bad. 2Corinthians 5:10
Christian Responsibility
You alone will be the one to give an account of your life to Christ. Blaming circumstances or accusing others for your life-choices is not an option. Responsibility for your Christian walk is yours alone. You can't hide behind excuses.. you won't be able to plead circumstantial evidence.. you can't blame you parentage or partnerships – you won't be able to plead ignorance..
Christian Maturity
The way to maturity in the Christian life is the focus of most of Paul's messages. Every Christian has clear instructions on the life he is to live and the way he is to walk, and there's no excuse for anyone to hear the accusation: oh, wicked unfaithful servant, but few seem prepared to challenge themselves and their Christian walk. Few are courageous enough to examine their walk with the Lord and fewer still are willing to plead with Him to: search the depths of my heart O God.. pleading: see if there is any worldly way or carnality in me that needs to be dealt with. Discover in me any wrong perceptions I've erected that hide the truth of Who You are.
Our Spiritual Need
There is a threefold need in the life of a spiritual man. There is a trinity of requirements for the Christian to become an over-comer. The Christian needs food. The Christian needs needs air. The Christian needs exercise – if he is to develop and mature in the faith.
Our Spiritual Exercise
All believers require food to grow.. the milk and meat of the word to mature. All believers need air to breathe.. and communing with the 'Ruach' of God is their breath, but the Christians' exercise is thru obedience – thru acting on the Word of God. Many set out with great expectations, delighting in the Lord that loves them, and they consume His word with relish. They begin to commune with His Spirit with delight and they start to obey His commands with great joy. But there is no standing still in the Christian life. You either grow in grace or you will backslide into carnality. And time and circumstances starts to affect their spiritual walk. They leave their first love; and coolness gives way to disillusionment; and disillusion to disappointments; and disappointment to murmurings – and murmuring leads you back to the vomit of a sick world.
Christian Warning
This was the way of the Israelites in the wilderness and this is the way today.. and Christ told us that this would be the state of the Church at His return.. and Paul warned and instructed of the need for maturity in the Christian life. Obedience is the most important exercise in the Christian life: obedience to His Word; listening to His Voice – compliance His Commands. And instruction on spiritual maturity in the body of Christ, is the focus of most of Paul's messages to the Church of God. Paul tells us that: he that is spiritual judges all things.. including his Christian walk.
Christian Obedience
Paul warns us to sift through our attitudes and search our motives – so examine yourselves as to whether you are in the faith. These instructions are not to the unbelievers, but to Christians. This examination does not mean check out to see if you are born again – this is an instruction to see if you are on the road to spiritual maturity. Spiritual introspection is one of the most vital tools in applying obedience.
Christian Spirituality
And nearly a hundred years ago, Norman Harrison put it this way:- "It remains for the spiritual man to prove the reality and worth of his spirituality, by laying hold of all his resources in Christ.. by giving them practical expression in day-by-day living. And in a day when the Christian life claims but slight attention.. or even respect, from the world – what a call for spiritual stalwarts, fully-developed, determined by His grace, to demonstrate the beauty, power and practicality of the Spirit-life – to an unbelieving, even scoffing social order."
________________________________________________
A Spiritual Workout
by Ryan Duncan
"So then, brothers, stand firm and hold to the teachings we passed on to you, whether by word of mouth or by letter."- 2 Thessalonians 2:15
In some of my previous devotions I've written about my habit of working out during the week, and my time at the gym has taught me a few important lessons. First, never go running after eating Mexican takeout unless you want to experiences some excruciating gastro-intestinal distress. Second, always know what a machine does before you try using it or you may end up looking like a complete idiot. Finally, and most importantly, all exercise takes commitment and perseverance. You see, we live in a world that is obsessed with immediate results.
Don't believe me? Look at the TV commercials that promise rock hard abs in thirty days, or the diet plans that promise to slim our waistline after a week of light work. We are all looking for an easy way out, but if you really want to become strong and healthy, it takes many days of hard work. The same is true for spiritual workouts, just read 1 Thessalonians 5,
And we urge you, brothers, warn those who are idle, encourage the timid, help the weak, be patient with everyone. Make sure that nobody pays back wrong for wrong, but always try to be kind to each other and to everyone else. Be joyful always; pray continually; give thanks in all circumstances, for this is God's will for you in Christ Jesus. Do not put out the Spirit's fire; do not treat prophecies with contempt. Test everything. Hold on to the good. Avoid every kind of evil. May God himself, the God of peace, sanctify you through and through. May your whole spirit, soul and body be kept blameless at the coming of our Lord Jesus Christ. The one who calls you is faithful and he will do it. Brothers, pray for us. Greet all the brothers with a holy kiss. I charge you before the Lord to have this letter read to all the brothers. The grace of our Lord Jesus Christ be with you. – 1 Thessalonians 5:14-28.
I don't know about you but I'm exhausted just reading that passage. Unfortunately, that doesn't stop it from being true. Save for the grace of God, there are no magical fixes in life. If you want to get physically healthy it means running, dieting, and doing a whole lot of heavy lifting. If you want to become stronger in Christ, you can't just rely on going to Church each Sunday.
Growing closer to God means forgiving your enemies, encouraging others, and praying continuously day after day. It's some serious work, and there will be moments when you may get discouraged, but over time when you look back at the things it has allowed God to do in your life, you will know that it was all worth it.