Getting Closer to God
By: Joe Stowell, Strength For The Journey
"If you spend yourselves in behalf of the hungry and satisfy the needs of the oppressed, then your light will rise in the darkness." Isaiah 58:10
With e-mail and text messages, the joy of letter writing—and, better yet, receiving letters—is almost a lost commodity. I love getting mail, especially from someone I deeply admire and appreciate. My dad used to write to me regularly, and at the bottom of each letter he would include his "life verses," Isaiah 58:10-11
.
In the broader context of this passage, the Israelites were feeling disconnected from God, although, in their minds, they were doing all the right things. So they filed a complaint. "Why have we fasted . . . and you have not seen it? Why have we humbled ourselves, and you have not noticed?" (Isaiah 58:3
).
God replied to their self-righteous grumbling by pointing out that though they were into all the rituals, they had neglected the things that were dear to His heart. So He tells them, "Is not this the kind of fasting I have chosen: to loose the chains of injustice . . . to share your food with the hungry and to provide the poor wanderer with shelter—when you see the naked to clothe him?" (Isaiah 58:6-7
).
The point is clear. When we are actively doing what God really cares about, extending His love and compassion to the disadvantaged, we will find His favor and experience His presence. He assures us, "If you spend yourselves in behalf of the hungry and satisfy the needs of the oppressed, then your light will rise in the darkness" (Isaiah 58:10
)
These verses were more than just a footnote on my dad's letters. They guided his life and ministry.  I watched him pour himself out for those who were hungry and homeless, caring for their physical needs as well as nurturing the hunger of their souls that were longing for an eternal home. Even on holidays, he would take the time to visit the widow who lived down the street. For my dad, ministering to the needs of people was not a job. It was his way of loving God and living out Isaiah 58:10-11
.
If you wonder why God seems far away, could it be that you have ignored caring for those He cares about?
Streams In The Desert
By; L. B. Cowman
You will hear a word spoken behind you, saying, "This is the correct way, walk in it," whether you are heading to the right or the left. (Isa 30:21)
When we are in doubt or difficulty, when many voices urge this course or the other, when prudence utters one advice and faith another, then let us be still, hushing each intruder, calming ourselves in the sacred hush of God's presence; let us study His Word in the attitude of devout attention; let us lift up our nature into the pure light of His face, eager only to know what God the Lord shall determine—and ere long a very distinct impression will be made, the unmistakable forth-telling of His secret counsel.
It is not wise in the earlier stages of Christian life to depend on this alone, but to wait for the corroboration of circumstances. But those who have had many dealings with God know well the value of secret fellowship with Him, to ascertain His will.
Are you in difficulty about your way? Go to God with your question; get direction from the light of His smile or the cloud of His refusal.
If you will only get alone, where the lights and shadows of earth cannot interfere, where human opinions fail to reach and if you will dare to wait there silent and expectant, though all around you insist on immediate decision or action—the will of God will be made clear; and you will have a new conception of God, a deeper insight into His nature and heart of love, which shall be for yourself alone a rapturous experience, to abide your precious perquisite forever, the rich guerdon of those long waiting hours.
—David
The outpouring of the Holy Spirit
By: Charles Spurgeon
"While Peter yet spake these words, the Holy Ghost fell on all them which heard the word." Acts 10:44
Suggested Further Reading: Micah 3:5-8
There is a necessity that the preacher himself, if souls are to be saved, should be under the influence of the Spirit. I have constantly made it my prayer that I might be guided by the Spirit even in the smallest and least important parts of the service; for you cannot tell if the salvation of a soul may depend upon the reading of a hymn, or upon the selection of a chapter. Two persons have joined our church and made a profession of being converted simply through my reading a hymn—"Jesus, lover of my soul." They did not remember anything else in the hymn; but those words made such a deep impression upon their mind, that they could not help repeating them for days afterwards, and then the thought arose, "Do I love Jesus?" And then they considered what strange ingratitude it was that he should be the lover of their souls, and yet they should not love him. Now I believe the Holy Spirit led me to read that hymn. And many persons have been converted by some striking saying of the preacher. But why was it the preacher uttered that saying? Simply because he was led thereunto by the Holy Spirit. Rest assured, beloved, that when any part of the sermon is blessed to your heart, the minister said it because he was ordered to say it by his Master. I might preach today a sermon which I preached on Friday, and which was useful then, and there might be no good whatever come from it now, because it might not be the sermon which the Holy Spirit would have delivered today. But if with sincerity of heart I have sought God's guidance in selecting the topic, and he rests upon me in the preaching of the Word, there is no fear but that it shall be found adapted to your immediate wants. The Holy Spirit must rest upon your preachers.
How Can I Grow Closer to God?
JANUARY 4, 2018
"Then he said to them all: 'Whoever wants to be my disciple must deny themselves and take up their cross daily and follow me.'" Luke 9:23 (NIV)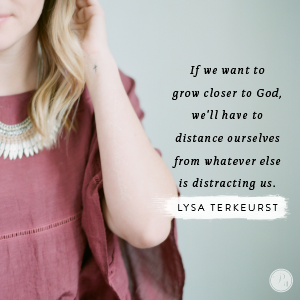 I would love to tell you that I have a long and impressive list of goals for 2018. But I'm not really into writing out my goals for the new year. Honestly, I just want to follow hard after the Lord every day and let Him renew me and shape me into the woman I need to be this year.
I want to grow ever closer to God — pressing into Him so He makes the deepest impression on me.
So that's my goal. Maybe it's one of your goals too. Growing closer to God.
But how do we do that? How can we position ourselves to grow closer to God this year?
In Luke 9:23b, Jesus tells His disciples, "Whoever wants to be my disciple must deny themselves and take up their cross daily and follow me."
His words seem surprising at first. The disciples had already given up everything to follow Jesus. Or so it seemed …
Family. Friends. Jobs. The comforts of home.
Yet, in our key verse today, we find Jesus telling them the cost is going to be even higher than they had originally anticipated. The disciples aren't being asked to lay down some things. They are going to need to lay down everything. Their plans. Their agendas. Maybe even their own lives.
And while it may sound like a lot to ask, because of their willingness to continue following hard after Jesus they will get to experience a level of closeness with Him unlike anyone else.