Who's in the Spotlight?
By: Joe Stowell, Strength For the Journey
"Whatever you do, do it all for the glory of God." 1 Corinthians 10:31
If you've been around the world of golf for long, you know that winning the coveted "Green Jacket" at the Masters is arguably the most coveted accomplishment in golf. As I was watching the final round of the Masters Golf Tournament in 2007, I was thrilled to hear the winner give credit to Jesus for the gifts and abilities the Lord had given him. With much of the world watching, he turned the spotlight from himself to Jesus!
It brought to mind the year that Bernhard Langer won the Masters. In the Butler Cabin afterward, before millions watching on TV the interviewer said to him, "Winning the Masters must be the greatest moment in your life." To which the champion replied, "This is no doubt the greatest moment in my golf career, but it doesn't compare to the fact that 2,000 years ago today my Lord and Savior rose from the dead to give me eternal life!"
I was off my couch, ecstatic that Jesus and what He has done for us was getting such global recognition!
This is exactly what it means to glorify God and to live with enough biblical sanity to know that all we have and all we are is directly attributable to God's grace and provision in our lives. Think about it. Where would you be today if God had not given you the mental horsepower to figure stuff out, the opportunities for education and promotion, the talents to do things well, the spiritual gifts to participate successfully in His work, the income to keep food on the table, or the wisdom of His Word to help you know how to live? The list is long when it comes to what God has graciously given you. To say nothing of the gift of salvation through Jesus' death and resurrection! The fact is that you and I would be nothing if it weren't for God's generous and undeserved supply.
So, since all we have is from God, it's important that we don't act like we are self-made people. In fact, when King Nebuchadnezzar took God's glory for himself, he was banished to eating grass in the field like an animal until he got the picture straight about who should get the glory for his power and position (Daniel 4:29-34
). And Herod was eaten by worms and died for letting the people call him god (Acts 12:21-23
). God takes it seriously when we rob Him of His glory!
Granted, it's not always easy to know just what to say when you want to transfer the applause from yourself to God. But just knowing that it's important to give credit where credit is due is a good beginning. Every once in a while, someone will tell me what a great sermon I preached, and in that moment I am keenly aware that what I do with the spotlight is very important. I have to tell you, when I take the compliment for myself I end up feeling small and disloyal. But when I acknowledge that I had no idea what they needed to hear, I can say with confidence, "We both know where the blessing came from!" and I love to tell people that if they were blessed by the sermon it's a sure sign of how much God loves them. Every time I turn the spotlight where it belongs, I end up feeling grateful to God and joyful that I was able to give Him the glory.
So take the Bible's advice: Keep the spotlight on Jesus—then know the joy of what it means to live for His glory.
_________________________________________________
You're Shining for Jesus Wherever You Are
DECEMBER 3, 2014
"You are the light of the world. A town built on a hill cannot be hidden. Neither do people light a lamp and put it under a bowl. Instead they put it on its stand, and it gives light to everyone in the house. In the same way, let your light shine before others, that they may see your good deeds and glorify your Father in heaven." Matthew 5:14-16 (NIV)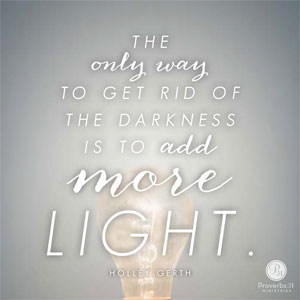 The news headlines drifted in from the living room as I sat at my desk. The story of yet another tragedy contrasted so sharply with what I was writing that I stopped, sighed and leaned back in my chair. A sense of despair washed over me.
"Lord," I silently prayed, "is there anything I can do about the darkness in this world? It seems so overwhelming."
I sensed a gentle whisper within my heart replying, "The only way to get rid of the darkness is to add more light."
Darkness is the absence of light. Trying to go after it directly is like chasing your shadow. You can't bag it up and throw it away. Only light is powerful enough to make the darkness disappear. During the Sermon on the Mount, Jesus made it clear that we are the light of the world. We are called to shine. But the light we share is not our own.
From the very beginning of creation, God has been the source of light both spiritually and literally. Genesis 1:2b-3 says, "Darkness was over the surface of the deep, and the Spirit of God was hovering over the waters. And God said, 'Let there be light,' and there was light" (NIV).
Imagine a world full of darkness. Then with four small words, light blazes forth. Every living thing in our world relies on light for its existence – plants, animals and people. The God who brought light to the world also brings it to our lives. As 2 Corinthians 4:6a says, "For God, who said, 'Let light shine out of darkness,' made his light shine in our hearts" (NIV).
The best part of all is that we don't have to be like the light bulb that said, "I have to find a way to shine!" The light bulb went to a self-help meeting to learn about its inner capacity for light. It read books about how to get brighter. Each morning the light bulb would get up and recite positive affirmations. "I am a light bulb. I believe in myself. I will shine!" But nothing happened.
Eventually the light bulb became weary and discouraged. It began to doubt who it was and what it could do. It almost burned out completely. Fortunately, one day the light bulb was carefully placed in a fixture. Light burst forth and filled the room. The light bulb finally understood. The key was not to try harder but to plug into the source.
Trying to shine on our own can be exhausting. Instead, we're simply called to be closely connected to God and remain in Him. When we do, His light pours forth through us in powerful, brilliant ways that change the world. The ways we shine might not make the news, but they make even more of a difference than we can see.
Lord, thank You for being the light within us so we can shine brightly for the world around us. When it seems darkness is crowding in, use us to make a difference. We ask that You will help us share Your love, joy and peace – especially this time of year. You are the hope we need and the One light that will never burn out, be overcome or fade away. In Jesus' Name, Amen.
_____________________________________________________
Streams In The Desert
By: L.B. Cowman
David cared for them with pure motives; he led them with skill.  Ps 78:72
When you are doubtful as to your course, submit your judgment absolutely to the Spirit of God, and ask Him to shut against you every door but the right one…Meanwhile keep on as you are, and consider the absence of indication to be the indication of God's will that you are on His track…As you go down the long corridor, you will find that He has preceded you, and locked many doors which you would fain have entered; but be sure that beyond these there is one which He has left unlocked. Open it and enter, and you will find yourself face to face with a bend of the river of opportunity, broader and deeper than anything you had dared to imagine in your sunniest dreams. Launch forth upon it; it conducts to the open sea.
God guides us, often by circumstances. At one moment the way may seem utterly blocked; and then shortly afterward some trivial incident occurs, which might not seem much to others, but which to the keen eye of faith speaks volumes. Sometimes these things are repeated in various ways, in answer to prayer. They are not haphazard results of chance, but the opening up of circumstances in the direction in which we would walk. And they begin to multiply as we advance toward our goal, just as the lights do as we near a populous town, when darting through the land by night express.
—F. B. Meyer
If you go to Him to be guided, He will guide you; but He will not comfort your distrust or half-
trust of Him by showing you the chart of all His purposes concerning you. He will show you only
into a way where, if you go cheerfully and trustfully forward, He will show you on still farther.
As moves my fragile bark across the storm-swept sea,
Great waves beat o'er her side, as north wind blows;
Deep in the darkness hid lie threat'ning rocks and shoals;
But all of these, and more, my Pilot knows.
Sometimes when dark the night, and every light gone out,
I wonder to what port my frail ship goes;
Still though the night be long, and restless all my hours,
My distant goal, I'm sure, my Pilot knows.
—Thomas Curtis Clark