More Than a Hobby
By: Joe Stowell, Strength For The Journey
"Come, follow me," Jesus said, "and I will make you fishers of men." Matthew 4:19
For most people I know, fishing is a hobby. Some approach it casually, picking up a pole and dipping a few worms in the lake for fun while they're at a summer cottage. It's an opportunity to relax, to enjoy the scenery, and to throw the occasional bluegill back into the water.
Others obsess on fishing. Equipped with the latest lures, a sonar fish finder, and an Evinrude-powered bass-boat, they look forward to early morning hours on the lake tracking down the big one. They're saving up for that once-in-a-lifetime charter boat trip out into the open waters of the ocean for that trophy fish that will hang in the family room. Fishing is a passion for them, but it's still just a hobby.
Unfortunately, we tend to bring those kinds of fishing thoughts into this Scripture passage. We think of Jesus talking to the disciples almost as if He's chatting with them while they're on vacation, enjoying a little fishing before they join their families for a nice dinner down at the dockside café. In that scenario, fishing is incidental to their "real lives" and the outcome doesn't really matter all that much.
Nothing could be further from the truth.
For these men, fishing was literally a life-and-death matter. Empty nets meant empty stomachs. Their only means of eking out an existence lay under the waters of the Sea of Galilee. Jesus wasn't asking them to switch hobbies, He was calling them to leave all that they knew and trusted to follow Him first and foremost.
So what about us? It's possible that we may view God's call on our lives as an invitation to add a hobby to our already busy schedule. We assume that we can make our careers and our leisurely pursuits a priority while doing a little "fishing for God" on the side when we get time. We may even study "fishing," buy some fun "fishing" tools, and get a little more serious about it—but still relegate this call of Christ to "hobby" status rather than making it our first and foremost passion. Subtly, we convey the message that the outcome doesn't really matter.
Thankfully, the disciples set a very different example for us. Instinctively they knew that Jesus was worth leaving everything. They knew that He couldn't be put on a shelf until they had time for Him. They knew that they couldn't pursue their own agenda and His at the same time. So they made Him—not their careers—their primary focus.
Jesus may not require that you give up your career, but following Him will ensure that you never see your career in the same way again. As a follower of Christ, everything in your life will be done in the perspective of advancing His cause. Friendships, family, salaries, career issues, dreams, and desires will all be seen in terms of how Christ can be magnified and how people can be drawn to Him. And the beautiful truth in all of this is that as you follow His call in faith, you will experience His joy, presence, and satisfaction in ways that you never could have imagined.
What are you waiting for? The disciples left everything to follow Jesus. Follow Him and be ready to watch as He uses you in ways you never could have imagined!
_________________________________________________
When a Hobby Brings New Hope
NOVEMBER 7, 2018
"Each of you should use whatever gift you have received to serve others, as faithful stewards of God's grace in its various forms." 1 Peter 4:10 (NIV)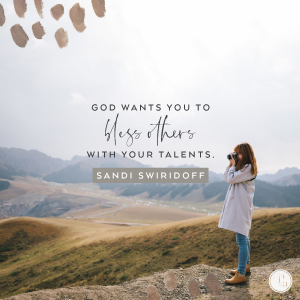 Who would have thought that posting fun, silly photos on Instagram could benefit children in the foster care system? Not me. But it has … in a big way.
It all started with sharing photos of my ridiculously cute Labradoodle and my darling, bespectacled foster-grandson. Watching them together warmed my heart and made me smile. I wanted to show the strong bond they'd developed, so I started dressing them alike, taking photos and posting them on Instagram. The "pawsitive" responses I received made me realize mine was not the only heart warmed by this adorable duo.
As my Instagram account, Reagandoodle, gained popularity, I prayed God would use it to glorify Himself and benefit children in foster care. God answered that prayer by turning Reagandoodle into something much more than I ever dreamed, drawing people to Him and shining a light on His kids. People reach out to me every day, sharing their stories of foster care and adoption and expressing the joy the photos bring to their day.
Using my gifts of photography and editing to share fun pictures on Instagram drew more attention than I ever expected. The photos I posted eventually gained the attention of several national TV shows who came calling. They featured the story of Reagan the Labradoodle and my then foster-grandson (now adopted grandson), bringing even greater attention to the needs of children in foster care.
What started as one small act became something so much bigger than I am. It is totally astounding to me that while I never saw my gift of photography as anything special, God has used it to bless so many others.
As 1 Peter 4:10 reminds us, "Each of you should use whatever gift you have received to serve others, as faithful stewards of God's grace in its various forms."
God has gifted each of us with different talents or skills, things that make us come alive when we do them. For me, that gift is photography and image editing. I love the whole process: setting up a scene with my dog and grandchildren, capturing the image, then processing it on the computer. All of that is fun for me, but the real joy is sharing the images on social media, knowing they will brighten someone's day and bring awareness to the needs of children in foster care.
So, let me ask you a question: What do you love to do? Garden? Scrapbook? Sing? Maybe you love to teach or cook, or you're great at organizing. Whatever it is you love to do, maybe, like me, you don't see it as something special. Maybe like me, you've placed it in the hobby category — never imagining that your little hobby could be a blessing to someone else.
Although God wants you to enjoy them, He didn't bless you just so you could keep your talents to yourself. God wants you to bless others with your talents, and give Him glory in the process.
How can you be a faithful steward, use your gifts to serve others and bring glory to God? By simply sharing your talents. If you love to garden, take someone a bouquet of flowers. If cooking is your jam, take a meal to a hurting friend or a busy mom. It doesn't have to be elaborate — just do something.
When you share your talents, God can turn your seemingly small acts of service into something much bigger, like He did for me.
I can't wait to see what He has in store for you.
_____________________________________________
Streams In The Desert
By: L.B. Cowman
Let me prove, I pray thee, but this once with the fleece (Judges 6:39).
There are degrees to faith. At one stage of Christian experience we cannot believe unless we have some sign or some great manifestation of feeling. We feel our fleece, like Gideon, and if it is wet we are willing to trust God. This may be true faith, but it is imperfect. It always looks for feeling or some token besides the Word of God. It marks quite an advance in faith when we trust God without feelings. It is blessed to believe without having any emotion.
There is a third stage of faith which even transcends that of Gideon and his fleece. The first phase of faith believes when there are favorable emotions, the second believes when there is the absence of feeling, but this third form of faith believes God and His Word when circumstances, emotions, appearances, people, and human reason all urge to the contrary. Paul exercised this faith in Acts 27:20, 25, "And when neither sun nor stars in many days appeared, and no small tempest lay on us, all hope that we should be saved was then taken away." Notwithstanding all this Paul said, "Wherefore, sirs, be of good cheer; for I believe God, that it shall be even as it was told me."
May God give us faith to fully trust His Word though everything else witness the other way.
–C. H. P.
When is the time to trust?
Is it when all is calm,
When waves the victor's palm,
And life is one glad psalm
Of joy and praise?
Nay! but the time to trust
Is when the waves beat high,
When storm clouds fill the sky,
And prayer is one long cry,
O help and save!
When is the time to trust?
Is it when friends are true?
Is it when comforts woo,
And in all we say and do
We meet but praise?
Nay! but the time to trust
Is when we stand alone,
And summer birds have flown,
And every prop is gone,
All else but God.
What is the time to trust?
Is it some future day,
When you have tried your way,
And learned to trust and pray
By bitter woe?
Nay! but the time to trust
Is in this moment's need,
Poor, broken, bruised reed!
Poor, troubled soul, make speed
To trust thy God.
What is the time to trust?
Is it when hopes beat high,
When sunshine gilds the sky,
And joy and ecstasy
Fill all the heart?
Nay! but the time to trust
Is when our joy is fled,
When sorrow bows the head,
And all is cold and dead,
All else but God.
–Selected