Trading Beauty for Ashes
By: NIna Keegan, 1.cbn.com
The Lord blessed the latter part of Job's life more than the former part. Job 42:12(NIV)
The long, winding security line at the airport was in a complete standstill. The international terminals were taking longer than domestic, and I could sense growing frustration and impatience in many fellow travelers as we baby-stepped our way through the winding line.
This trip would be very significant for me. You see, a few months ago I finalized a very long, difficult, and tumultuous divorce that left me feeling sucker-punched (to say the very least). Feelings of abandonment, betrayal, and pain sped through the most diabolical year I ever faced. Constant arrows and fiery darts aimed recklessly and with acute accuracy at my already scorched heart and soul. As these prolific bullets clamored to extinguish any last morsel of peace, I would receive a word, a prayer, a call, a voice, a standout scripture… all imploring me to trust God and not give up or give in. I would read promises of restoration, peace, joy, and a double portion of blessing. I would stand on these promises that in the natural seemed impossible and intangible, and let them consume me.
Coincidentally, and even more significant was the fact that I just-so-happened to be flying on my birthday. There was just something very metaphoric about that to me. I was jetting off (in a sense) to that latter part of my life; forgetting what lies behind and looking forward to all the future blessings God had been stock-piling for me – the pile containing my beauty for ashes and the double portion for all the enemy tried to steal from me. I had a new hope and new excitement knowing that God was in charge and so brilliantly faithful. He was knitting me back together. But when He restores, He always multiplies. God is good all the time! James 1:16-18
And we know that in ALL things God works for the good of those who love him, who have been called according to his purpose. Romans 8:28 (NIV)
Finally, after a 10-plus hour flight, I arrived in Scotland. The beauty of this land is unmatched in the glorious creativity of our Heavenly Father. Breathe! Time to breathe! This was it… I felt the promises of God everywhere saying, "Here you go my daughter! This will be a time of restoration and rejuvenation."
My travels also took me to London, the English countryside, and to Paris. I was joined sometimes by my amazing sons and sometimes by my wonderful friends. God's peace was in every laugh, tear, train, plane, cab, and every glorious croissant or cafe au lait. As I gazed upon the city of Paris from the summit of the Eiffel Tower, I gasped as I visualized God smiling His radiant love.
I am reminded that we sometimes must go through the tough times in life to get to the good stuff. God has to prune things from our lives that rob us of all He has for us. The Bible says we must share in God's suffering that we might also share in His glory. We are never immune to heartache, trials, or devastation. But what we do have is a Loving Father who will never leave us! His blessings have no deadline, no expiration date. They are infinite, endless, and beyond comprehension. He will perfect ALL of our concerns.
Action Steps: Speak victory over your life, rise above your circumstances and surrender it all with praise and thanksgiving. Let all that hurts you be covered forever in the blood of Jesus! Through His blood shed – We Win!! He always causes us to be victorious; even when it seems utterly impossible. He is the God of possible! God is who He says He is. Hold On. Your Good is coming and your BEST days are still out in front of you. Receive it!
____________________________________________________
A Lenten Prayer for God to Bring Beauty from Ashes
By Debbie McDaniel,  www.crosswalk.com
"To bestow on them a crown of beauty instead of ashes, the oil of joy instead of mourning, and a garment of praise instead of a spirit of despair." Isa 61:3
As we walk through this season of Lent, we're reminded again that sometimes… life is hard.
Sometimes it hurts.
Sometimes it's dark.
And it leaves its mark, like ashes of grief, in the deepest parts of our souls, where no one but God can really see.
Yet even in times of ashes and struggle, even when we think we've been forgotten in our seasons of waiting, God is still there. And He is bigger.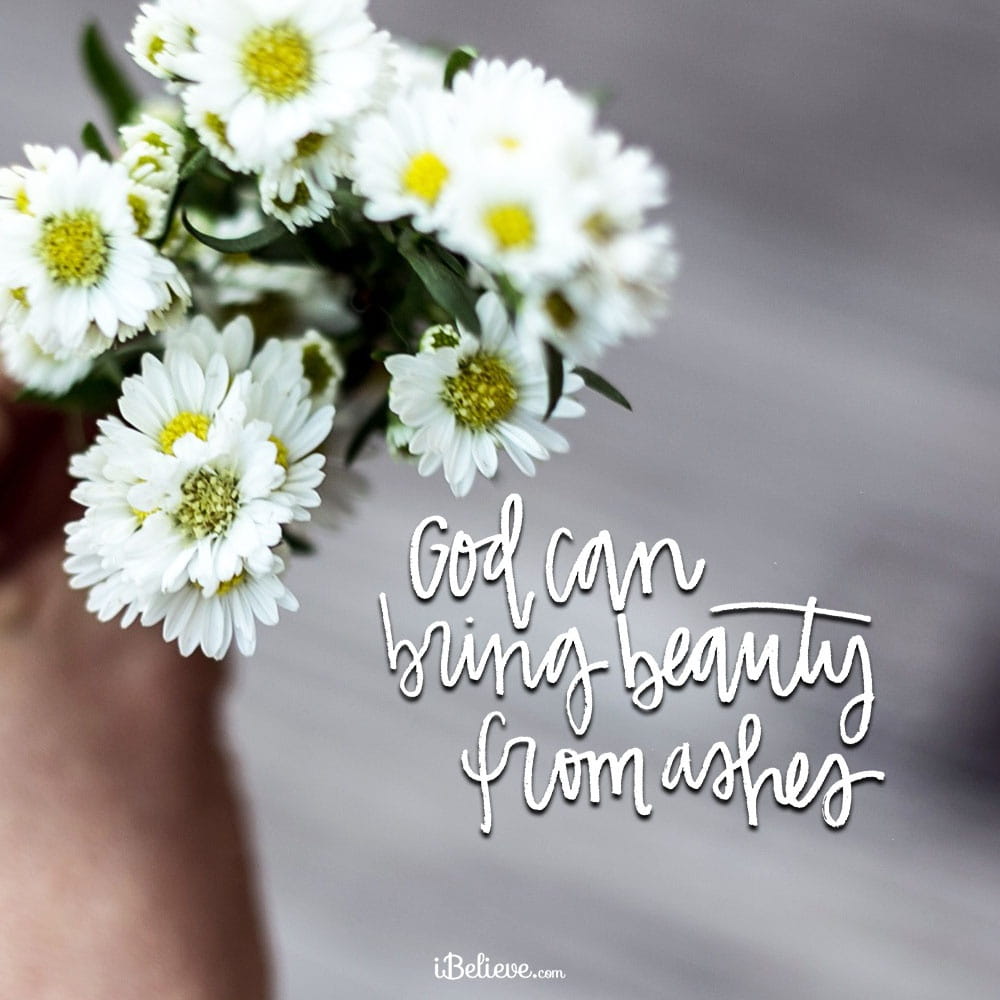 As believers, we can still hold on to hope.
For He never intends for us to stay stuck in our sin, pain, or deep sorrow. He heals and restores, He calls us onward, He reminds us that in Him, we have great purpose and hope.
There's beauty and greatness behind every mark of darkness. The ashes will fall away, they don't stay forever, but His greatness and glory shine forever through every broken place and flaw we've struggled through.
Jesus conquered death. He lives forever. He reigns in glory. And we have victory in Him.
Take courage dear friends who are facing deep battles. He is greater than any enemy we face in this life. We overcome because He has overcome and our lives are hidden in Christ. May God cover you with peace, may He bring healing in the face of hard news, may He bring deep, abiding joy that makes no sense to the world, may He bring comfort and care as He wraps you in His arms. The God of miracles fights for you today, and He is Mighty.
There's still beauty ahead…straight out of ashes.
Christ redeems.
Grace.
Dear God,
In this season of Lent we're reminded of our own difficulties and struggles. Sometimes the way has seemed too dark. Sometimes we feel like our lives have been marked by such grief and pain, we don't see how our circumstance can ever change. But in the midst of our weakness, we ask that you would be strong on our behalf. Lord, rise up within us, let your Spirit shine out of every broken place we've walked through. Allow your power to be manifest through our own weakness, so that others will recognize it is You who is at work on our behalf. We ask that you would trade the ashes of our lives for the beauty of your Presence. Trade our mourning and grief for the oil of joy and gladness from your Spirit. Trade our despair for hope and praise. We choose to give you thanks today and believe that this season of darkness will fade away. Thank you that you are with us in whatever we face, and that you are greater than this trial. We know and recognize that you are Sovereign, we thank you for the victory that is ours because of Christ Jesus, and we are confident that you have good still in store for our future. We thank you that you are at work right now, trading our ashes for greater beauty. We praise you, for you make all things new.
In Jesus' Name,
Amen.
__________________________________________________________
BEAUTY FROM ASHES
By: Sharon Allen,  womensministryleader.com
Last year, in an area about 20 miles from our home, a devastating fire sped through the hills destroying everything in its path. All bushes, grass, and most trees were completely annihilated and the highway through the area was closed for days. A week or so after the last fire truck left the region my husband and I went to view the damage from the road. There were remains of fallen power and fence lines running parallel to the highway. All ground foliage and low tree branches were gone. The higher branches on the few trees that remained were charred. Even the boulders were speckled with black and white ashes. The entire region looked as if it had been cleared by a horde of locusts.
It's been almost a year since the fire swept through the area.
So imagine my surprise when my husband took me for a drive on the same stretch of road last week and for miles along the road and on the hillsides were acres and acres of purple and white lupines and gold and yellow poppies. I was awestruck. We got out of the car and took photo after photo. Other passers-by had the same reaction evidenced by the crowd of people with cameras who gathered around us and every other small pull-off along the narrow road.
As I stood there amazed at the sight, I marveled at God's creativity. I wondered what the view must be from heaven and whether God enjoyed the fragrance and vision as much as all of us did. Then I thought, "How like God. While we were all bemoaning the loss of plant life the summer before, God was planning this extraordinary display of color and scent that could not have happened without the fire."
On the ride home I continued to ponder the meaning of what I'd seen and realized how often God refines us and those around us with situations that burn like fire. Sometimes the pain is so intense we feel like we cannot survive, as though our lives are totally devastated. But we do survive, and in time we emerge changed and surprisingly beautiful, a more accurate reflection of our Lord.
The changes that come about in our thinking patterns and habits as a result of the refining fire make our lives more attractive to the people around us, those in our sphere of influence. We even begin to emit a fragrance that is pleasing to God.
While I wouldn't invite the fire into my life, after it has passed I am grateful for the beauty that arises from the ashes.