God's Chosen Servants
By: Ken Barnes, 1.cbn.com
"For consider your calling, brethren, that there were not many wise according to the flesh, not many mighty, not many noble; …" (1 Corinthians 1:26 NASB)
We all want to be significant, and we are all important in the eyes of our Creator. The problem is we often seek our worth through the eyes of man. God uses ordinary people with hearts inclined toward His.
One Sunday, I was asked to speak at a small church near my home in Virginia. A man greeted me upon arrival at the Church who then let me into the building. In small churches, you often have a pastor who does the preaching and the teaching and then an elder or deacon who does everything else. I sat down at the back of the church to review my sermon notes.
The man busily went about making the coffee and setting out the snacks. He then took a small broom and a dustpan and proceeded to sweep up between the rows of chairs set up for the service.
As I watched this man, a question came into my mind. Lord, who is more valuable today for this service, him or me?
As I pondered this thought, the answer became clear to me. Neither. We had equal value just a different function.
I asked the Lord a second question. Lord, who is most pleasing to you?
The answer to the second question came quicker than the first. The one who does their part of the service with the greatest amount of love in their heart for God.
Sometimes we confuse value and function. We do not get value from what we do; we bring value to our work. Each individual has intrinsic value before God. Billy Graham and Pat Robertson have a greater function in the Body of Christ than I do. Therefore, in some areas, they have the greater privilege. Jesus gave Peter, James, and John greater access to Himself, not because he valued them more, but that they would have a more significant role in the Kingdom of God. He loved all his disciples equally.
We often make the mistake of trying to win the Lord's approval by how we perform before man. People pleasers never end up as God pleasers. This is an exercise in futility. We don't need to strive for what we already have.
What does impress the Lord? It's not the height or even the breadth of our task, but the depth of our love motivating us to serve that catches the eye of the Father. It is not how we serve, but why, that gets His attention. Is it done out of a motivation of love?
Those who serve around a church in roles that do not bring a lot of public applause just may be God's heroes. Remember there are not many wise, mighty, or noble.
The next time you walk past one setting up chairs in your Church without taking notice, you may have missed an opportunity to interact with one of God's chosen servants.
That day, when I spoke in that Church, the most honored servant may not have been the one in the pulpit but the one sweeping the floor.
He makes the whole body fit together perfectly. As each part does its own special work, it helps the other parts grow, so that the whole body is healthy and growing and full of love. – Ephesians 4:16 NLT
Flavius Ricimer was not considered eligible for leadership in Rome. After all, he was a pagan, a man with the wrong background. Although hardly known today, he became one of the most powerful men of his time. In fact, he became known as the "kingmaker" of the Western Roman Empire.
After becoming a general in the Roman army, his support became critical for elevating others to positions of power. From time to time, Ricimer's position was threatened, but he managed to survive and even maintain his position of influence until he died on this day in 472 AD.
His life reminds us of important Biblical principles about Christians' lives today. Each person has a unique place in the body of Christ. Some are called to positions of greater visibility and prominence. But more are called to serve behind the scenes. Some become well known; many will remain relatively obscure.
However, in God's sight, each person is equally special.
The key for believers is to surrender their lives to God, to let Him chart their course, and to be faithful to fulfill the assignments that He has given them. This is true whether or not they receive praise or attention. We can be confident that God knows the truth.
Today, surrender your life anew to Him. Seek to be faithful in whatever position He calls you, whether or not anyone else ever knows.
God Has No Grandchildren
AUGUST 16, 2019
"… He would get up early in the morning and offer a burnt offering for each of them. For Job said to himself, 'Perhaps my children have sinned and have cursed God in their hearts.' This was Job's regular practice." Job 1:5b (NLT)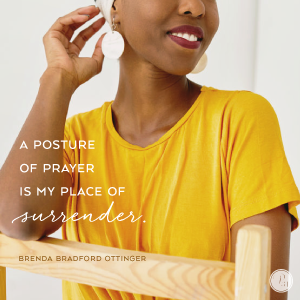 Exactly one minute ago, my eldest son was learning to drive — according to Mom-Time, that is. Now here we are, cruising the back roads of Surreal-ville, as my third son has found his way behind a wheel. These are the moments when I sigh in solidarity with Dr. Seuss: How did it get so late so soon?
Oh, how far the Lord and I have come.
When I first started surrendering a driver to the roads, any notion of relaxation before my child returned was a fancy of futility. I longed for bygone days when I could see my children's faces in the rearview mirror as I drove them everywhere their sweet feet needed to go.
But once upon an ordinary Thursday while awaiting my son's return (in full-on anxious mom mode — and why didn't he text me when he got there, anyway?), the Lord interrupted my nerves, etching a tender truth on my peace-parched heart.
Sweet Daughter, His whisper cut through the noise, it's not you who's been protecting them. From the swaddled womb to the steering wheel, all along it's been Me.
And in the newfound calm of that moment, tears and chains began to fall.
While I'd tried to control their safety with my worry (Lord, forgive me), He'd been holding their lives in His palm, giving His angels charge over these children of mine … children of His.
That day, God granted wings to my worry-worn soul, shattering longstanding chains that bound my psyche to the lie that panic provides protection.
You see, I'd mistakenly tried to supplant God as watchman over my household. The more I labored, stressed and feared — in vain — to build a safe house for my people via the hollow frame of worry, the more frantic I became. My heart held fear so tightly that it couldn't grasp freedom. And in my frenzy, I overlooked the truth that these children of mine were born of His vision long before they were born of my body.
Dear friend, can you relate? Do you also struggle with fear clothed in protection's innocence?
Will she get a spot on the team? Will his heart be broken? Will she make a friend? Will another driver pull out in front of him? Will the diagnosis scar her? Will he accept Jesus as his Savior? Will she tune in to the heartbeat of God?
Whether it's a son or daughter, niece or nephew, neighbor or student — many are the cares of a nurturing heart.
Lately, I'm inspired by Job's approach to his concerns for his children, "… He would get up early in the morning and offer a burnt offering for each of them. For Job said to himself, 'Perhaps my children have sinned and have cursed God in their hearts.' This was Job's regular practice" (Job 1:5b). Job understood his greatest influence was in a posture of prayer. And I'm reminded that this, too, is my place of surrender.
Because the truth and the grace of it all is, our fear offers our loved ones exactly no amount of protection. Peace cannot be found in the sound of their tires pulling into the drive, in their making perfect choices or in the pseudo-control of my worries. Satisfaction never stays, for life is fluid, so there's always another fear to "worship."
The relief we crave seeps in as we surrender fear and control, trading them for prayer, freedom, and the peace of knowing the children in our lives are the handiwork of their heavenly Father's heart.
God has no grandchildren — only children who've trusted Him as their Savior to guide and direct their lives. He alone knit them and knows them, and has kept them under His faithful watch since He set them down in our spheres of influence.
Oh, that our trust would make itself at home in faith, not fear: His power draws depths our anxiety can't access.