You Can Change the World
OCTOBER 28, 2019
"If we claim to be without sin, we deceive ourselves and the truth is not in us. If we confess our sins, he is faithful and just and will forgive us our sins and purify us from all unrighteousness. If we claim we have not sinned, we make him out to be a liar and his word is not in us." 1 John 1:8-10 (NIV)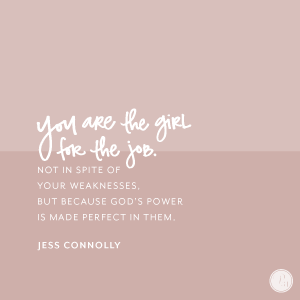 I'm often way too passionate for the comfort of my people. I'll ask my husband deep and probing questions like, "If you could change anything about our life today — what would it be?" and he'll say, "Honestly Jess — right now I just want some coffee!"
But humor me for a moment … do we want to change the world?
Handling just the basics feels like it leaves me exhausted — do I really have the margin, much less the capacity, to change the world? Do I even want to?
If I'm still for just a moment, I remember I absolutely want to try. The pain of the world is too great to stay busy and drown out the trauma around me.
So yeah, I want to. But where to start?
We've got another choice to make: How?
Do we want to use only our strength, power and abilities? How will we continually muster the energy and wisdom to do good things? Big things?
What if I get tired? Or scared? Or worse yet, flat out fail?
I know it's good to determine the gifts God intentionally gave us, to let our hearts be burdened by the problems around us. It's absolutely worth it to take steps of obedience to love others well.
But there's also another way!
If we want to change the world: Simply say we're sorry.
Today's key verse reminds us about the character of God when we acknowledge our need for grace. "If we claim to be without sin, we deceive ourselves and the truth is not in us. If we confess our sins, he is faithful and just and will forgive us our sins and purify us from all unrighteousness. If we claim we have not sinned, we make him out to be a liar and his word is not in us" (1 John 1:8-10).
But when we act like we don't need grace, thinking we're sinless or without fault — we disagree with everything we know to be true of God. I don't want to pretend as if I don't need God, pretending as if He's not all the good things my soul is craving.
I wonder why I don't live like that all the time. Because as a believer in Jesus, there's always a temptation to hide my weaknesses, pretend I've done it all right, and focus only on my successes. It's easier to act like I've got it all together! (And everyone else seems to be doing it so well!)
But then — I'd be missing out on God's power that I can access when I ask for forgiveness, allowing me to move forward in grace.
The crazy good news of 1 John 1:8-10 is that when I am weak, He is faithful, just and forgiving. Not only do we get the life-changing power of His perfection bringing purpose to our weaknesses, but we get Him … we get grace, we get forgiveness.
Believing you're the girl to change the world doesn't have to be an empty message as you try to forget all you've done wrong. Instead, it can be a gospel-centered, power-packed anthem of truth when you recognize God uses your strengths and weaknesses.
You have been created intentionally by a God who loves you, sees you and hopes for the best in you. Your weaknesses are not a liability to God. All of you is loved and held, and everything is redeemable. The rest of your life is dependent on His capacity — not your ability to cover up who you are.
You are the girl for the job. Not in spite of your weaknesses, but because His power is made perfect in them. We're going to be in this world, and we might as well let God use us to change it.
Father, thank You that Your grace is for us, choosing us when we wouldn't have chosen You and holding us when we miss the mark. Help us believe so furiously in Your goodness that we're bold in our repentance and confession. Humble our hearts and open our eyes — help us change the world by saying I'm sorry when we need to. In Jesus' Name, Amen.
TRUTH FOR TODAY
Acts 3:19, "Repent, then, and turn to God, so that your sins may be wiped out, that times of refreshing may come from the Lord." (NIV)
James 5:16, "Therefore confess your sins to each other and pray for each other so that you may be healed. The prayer of a righteous person is powerful and effective." (NIV)
Repent and turn away from your idols and turn your faces away from all your abominations. – Ezekiel 14:6 NASB
Tensions were high throughout the American colonies. War loomed on the horizon, and many were afraid. Conflicts had arisen between British and French forces, and violence had developed into what would become known as the French and Indian War. Samuel Davies, who was born on this day in 1723, lived among the colonists as a pastor and evangelist. In 1756 as the colonies faced serious problems, a special fast was called.
Davies reminded people that their only hope was to turn to God. He said, "National judgments are inflicted for national sins, and therefore reformation from national sins is the only hopeful way to escape them." What was the answer? "Pray frequently; pray fervently!"
Davies had previously expressed his thoughts about the importance of humility and repentance in a hymn called "While o'er our guilty land, O Lord." There was sin in the land, and they faced mighty problems. The answer was to call on God: "Before Thy throne of grace we fall."
Davies knew the importance of true humility. He wrote, "See, we repent, we weep, we mourn; to our forsaken God we turn." The country's only hope was to turn to God: "Oh, spare our guilty country, spare the Church which Thou hast planted there."
Today, our world urgently needs revival. Pray. Seek God. Humble yourself before Him. Ask for a revival in your life. And cry out for His mercy on your country and the world.
Prayer
Father, forgive our nation of our sins. I cry out for Your mercy. Send Your Spirit. May Your glory dwell in our land. In Jesus' name, amen.
What is this You Have Done?
By: Norman Brown, reframemedia.com
Scripture Reading — Genesis 3:13-24
The Lord God said to the woman, "What is this you have done?" — Genesis 3:13
"Confession is good for the soul." This is not a biblical proverb, but it flows from the Bible's teaching. God's question to Eve resonates with ­every sinner's soul: "What is this you have done?" Her answer is history's first confession of sin: "The serpent deceived me, and I ate." She knew that God knew. No use denying it.
After Eve's confession, God issued judgment on the serpent (Satan), on human beings, and on creation because of human sin. The serpent would slither in the dust and later be crushed by Eve's offspring (when Jesus conquered sin and death for us—Romans 8:1-4). Childbirth, the woman's unique privilege, would include severe pain, yet she would still desire her husband. And farming, humanity's high calling in caring for God's creation, would now include backbreaking work to produce the food people had to eat. Then eventually their bodies would die and return to the dust they had come from.
But in an act of grace, God clothed his imagebearers with animal hides. And he evicted them from Eden—not as punishment but to protect them from living forever in sin and separation from God.
Salvation requires confession. Like Adam and Eve, we all sin. The question God asked Eve needs to be answered daily so that we can grow in grace. "What is this you have done?" An honest answer will be good for the soul.
Prayer
Father, we have disobeyed you in this life you have given us. Forgive us, for Jesus' sake. Amen.
Streams In The Desert
By: L.B. Cowman
You who bring good tidings to Zion, go up on a high mountain (Isaiah 40:9).
Toys and trinkets are easily won, but the greatest things are greatly bought. The top-most place of power is always bought with blood. You may have the pinnacles if you have enough blood to pay. That is the conquest condition of the holy heights everywhere. The story of real heroisms is the story of sacrificial blood. The chiefest values in life and character are not blown across our way by vagrant winds. Great souls have great sorrows.
Great truths are dearly bought, the common truths,
Such as men give and take front day to day,
Come in the common walk of easy life,
Blown by the careless wind across our way.
Great truths are greatly won, not found by chance,
Nor wafted on the breath of summer dream;
But grasped in the great struggle of the soul,
Hard buffeting with adverse wind and stream.
But in the day of conflict, fear and grief,
When the strong hand of God, put forth in might,
Plows up the subsoil of the stagnant heart,
And brings the imprisoned truth seed to the light.
Wrung from the troubled spirit, in hard hours
Of weakness, solitude, perchance of pain,
Truth springs like harvest from the well-plowed field,
And the soul feels it has not wept in vain.
The capacity for knowing God enlarges as we are brought by Him into circumstances which oblige us to exercise faith; so, when difficulties beset our path let us thank God that He is taking trouble with us, and lean hard upon Him.