Humility
NOVEMBER 5, 2019
"He humbled you, causing you to hunger and then feeding you with manna, which neither you nor your ancestors had known, to teach you that man does not live on bread alone but on every word that comes from the mouth of the LORD." Deuteronomy 8:3 (NIV)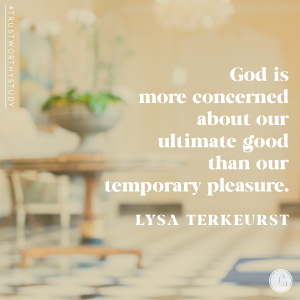 A friend of mine who's a young leader recently confessed to me some discouragement he'd been wrestling through. He'd been working so hard and seen great success, but his leaders gave him no recognition or encouragement. And hardest of all, due to some transitions in the company, he'd been demoted to a lower position.
I asked him a seemingly strange question after he poured out his heart to me: "Do you know what the opposite of pride is?"
He tilted his head and asked, "Do you think I'm struggling with pride?"
I wasn't trying to imply my young friend was prideful. I was setting the stage to help him see his circumstances through a different lens.
So I simply stated, "I believe the opposite of pride is trust in God. Pride begs us to believe it all depends on us. Trusting God requires us to place our dependence on Him. And the pathway that leads us away from pride and into a place of truly trusting God is paved with humility. Humility is never bought at a cheap price. It will always cost us something but will be worth the price we pay.
"Might God be using these humbling circumstances to get you to a place of deep and unshakable trust in Him? If God sees big things ahead for you, and I believe He does, then He must remove all hints of pride. Even if pride is but a tiny thorn in your heart now, when you're given a bigger position with more recognition, that pride grows from a thorn to a dagger with the potential to kill your calling."
In the Old Testament, we see God revealing this same kind of pride-stripping process by feeding the children of Israel manna in the desert for the purpose of humbling them. It was crucial that God prepare them to trust Him as they stepped from the desert into their destined Promised Land.
Deuteronomy 8:2 says, "Remember how the LORD your God led you all the way in the wilderness these forty years, to humble and test you in order to know what was in your heart, whether or not you would keep his commands" (NIV).
And then our key verse, Deuteronomy 8:3, goes on to reveal, "He humbled you, causing you to hunger and then feeding you with manna, which neither you nor your ancestors had known, to teach you that man does not live on bread alone but on every word that comes from the mouth of the LORD."
So why exactly was having to eat manna so humbling? And what can we glean from Deuteronomy 8:3 for our own lives today?
Here are three things we can take away from today's key verse:
1. God is our provider.
The children of Israel were used to looking down at the ground in Egypt and working the land to provide for themselves. They trusted their own hard work for their provision. Now, they'd need to look up and trust God for His provision.
2. God's provision is what we need but not always what we want.
This manna God provided wasn't like the normal food the Israelites were used to providing for themselves. But God knew it was perfect nourishment for those in the desert. He knows our needs better than we do. God is more concerned about our ultimate good than our temporary pleasure.
3. God's provision protects our heart. Our desires have the potential of corrupting our heart.
Man-made bread is not what gives the fullness of life God desires for us. Man-made success, riches and popularity are the same way. They won't fulfill us like we think they will. Only the Word of God can seep into the hungry places of our souls and make what's dead and discouraged become fully alive and deeply satisfied. We must want Him most of all. And then He'll see our hearts are prepared and trustworthy to handle other things.
At the end of our discussion, my young friend thanked me for helping him see that in each hard step of his journey as a leader, he's either walking the pathway of pride, by trusting himself, OR the pathway of humility, by trusting God. And the same is true for each of us.
May we all choose to trust Him and let that be the lens through which we process our circumstances. May we see how God isn't trying to break our hearts but rather make us ready for what He sees just ahead.
Why do My people say, "We are free to roam"? – Jeremiah 2:31 NIV
The Bible reminds us that God gives us the freedom to make choices. But He also wants us to realize we are responsible for our actions, and we can expect consequences for the choices we make.
As Jeremiah describes, God watches the way we live. He sees the inevitable failure of some decisions and how frequently people seem willing to turn their backs on the truths He has revealed and the principles that can lead to success.
As we make decisions, we can be influenced by people in this world who can make their ways seem desirable. We can feel compelled to follow them, even if this means ignoring or rejecting the things of God and roaming from the sure foundation He has given us.
When faced with these kinds of temptations, we need to consider what God has done for us and remember that His Word has passed the test of time.
We need to ask ourselves some important questions. Are we sure that we want to ignore God? What has happened in the past to those who ignored His promises and violated His Word? In contrast, what has happened to those who kept His Word and applied His principles? Why would we follow paths that conflict with His will?
Ask God to help you stay true to Him and avoid the tendency to roam. Remember the principles in His Word and apply them in your life.
The Christian's heaviness and rejoicing
By: Charles Spurgeon
"Wherein ye greatly rejoice, though now for a season, if need be, ye are in heaviness through manifold temptations." 1 Peter 1:6
Suggested Further Reading: Philippians 2:25-30
"Though now for a season, if need be, ye are in heaviness." It does not say, "Though now for a season you are suffering pain, though now for a season you are poor"; but "you are in heaviness;" your spirits are taken away from you; you are made to weep; you cannot bear the pain; you are brought to the very dust of death, and wish that you might die. Your faith itself seems as if it would fail you. That is the thing for which there is a 'need be'. That is what my text declares, that there is an absolute 'need be' that sometimes the Christian should not endure his sufferings with a gallant and a joyous heart; there is a 'need be' that sometimes his spirits should sink within him, and that he should become even as a little child, smitten beneath the hand of God. Ah! Beloved, we sometimes talk about the rod, but it is one thing to see the rod, and it is another thing to feel it; and many a time have we said within ourselves, "If I did not feel so low spirited as I now do, I should not mind this affliction;" and what is that but saying, "If I did not feel the rod I should not mind it?" It is that breaking down of the spirit, that pulling down of the strong man, that is the very festering of the soreness of God's scourging—the blueness of the wound, whereby the soul is made better.
For meditation: Whenever you are overwhelmed by such distress, remember that your Saviour also experienced it on your behalf (Mark 14:33-34). He knows what it is like and can help you (Hebrews 2:18; 4:15-16).
Streams in the Desert – November 7
By: L.B. Cowman
Times have changed, but life's hard times haven't
But what things were gain to me, those I counted loss for Christ (Phil. 3:7).
When they buried the blind preacher, George Matheson, they lined his grave with red roses in memory of his love-life of sacrifice. And it was this man, so beautifully and significantly honored, who wrote,
O Love that wilt not let me go,
I rest my weary soul in Thee,
I give Thee back the life I owe,
That in thine ocean depths its flow
May richer, fuller be.
O Light that followest all my way,
I yield my flickering torch to Thee,
My heart restores its borrowed ray,
That in Thy sunshine's blaze its day
May brighter, fairer be.
O Joy that seekest me through pain,
I cannot close my heart to Thee,
I trace the rainbow through the rain,
And feel the promise is not vain,
That morn shalt tearless be.
O Cross that liftest up my head,
I dare not ask to fly from Thee,
I lay in dust life's glory dead,
And from the ground there blossoms red,
Life that shall endless be.
There is a legend of an artist who had found the secret of a wonderful red which no other artist could imitate. The secret of his color died with him. But after his death an old wound was discovered over his heart. This revealed the source of the matchless hue in his pictures.
The legend teaches that no great achievement can be made, no lofty attainment reached, nothing of much value to the world done, save at the cost of heart's blood.