Keys to Powerful Living: Praise
GIVING GOD THE GLORY NO MATTER WHAT YOU ARE FACING
Witnessing a magnificent fireworks display, hearing a stunning symphony, or seeing a glorious sunset can evoke a response of praise.
But often, it's easier to praise a sunset than the Creator of the sunset. In that same way, the difficulties of life often cloud our vision and keep us from praising God. What can we do to restore a heart-attitude of praise?
THE NATURE OF PRAISE
Praise, according to the Scriptures, is an act of our will that flows out of an awe and reverence for our Creator. Praise gives glory to God and opens us up to a deeper union with Him. It turns our attention off of our problems and on the nature and character of God Himself.
As we focus our minds on God and proclaim His goodness, we reflect His glory back to Him. The results can fill you with peace and contentment ( Isaiah 26:3) and transform your outlook on life.
REASONS TO PRAISE
Very simply, we praise God because He is worthy of our praise ( 1 Chron. 16:25; Rev. 5:11-14). He is the Alpha and Omega, the Beginning and the End, the King of kings and Lord of lords. He is our Creator, Provider, Healer, Redeemer, Judge, Defender and much more.
Another foundational reason to praise God is simple obedience. The Bible says God is a "jealous" God who demands and desires our praise. "You shall have no other gods before Me," says the first commandment ( Deut. 6:7). As the psalmist said, "Let everything that has breath praise the Lord" ( Psalm 150:6).
As we praise God, we will discover incredible benefits for our lives. That's because human beings were created by God to praise Him ( Isa. 43:7, Matt. 21:16). Due to man's original sin, however, this relationship was disrupted. Praising God helps restore us to that right relationship, for God actually dwells in the praises of His people ( Psalm 22:3). As we draw near to the Father in praise, He draws near to us ( James 4:8).
Praise is also our ultimate destiny. When the Lord Jesus Christ returns again to earth, all creation — including prideful mankind — will recognize His glory and praise Him ( Phil. 2:9-11).
PRAISE FOR PROTECTION
God also gives us assurances of additional blessings as we praise Him. When we praise God, He honors us as His children, and provides His loving protection ( 2 Sam. 22:47-51). Failure to praise God, however, leaves us out of fellowship with God and out of His divine protection ( 1 Samuel 2:27-32).
Our praise can also serve as a powerful witness to those who do not know the Lord ( 1 Peter 2:9). Also, God can work miraculously through our praises. The ancient walls of Jericho came crashing down, giving victory to God's people, as a result of shouts of praise ( Joshua 6:1-21). The prison doors shook open when Paul and Silas praised God ( Acts 16:25-26).
OBSTACLES TO PRAISE
Praise is both important and powerful. So why is it so difficult at times to praise God? The Bible explains that, even with the power of the indwelling Jesus, our hearts are still "more deceitful that all else" (Jer. 17:9). We sometimes forget that we are always dependent on God to live victoriously in this life.
Satan therefore tries to persuade us that we will eventually reach a point where we can "do it ourselves." The Scriptures are clear that Satan "prowls about like a roaring lion, seeking someone to devour" ( 1 Peter 5:8).
Disguised as an "angel of light," the devil and his host seek subtly to subvert the praises the children of God owe to their heavenly Father.
God, however, has given us grace in times of need, provided we humble ourselves (Matt. 23:12; James 4:5-10). Praising God allows us to defeat the strategies of the enemy. As God's adopted children, we no longer have to remain slaves to sin (Gal. 4:6-7). We have a powerful spiritual weapon in praise, and it is guaranteed to be effective (2 Cor. 10:4-5).
LIVING A LIFE OF PRAISE
It is vitally important to live in an attitude of praise toward God. But what can you do if you are having difficulty maintaining a life filled with praise?
1. Commit your life to Christ. First, be absolutely sure that you have placed your complete faith in Jesus Christ as Lord and Savior of your life. The Bible says that "if you confess with your mouth Jesus as Lord, and believe in your heart that God raised Him from the dead, you shall be saved" ( Rom. 10:9). The life of praise begins here, with the confession of your mouth that "Jesus is Lord."
2. Confess sin and repent. Sin, including prideful self-reliance, separates us from God and from His love and protection. But we have the assurance of forgiveness if we come to Him in repentance ( 1 John 1:9). Confess any known sin and ask God to search your heart. Then, receive His forgiveness.
3. Praise God anyway! Despite your present feelings, it is important to offer praise to God, what Hebrews 13:15 calls a sacrifice" of praise. Despite our feelings or circumstances, God often asks us to take the first step, especially when He is trying to help us grow in our faith ( James 1:2-4).
4. Join together with other believers. Sharing your struggles with another brother or sister in Christ is not only good idea ( Ecc. 4:9-10), it is commanded ( James 5:16). Uniting with other believers in regular worship is also a key to being able to praise God ( Heb. 10:24-25).
AS YOU PRAY
Are you living a life filled with praise for God? If not, take a few moments to examine your life and your relationship with Jesus. If you have not made Him Lord of your life, start there. Then, confess any known sin and receive His forgiveness. Ask Him to renew you and refresh your spirit.
"Lord, You have made me and You love me. Forgive me for failing to give You the praise which You deserve. I confess my need of You in all things. I desire to walk in joy and praise. Release me now into a deeper understanding of who You are, so that I may truly praise You. I ask all this in Jesus' name. Amen."
What the Power of Praise Can Do: 8 Reminders from His Word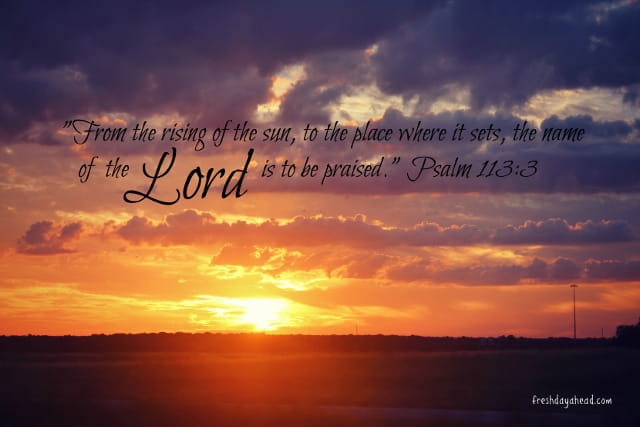 We have so much to praise God for, there's great power in giving honor to Him. And many of you live that truth out, every single day of your lives. The Bible is filled with examples of praise when we see His power released – life-changing miracles, dramatic stories of the enemy being halted or defeated, hearts being changed and drawn closer to Him.
Yet reality is that way too often, daily struggles or constant life demands can crowd out our praise to God.  We might check the worship box at church and somehow think we're good for the week.  And all the while, with souls distant and cold, we sing words, we listen to music, then we go home.
Sometimes it really is a sacrifice to offer praise.  We may not feel like it.  We're struggling.  We're weary.  Or maybe, we feel like He let us down. We think God seems distant, like he's far away, or doesn't really care about what's troubling us. Painful life blows and losses might have recently sent us spiraling.
Here's what can make a lasting difference.  When we make that decision to fix our eyes on Him, and daily give Him praise, no matter what's staring us straight in the face, we suddenly realize that God has already begun to release the grip those struggles can have over us.
There's power in our acknowledgement that He is worthy, above all else, of our worship and praise.
His Spirit urges us onward, to press in close to him. Doesn't matter how good or "not so good" we feel like we can sing, doesn't matter if we like upbeat worship, more reflective songs, or traditional hymns. Doesn't matter if we're alone, with a few, or in a big group. Doesn't even matter whether we "feel" like it or not.  What matters is this – our hearts in tune with our Creator and King.
What the Power of Praise Can Do – 8 Things:
1.  Praise gets our focus off ourselves and back on God.  In our often "selfie" focused world, we need this constant reminder – life is not all about us.  We may know that in our heads, but yet our hearts think differently so often. We're prone to selfishness, He desires our eyes be set firmly on Him, because that's where our true hope is found.  He is worthy of our praise, no matter what we face from day to day.
"Praise him for his mighty deeds; praise him according to his excellent greatness!"  Psa. 150:2
"And my tongue shall speak of your righteousness and of your praise all the day long." Psa. 35:28
2.  Praise brings us to a place of humility.  We remember our dependency on God, as we acknowledge our need for Him.  As we praise Him as Creator and King of this world, we admit and recognize that we're not in control, but He is.  He is above all.
"Let us come into his presence with thanksgiving; let us make a joyful noise to him with songs of praise! For the Lord is a great God, and a great King above all gods."  Psa. 95:2-3
 "I will give you thanks in the great congregation: I will praise you among much people." Psa. 35:18
3.  Praise makes the enemy flee.  It pushes back the darkness the surrounds, and blocks the attacks and hissing lies over us.  Evil will not stick around if we're praising our God, who will fight our battles for us.  In the story of Jehoshaphat, we see God miraculously defeat the enemy, because of the people's obedience to praise Him.
"As they began to sing and praise, the Lord set ambushes against the men of Ammon and Moab and Mount Seir who were invading Judah, and they were defeated"  2 Chron. 20:22
4.  Praise leaves no room for complaining and negativity.  Sometimes even within our prayers, we can tend to complain about our problems.  God knows our hearts.  And He cares about all that concerns us.  But through praise, we're focused on Him, no longer allowing too much attention to be centered around the struggles.  We're reminded of what He has already done in our lives.  We're reminded that He knows what concerns us, and is capable of taking care of all that burdens us.
"Bless the Lord, O my soul, and forget not all his benefits, who forgives all your iniquity, who heals all your diseases, who redeems your life from the pit, who crowns you with steadfast love and mercy." Psa. 103:2-4
"By him therefore let us offer the sacrifice of praise to God continually, that is, the fruit of our lips giving thanks to his name." Heb. 13:15
5.  Praise makes room for God's blessings over our lives.  He will not hold back His goodness, praise opens the gateway of blessing as we come into the Presence of our King.
"Enter his gates with thanksgiving, and his courts with praise! Give thanks to him; bless his name!"  Psa. 100:4
"Blessed be the God and Father of our Lord Jesus Christ, who has blessed us with all spiritual blessings in heavenly places in Christ:" Eph. 1:3
6.  Praise invites His presence.  God dwells close to us when we praise Him.  He lives there.  He looks for it.
"He inhabits the praises of His people."  Psa. 22:3
"But you are a chosen generation, a royal priesthood, an holy nation, a peculiar people; that you should show forth the praises of him who has called you out of darkness into his marvelous light;" 1 Pet. 2:9
7.  Our spirits are refreshed and renewed in His presence.  We're strengthened by His peace and refueled by His joy.  Through a heart of praise, we realize that God doesn't just change our situations and work through our problems, He changes our hearts.
"In His presence, there is fullness of joy."  Psa. 16:11
"Because your love is better than life, my lips will glorify you. I will praise you as long as I live, and in your name I will lift up my hands." Psa. 63:3-4
8.  It paves the way for God's power to be displayed, miracles ​happen.  People's lives are affected and changed.  God shakes things up through praise.  As Paul and Silas sat in prison, shackled, and chained, they kept right on praising God.  And God sent an earthquake that shook the cells and broke the chains.  The jailer and all his family came to know Christ that very night.
"About midnight Paul and Silas were praying and singing hymns to God, and the prisoners were listening to them, and suddenly there was a great earthquake, so that the foundations of the prison were shaken. And immediately all the doors were opened, and everyone's bonds were unfastened."  Acts 16:25-26
We have a choice every day in this life.  To live absorbed in worry and stress, on the fast track of busy, focused only on what surrounds us, tuned into the roar of the world.
Or, we can ask God to help us take our eyes off all that may be swirling around, our problems and mess, or the voices of others. And we can look up…to Him, the One who holds it all together, and who holds us in his hands.
God desires our whole heart.  He waits for us to return.  He longs for us to know the power of His presence over our lives.  He desires to bless us more than we could imagine. His Spirit urges us onward, calling us closer.
Streams in the Desert – March 12
Times have changed, but life's hard times haven't
So Moses extended his staff over the land of Egypt, and then the Lord brought an east wind on the land all that day and all night. The morning came, and the east wind had brought up the locusts! and the Lord turned a very strong west wind, and it picked up the locusts and blew them into the Red Sea. Not one locust remained in all the territory of Egypt. (Exod 10:13,19)
See how in the olden times, when the Lord fought for Israel against the cruel Pharaoh, the stormy winds wrought out their deliverance; and yet again, in that grandest display of power—the last blow that God struck at the proud defiance of Egypt. A strange, almost cruel thing it must have seemed to Israel to he hemmed in by such a host of dangers—in front the wild sea defying them, on either hand the rocky heights cutting off all hope of escape, the night of hurricane gathering over them. It was as if that first deliverance had come only to hand them over to more certain death. Completing the terror there rang out the cry: "The Egyptians are upon us!"
When it seemed they were trapped for the foe, then came the glorious triumph. Forth swept the stormy wind and beat back the waves, and the hosts of Israel marched forward, down into the path of the great deep—a way arched over with God's protecting love.
On either hand were the crystal walls glowing in the light of the glory of the Lord; and high above them swept the thunder of the storm. So on through all that night; and when, at dawn of the next day, the last of Israel's host set foot upon the other shore, the work of the stormy wind was done.
Then sang Israel unto the Lord the song of the "stormy wind fulfilling his word."
"The enemy said, I will pursue, I will overtake, I will divide the spoil…Thou didst blow with thy wind, the sea covered them: they sank as lead in the mighty waters."
One day, by God's great mercy, we, too, shall stand upon the sea of glass, having the harps of God. Then we shall sing the song of Moses, the servant of God, and the song of the Lamb: "Just and true are thy ways, thou King of saints." We shall know then how the stormy winds have wrought out our deliverance.
Now you see only the mystery of this great sorrow; then you shall see how the threatening enemy was swept away in the wild night of fear and grief.
Now you look only at the loss; then you shall see how it struck at the evil that had begun to rivet its fetters upon you.
Now you shrink from the howling winds and muttering thunders; then you shall see how they beat back the waters of destruction, and opened up your way to the goodly land of promise.
—Mark Guy Pearse
"Though winds are wild,
And the gale unleashed,
My trusting heart still sings:
I know that they mean
No harm to me,
He rideth on their wings."