3/13/2020
For there is one God and one mediator between God and mankind, the man Christ Jesus.
No Matter What Happens God is With You
1. God loves you and has an incredible future planned for you.
In the Bible, God tells us:
"For I know the plans I have for you, says the Lord. They are plans for good and not for disaster, to give you a future and a hope." Jeremiah 29:11
Jesus, Himself, when speaking about the people who belong to Him, put it this way:
"My purpose is to give life in all its fullness." John 10:10
Even when life seems out of control, you can be sure of this…God has a plan and a purpose for you. Because of God's love for each one of us, He provided a plan for our salvation – the way that we can become a part of His family and live the life He has promised us.
2. Our sin has separated us from God.
Mankind is sinful. We only have to look at the world around us to know this is true. You and I have not lived up to the standard of God's holy and perfect law. As a result of our sin, we are separated from God. In this state of separation, we cannot know God or experience the peace and hope of the life He has planned for us.
"For all have sinned; all fall short of God's glorious standard." Romans 3:23

"For the wages of sin is death, but the free gift of God is eternal life through Jesus Christ our Lord." Romans 6:23

"If we say we have no sin, we are only fooling ourselves and refusing to accept the truth." I John 1:8
But, because of God's deep love for each one of us, He provided the way of salvation – the only way that we are able to enter a relationship with Him. This plan is called "the Gospel." The word Gospel means "Good News." The Good News is that God Himself has already made all the arrangements for your salvation. No matter what you have done, Jesus Christ's sacrifice is able to pay the penalty for your sin. God loves you and wants you to be His own child.
3. Jesus Christ is the only provision for our sin.
Through Jesus Christ, you can experience a personal relationship with God and enjoy a life of peace and hope. When Jesus died on the cross and shed His blood for our sin, He bridged the gap that separated us from God. The Bible outlines this incredible plan:
"God showed us how much He loved us by sending His only Son into the world so that we might have eternal life through Him. This is real love. It is not that we loved God, but that He loved us and sent His Son as a sacrifice to take away our sin." I John 4:9 –10

"So we praise God for the wonderful kindness He has poured out on us because we belong to His dearly loved Son. He is so rich in kindness that He purchased our freedom through the blood of His Son, and our sins are forgiven." Ephesians 1:6-7

"For God made Christ, who never sinned, to be the offering for our sin, so that we could be made right with God through Christ." II Corinthians 5:21
It is only through Jesus Christ that we can know God personally. It is through Jesus alone, that we can experience God's love, enjoy peace and hope, and receive the gift of eternal life.
4. We must each receive Jesus Christ as our Lord and Savior.
Just to give mental agreement that Jesus died on the cross is not enough. Each of us must turn to God, acknowledging our sin and powerlessness to save ourselves. We must ask Jesus to come into our lives and receive His sacrifice as total payment for our sins. We exercise our will and do this as an act of faith.
"For God so loved the world that He gave His only Son, so that everyone who believes in Him will not perish but have eternal life." John 3:16

"I assure you, those who listen to my message and believe in God who sent me have eternal life. They will never be condemned for their sin, but they have already passed from death into life." John 5:24

"Jesus told her, 'I am the Resurrection and the Life. Those who believe in me, even though they die like everyone else, will live again.' " John 11:25

"God saved you by His special favor when you believed. And you can't take credit for this; it is a gift from God. Salvation is not a reward for the good things we have done, so none of us can boast about it." Ephesians 2:8–9

God sees and understands your heart. There are no magic words or precise formulas you must pray or say. You can talk to God right now in the quietness of your heart and invite Him into your life as your Lord and Savior. Here's a simple prayer:

"Dear Jesus, thank You for loving me and dying on the cross for my sin. I want to know You personally. I invite You into my life as my Lord and Savior. Thank You for forgiving me of all my sins and for the gift of eternal life. Help me to grow close to You in this new life You've given me."

If this prayer expresses the longing of your heart, pray it right now. Jesus will hear you. He will save you and come into your heart and life. You will become a child of God and receive eternal life. If you have made a decision to trust Jesus, you have been born into God's family. God's promise to you is that He will never leave you or abandon you.

"But to all who believed Him and accepted Him, He gave the right to become children of God." John 1:12

"I will never fail you. I will never forsake you." Hebrews 13:5

One of the best things you can do right now is to tell someone about your decision.

"For if you confess with your mouth that Jesus is Lord, and believe in your heart that God raised Him from the dead, you will be saved." Romans 10:9

God has given you another gift. Now that you have believed in Jesus, God has sent His Holy Spirit to live in your heart. The Holy Spirit will help you in your new life and teach you about God. God tells us His Holy Spirit is our Comforter and Counselor, who will bring us peace and guide us into all truth.

"And I will ask the Father and He will give you another Counselor, who will never leave you. He is the Holy Spirit, who leads into all truth." John 14:16 –17

"And when you believed in Christ, He identified you as His own by giving you the Holy Spirit …The Spirit is God's guarantee that He will give us everything He promised and that He has purchased us to be His own people. This is just one more reason for us to praise our glorious God." Ephesians 1:13 –14

The Bible says we are to grow in our faith. We do this through praying to God, reading the Bible, spending time with other Christians, and obeying the Holy Spirit's prompting in our lives. Please call The 700 Club Prayer Counseling Center at 800-759-0700 or log on to CBN.com. We have prayer counselors who care about you and will pray with you, 24 hours a day, 7 days a week. We have free materials and information that will help you in your new life with Jesus.

Remember, now that you belong to Jesus, nothing can separate you from Him. No Matter What Happens, you have God's promise of eternal life and His peace and protection for your life now.

"And I am convinced that nothing can ever separate us from His love. Death can't, and life can't. The angels can't, and the demons can't. Our fears for today, and our worries about tomorrow, and even the powers of hell can't keep God's love away. Whether we are high above the sky or in the deepest ocean, nothing in all creation will ever be able to separate us from the love of God that is revealed in Christ Jesus our Lord. Romans 8:38 – 39

God bless you! May the joy of God's salvation fill your heart, today and always.
From Grumbling to Gratitude
MARCH 13, 2020
"The LORD will guide you continually, and satisfy your needs in parched places, and make your bones strong; and you shall be like a watered garden, like a spring of water, whose waters never fail." Isaiah 58:11(NRSV)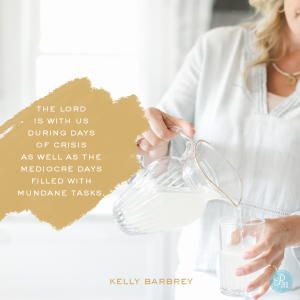 I like to think of myself as a glass-half-full kind of girl.
But on that particular morning I was in a funk. The 5 a.m. wake-up call from the alarm on my phone seemed even more shrill than usual, sending the low-grade headache I'd been nursing for the last couple of days into full-on migraine status. I pulled back the shower curtain and noticed the beginnings of mildew creeping into the grout of the tub.
Well, add cleaning the bathroom to that ever-growing list of things to do.
I grumpily made my way to the kitchen to brew a much-needed cup of coffee and pack the kids' lunches for school, but the coffee maker was kaput, and the kids had wiped out every last potato chip from the cabinet in a snacking frenzy the day before. I took a deep breath as I headed back to the bedrooms, saying a quick, silent prayer that everyone else would wake up on the right side of the bed.
In the grand scheme of things, that morning wasn't horrible. Nothing major was going wrong, but nothing was going particularly right, either, and I was not feeling anything like my normally positive self.
Sometimes those not-quite-right days can be even trickier than times of full-on crisis because we are not technically supposed to be grumbling or complaining over such trivial things. Let's face it, no one is sending flowers or handing out casseroles to comfort you, just because you had to pack lunches and scrub the bathtub.
I feel the old familiar sting of conviction in Philippians 2:14-15 when we're told to "Do everything without grumbling or arguing, so that you may become blameless and pure, 'children of God without fault in a warped and crooked generation.' Then you will shine among them like stars in the sky." (NIV)
God has blessed me abundantly. I'm certain it's frustrating to Him when I complain, just like it's frustrating to me when my kids complain.
Misery loves company. And if I had grumbled my way back to the bedrooms that morning to wake my kids, I venture to say that the rest of my tribe would have picked up on my ode to Eeyore and joined in with me. But I decided that morning to rise above the annoyances. I'd much rather "shine like stars in the sky" than gather others to stand under my own personal cloud.
Isaiah 58:11 says, "The LORD will guide you continually, and satisfy your needs in parched places, and make your bones strong; and you shall be like a watered garden, like a spring of water, whose waters never fail."
Continual help?
Restoration in parched places?
Yes, please!
If I'm feeling parched, I can imagine that my kids, my family, my friends and my co-workers might be, too. But rather than fostering a dreary drought, I can consciously choose to lift others by rising above my own trivial complaints.
What wonderful news that the Lord is with us during days of crisis as well as the mediocre days filled with mundane tasks, migraines and a little mildew. Remembering this grace in our weakness easily becomes a shining moment for God's heavenly strength.
God never promised us smooth sailing, but He does promise that He will be right there beside us, restoring us and urging us onward. He is there to fill us up so we can continue to fill others.
Come, let us sing for joy to the Lord; let us shout aloud to the Rock of our salvation. — Psalm 95:1 NIV
Are birds born knowing how to sing? Actually, no. Unlike cats that are born knowing how to meow and dogs that know how to bark, birds have to learn their songs. They learn by listening to their mom, dad, and other birds. And it takes a lot of practice. Some of their songs are pretty complicated!
So why do birds sing? It's not really for conversation. Birds use single "words," or calls, for things like warning other birds of danger, telling where to find food, and simply saying hello. But when it comes to their full songs, it turns out birds sing for a lot of reasons! If you hear a bird singing in North America and Europe, it's probably a boy bird — and he's usually singing to impress a girl (or maybe warn another guy to stay away). But if you live in Australia or the tropics, that bird you hear singing is probably a girl, and she's usually putting on a show. But sometimes birds sing when they're all alone. Why? Scientists think it's for the same reason we do — just for the pure joy of singing.
God has given you so many things to be thankful for — the wonders of His creation, the blessings of people who love you, the beauty of birdsong. It's enough to fill your heart with song, so why not sing out a few praises? Don't worry about how you sound or if the notes are just right.
Sing just for the pure joy of praising the One who gives you so many reasons to sing.
The mockingbird is known for its singing. The male mockingbird sings more often than the female and can make up to 200 different noises. It's called a mockingbird for its ability to "mock" or imitate other sounds — from the songs and chirps of other birds to a cat's meow to a car alarm!
Lord, put a new song in my heart and mouth today — a song of praise to You!