3/15/2020
I want to know Christ—yes, to know the power of his resurrection and participation in his sufferings, becoming like him in his death.
Jesus Died Once for All!
Did you realize that Christ's resurrection is also our resurrection? Did you also realize that Christ's death on the cross was also our death on the cross? Surprisingly, many people have never associated themselves quite that personally with the Easter story. But really, that is what we all must do in order to "experientially" know the reality of the resurrection life.
We have all been united with Him in both death and life! (Romans 6:5-7). It's interesting though, just how many people do not understand that the true meaning of the Lenten Season is that "Death was defeated" and "Life was awarded" to all who believe.
Believe what? Believe that our old self was crucified with him so that the body of sin might be done away with, and that we should no longer be slaves to sin – because anyone who has died has been freed from sin. Now if we died with Christ, we believe that we will also live with him. (Romans 6:6-8). That's what the whole process of reconciliation is all about.
The word "reconciliation" means to make an adjustment. It is the process of bringing together two things which differ one from the other so that they can now agree and be as one. Atonement carries much the same meaning.
My mother was an excellent bookkeeper. The Hardware store that she worked at for so many years was blessed to have her! Through her, I learned a lot about the "Bookkeeping World." I learned the importance of how the ledger must always agree with the total income being equal to the sum of the profit and the total expenses for the year. And if by chance the two figures do not agree then reconciliation must be made, by adding a figure from one side of the ledger to the other to bring about a balance.
In like manner, God had to "balance the books" (so to speak) on our account because we had put ourselves into debt to him…by way of our sin.
This Holy week symbolizes the glorious and beautiful way of atonement; and the high price that had to be paid in order for us to be made "alive to Christ." But there is also a daily reckoning that has to be made. An entering into our ledger of faith, the agreement that Christ has "once for all" paid the price, and that our name can be forever written into the Lamb's Book of Life!
For we know that since Christ was raised from the dead, he cannot die again; death no longer has mastery over him. The death he died, he died, he died to sin once for all; but the life he lives, he lives to God. In the same way, count yourselves dead to sin but alive to God in Christ Jesus. (Romans 6:9-11, NIV).
Hallelujah…the debt had been paid….once for all!
Jesus Paid It All
Surely he has borne our griefs and carried our sorrows; yet we esteemed him stricken, smitten by God, and afflicted. But he was pierced for our transgressions; he was crushed for our iniquities; upon him was the chastisement that brought us peace, and with his wounds we are healed. (Isaiah 53:4–5)
There is no question who Isaiah is talking about here. This is the suffering servant, God's Messiah, our Lord Jesus Christ. And this is one of the clearest passages in all of Scripture about what he has done for us. It is crystal clear, and it is simple.
There are two central ideas in this passage worth seeing as you prepare your heart to worship:
First, Isaiah shows us what Jesus has done;
Second, Isaiah shows us that what Jesus has done has been done for us.
Isaiah tells us that he has borne grief and carried sorrow. He was pierced for transgressions, even crushed. He was punished. He was wounded. To be sure, there is a lot happening here. A lot of terrible things — a true curse — are falling on the Messiah. Jesus really was the suffering servant. He was absolutely afflicted.
But it's not just that Jesus bore grief, or that he was pierced or crushed or wounded. It's that he has borne our griefs and carried our sorrows, that he was pierced for our transgressions, crushed for our iniquities; upon him was the chastisement that brought us peace, and by his wounds we are healed.
Jesus Paid It All for You
We should beware of distancing ourselves from these words, of assuming that we are far removed from their relevance in our twenty-first-century world. Instead, we are beckoned to draw near, to hear the Savior say to us, again, through the description of his ancient pains,
Child of weakness, watch and pray.
Find in me your all in all.
Your all in all, Jesus might say. Your only hope. Which means, to bring it home a little more, Isaiah 53 is for you. Can you feel the weight of these words? Do you sense the wonder of what Jesus has done for you?
Jesus has borne your grief. Your sorrows are the ones he carried. Your transgressions — all your sins — were the ones that pierced him, the ones for which he paid. For you. He was crushed, viciously slaughtered, for your iniquities. It was a slaughter you deserved — a punishment reserved for you — that he took upon himself, in your place, so that you get peace. By his wounds you have been healed.
Jesus has died, and he has died for you. The stain of sin that marred your life has now been washed white as snow. He has paid your debts. All of them. Jesus has paid it all. He has paid it all.
Praise the One Who Paid Our Debt
And so what do we do?
We trust him. We look forward to that day when we will stand before his throne, repeating the wonder that he died to save our souls. Yes, we will trust him today, and forsake the foolish pursuits that used to consume our lives. We will stop condemning ourselves for past sins. We will relinquish the shame we've harbored for so long and we will abandon our self-absorbed efforts to make ourselves worthy. We will turn from our sin, we will trust him, and we will sing. We will sing and,
Praise the One who paid our debt,
And raised our lives up from the dead.
Yes, we will sing, both now and forever.
Getting Out of Debt
AUGUST 4, 2017
"When you were dead in your sins and in the uncircumcision of your flesh, God made you alive with Christ. He forgave us all our sins, having canceled the charge of our legal indebtedness, which stood against us and condemned us; he has taken it away, nailing it to the cross." Colossians 2:13-14 (NIV)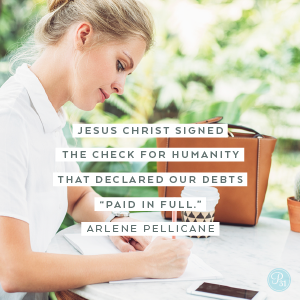 I was convinced I would be able to make a living selling gumballs.
The instructor in the sales seminar demonstrated how easy it would be. Simply place the gumball machines in heavily trafficked areas such as restaurants, doctor's offices and church lobbies. Fill up the candy, and each week collect the fortune within.
Continue expanding your candy empire by purchasing more gumball machines, and before long, you're making a living on sweets.g
Being an optimist, I saw how this was indeed possible. I did the math in my brain. By the end of that sales presentation, I signed on the dotted line, the proud new business owner of six shiny green gumball machines.
A few days later, the bubble began to burst.
I had called dozens of local businesses, asking if they could use a free gumball machine in their workplace. Each and every person I called said no. "We're a franchise," they would say. "That sort of thing has to be approved."
After weeks of trying to find homes for my money-making gumball machines, I placed only one machine at a beauty shop. It was my hairdresser's shop. I think he felt sorry for me.
I filled that lone gumball machine with candy every two weeks or so. I don't think the coins inside ever amounted to more than five dollars.
I haven't told you the worst part. I borrowed several hundred dollars from my parents to fund my start-up company. I was in debt with no way to repay.
Enter Prince Charming, my husband James who was dating me at the time of this candy caper. Before we got married, he wrote my parents a check for the amount I owed for the gumball machines.
He said he wanted to marry me, free and clear of any debts.
It's a picture that reminds me of what Jesus did for me. He wanted to make me His bride, and in order to do so, He had to clear my debts.
We were dead in sin, away from God, when Christ forgave our sin and took away our shame by dying on the cross. Our key verse says He "canceled the charge of our legal indebtedness." Another version says He "wiped out the handwriting of requirements that was against us" (NKJV). The curse of the law (which Moses first shared with the nation of Israel) was the handwriting that was against us. We have all sinned and fallen short of God's glory. (Romans 3:23)
That word "handwriting" has the same root word as the word autograph. It was a term used for the signature on an IOU, a signed document acknowledging a debt. Jesus signed our IOU at the cross.
There was an ancient method of canceling a debt. You could cross out the writing or strike it through with a nail. What a picture — that Christ crossed out the judgment against us with His nail-pierced hands.
He paid all our debts.
I closed my candy shop, as you probably already guessed. I donated all the gumball machines to a local youth group. I didn't come close to building a career on candy, but I did learn a few valuable lessons.
I learned about gratitude and wonder, as James paid the debt of his future bride.
I learned never to attend a direct sales meeting by myself.
I learned about the amazing grace of Jesus Christ who signed the check for humanity that declared to our debts, "Paid in full."
Jesus loves us so much He declares us His bride. He devised a plan to wipe away our unrighteousness. We are no longer condemned or indebted. The check has been signed in blood. We can now walk in sweet freedom.