Coronavirus and the Anxious Believer
"Do not turn away after useless idols. They can do you no good, nor can they rescue you, because they are useless." 1 Samuel 12:21 (NIV)
Life sure is different today, is it not? Perhaps like me, you're sick of home quarantine and depressing news. You've heard as much about the Coronavirus as you can handle and you can't process any more depression, doom, and gloom. It's as if the whole world changed in the blink of an eye, and many are asking, "So where is God in the midst of this crisis?"
As a professing Christian believer who has a respectable understanding of God's truth, I confess I don't really know where God is. So, do I think God's gone on vacation or suddenly decided He doesn't love us and needs to remain hands-off? Absolutely not! But do I understand why God is allowing this situation to continue and worsen? No, I frankly don't.
But my lack of understanding of some of the what's and why's of this global crisis does not, nor should it ever, lead to the conclusion that God doesn't care or is unaware.
How do I know this? Because of the Old Testament. I love reading the Old Testament, largely because it seems to be filled with story after story of God's people getting really ticked off at God's timing and doing something sinful (let's just say I can relate!).
The Israelites wanted out of Egypt long before they reached the 400-year mark of Egyptian bondage. Sarah wanted a child before God chose to bless her and Abraham with a son, and a united Israel wanted a human king in place of their Godly king, so God gave them Saul, a willing but challenged soul.
In their impatience, God's people often created idols to find something or someone to worship as they were very upset at God's apparent silence. In 1 Samuel 12:21, we see Micah losing his mind when the tribe of Dan stole his man-made idols. They took the objects in which he had placed his hope.
In the OT, God's people often grew impatient, moaned and groaned about circumstances, and all but gave God an ultimatum: "Act now or I'm choosing a better God!" And each time, God just shook his head in disbelief but continued to love His people until it was time to rescue them from themselves.
What we learn from the Old Testament stories is that trying to rush God and/or pretending to know more than God (e.g. assuming God needs to rescue us from circumstances instead of assuming God needs us to walk through the circumstances), is always going to be a lost cause.
Friends, I don't understand God's current timing or will with the virus. But the one thing I know to be true from Scripture is that God never forgets us, He always rescues, and He holds us even in our rebellion and unrest. He is our source of safety and security, and maybe that's one lesson to be learned now.
In recent days, I've returned to the 23rd Psalm to remind myself that God holds our hands and walks side by side with us through the valley of the shadow of death. When I can't understand his timing or purpose, I can always understand and trust his character. Our God is a compassionate God who hurts as much as we hurt. Run to Him. Trust his timing, and never forget that He has never left his people, even in seasons of rebellion. He will sustain us because He loves.
Stepping Out of God's Way
MARCH 27, 2020
"Dear brothers and sisters, when troubles of any kind come your way, consider it an opportunity for great joy. For you know that when your faith is tested, your endurance has a chance to grow. So let it grow, for when your endurance is fully developed, you will be perfect and complete, needing nothing." James 1:2-4 (NLT)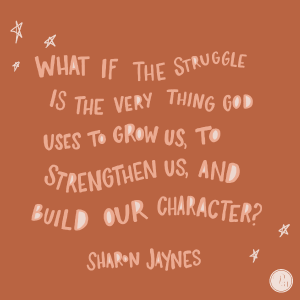 He ironed. I watched.
Standing in the door frame of my guest room, I watched my nephew, Jonathan, iron the wrinkles out of his crumpled shirt. He'd stopped by for a visit on his way to a wedding in my hometown, and his clothes were a mess. He ironed and talked. I watched and listened.
Life hasn't been easy for Jonathan. While he has an adoring, godly mother and two amazing siblings, the absence of a father left a lingering ache that's been hard to heal. Their dad's abandonment affected each of the kids differently, but Jonathan, the youngest, has struggled the most.
I've always known God has a special plan for Jonathan. The shaping and molding by God has been fierce, intentional and deliberate.
As Jonathan moved the iron back and forth across the wrinkled fabric, he ironed out much more than a shirt. He ironed out the wrinkles in his heart, pressed out the pain of life without a dad, smoothed out the hurt of abandonment, and steamed out the stubborn creases of years of questions. Why did Dad leave? Why wasn't I worth sticking around for? Why wasn't I worth the effort? Why was I more affected by the abandonment than my siblings?
He pressed and talked.
I listened and prayed.
When we see someone going through a struggle, especially our children, the natural instinct is to jump and try to fix it. But what if that struggle is the very thing God is using to grow them, to strengthen them, to build their character? If that's the case, then our interference may stunt their spiritual growth.
James wrote: "Dear brothers and sisters, when troubles of any kind come your way, consider it an opportunity for great joy. For you know that when your faith is tested, your endurance has a chance to grow. So let it grow, for when your endurance is fully developed, you will be perfect and complete, needing nothing" (James 1:2-4, emphasis added).
So let it grow. We must let it grow in other people too, not just ourselves. Perhaps we have stepped in where we should have stepped out. We were never meant to fiddle with what only God can fix. Our role is to pray for God to do what only God can do.
Twenty minutes later, Jonathan finished ironing. One shirt. One heart.
"God has done so much for me and in me," he explained. "It has taken a long time, but He is healing me. He is mending my heart. I'm ready to move on now. More than my dad coming home to me, I pray he will come home to Jesus. That's what I want more than anything."
You know, I could have said, "Hey, let me just iron that shirt for you." I could have finished the job in two minutes or less. But this was not about ironing a shirt. This was about pressing out the rumpled creases in a young man's heart. I couldn't do that. Only God could. Jonathan needed to hold the iron of God's love and move it back and forth, back and forth, until the rumpled mess was smoothed. My job was to watch. To listen. To pray.
How about you? Is there someone in your life who has a wrinkled, wounded heart? Have you yanked the healing tool of God's love out of His hand and tried to iron out their problems yourself? Did you ever consider you might be standing in the way of what God is trying to do? I say this only because I have … many times.
Jonathan wears his mending heart well. That doesn't mean it won't need a touch-up pressing when daily life roughs up the fabric of his heart from time to time. But I have every confidence that God, who began a good work in him, will complete it.
And the shirt? It looked pretty good.
The great revival
By: Charles Spurgeon
"The Lord hath made bare his holy arm in the eyes of all the nations; and all the ends of the earth shall see the salvation of our God." Isaiah 52:10
Suggested Further Reading: 1 Corinthians 14:26-40
In the old revivals in America a hundred years ago, commonly called "the great awakening," there were many strange things, such as continual shrieks and screams, and knockings, and twitchings, under the services. We cannot call that the work of the Spirit. Even the great Whitefield's revival at Cambuslang, one of the greatest and most remarkable revivals ever known, was attended by some things that we cannot but regard as superstitious wonders. People were so excited, that they did not know what they did. Now, if in any revival you see any of these strange contortions of the body, always distinguish between things that differ. The Holy Spirit's work is with the mind, not with the body in that way. It is not the will of God that such things should disgrace the proceedings. I believe that such things are the result of Satanic malice. The devil sees that there is a great deal of good doing; "Now," says he, "I'll spoil it all. I'll put my hoof in there, and do a world of mischief. There are souls being converted; I will let them get so excited that they will do ludicrous things, and then it will all be brought into contempt." Now, if you see any of these strange things arising, look out. There is that old Apollyon busy, trying to mar the work. Put such vagaries down as soon as you can, for where the Spirit works, he never works against his own precept, and his precept is, "Let all things be done decently and in order." It is neither decent nor orderly for people to dance under the sermon, nor howl, nor scream, while the gospel is being preached to them, and therefore it is not the Spirit's work at all, but mere human excitement.
The interest of Christ and his people in each other
By: Charles Spurgeon
'My beloved is mine, and I am his,' Song of Solomon 2:16
Suggested Further Reading: Galatians 2:15–21
How is my beloved mine? He is mine because he gave himself to me of old. Long ere I knew it, or had a being, he covenanted to bestow himself on me—on all his chosen. When he said, 'Lo, I come: in the volume of the book it is written of me, I delight to do thy will, O my God,' he did in fact become my substitute, giving himself to do my work and bear my sorrow. Mine he is because that covenant has been fulfilled in the actual gift. For me (I speak in the first person, because I want you each to speak in the first person too), for you, my soul, he laid aside his robes of glory to become a man; for you he was swaddled in the weakness of infancy, and lay in the poverty of the manger; for you, my soul, he bore the infant body, the childish form, and the human flesh and blood; for you the poverty which made him cry, 'Foxes have holes, and birds of the air have nests; but the Son of man hath not where to lay his head.' For you, my soul, for you that shame and spitting, that agony and bloody sweat, that cross, that crown of thorns, those expiring agonies, that dying groan. 'My Beloved,' in all this, 'is mine.' No, yours the burial; yours the resurrection and its mystic meaning; yours the ascension and its triumphant shouts; yours the session at the right hand of God; yes, and by holy daring we avow it, he who sits today, 'God over all, blessed for ever,' is ours in the splendour of his majesty, in the invincibility of his might, in the omnipresence of his power, in all the glory of his future advent. Our beloved is ours, because he has given himself to us, just as he is.
For meditation: Can you call Jesus 'My Lord and my God' (John 20:28)? Do you take time to count your possessions in Christ (1 Corinthians 1:30)? 'All things' (Romans 8:32; 1 Corinthians 3:21) would take more than eternity to exhaust!