Why Does Jesus Promise 'In This World You Will Have Trouble' in John 16:33?
Aaron Berry, Crosswalk.com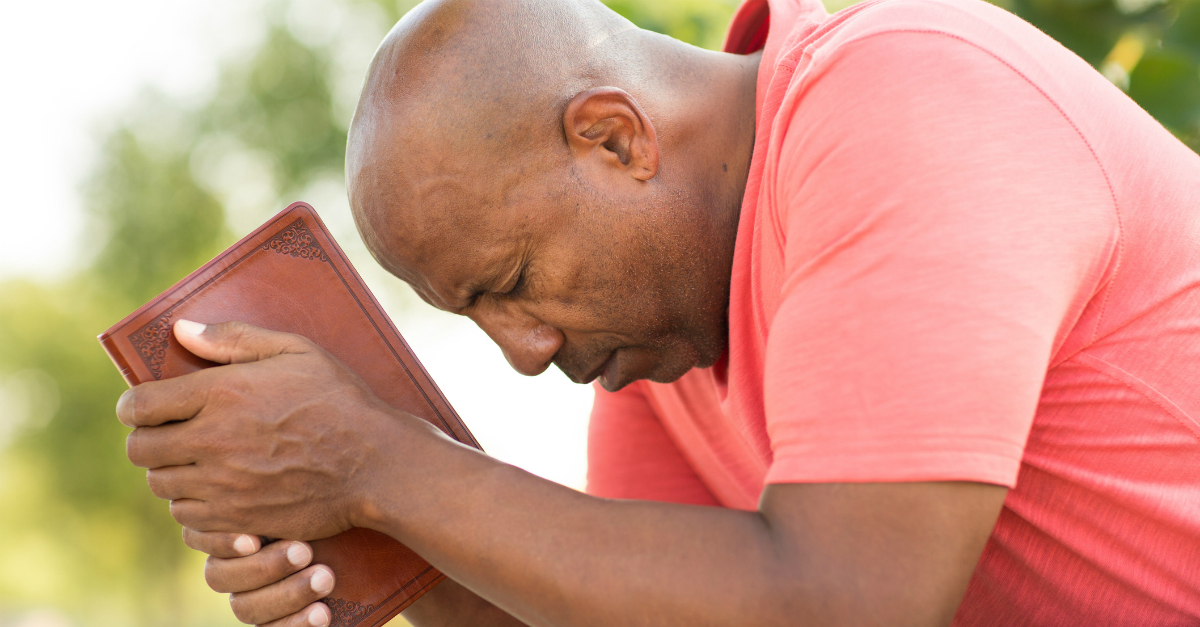 There isn't a human being alive on this planet who isn't acquainted with troubles. Times of difficulty arrive unexpectedly, often remain indefinitely, and the sorrowful memories they produce take deep root in the mind. It is no wonder, then, why Jesus's promise in John 16:33 also takes deep root in the minds and hearts of so many Christians: "In this world you will have trouble. But take heart! I have overcome the world."
This comforting verse is found within a larger section in the Gospel of John. Chapters 13-17 make up what theologians refer to as the Farewell Discourse. These are Jesus's final words of reassurance, comfort, and encouragement to his disciples in the upper room before his betrayal, arrest, and crucifixion.
In chapter 16, he speaks to them of his impending death and departure, as well as their desertion. In John 16:32, Jesus tells them, "A time is coming and in fact has come when you will be scattered, each to your own home. You will leave me all alone. Yet I am not alone, for my Father is with me."
Certainly, this must have been disconcerting for the disciples to hear, which is why Jesus immediately followed up with his comforting words in John 16:33, "I have told you these things, so that in me you may have peace. In this world you will have trouble, but take heart! I have overcome the world."
In this verse, we see two certain realities: 1) the followers of Jesus will suffer great distress, and 2) Jesus has already won the victory. He didn't want his disciples to be under the delusion that their future ministry would be full of ease and comfort, and he doesn't want us to think that either.
Following Christ is difficult and there will be opposition. Yet, the reality of Christ's victory over sin and death via his own death and resurrection provides peace and courage in the midst of that opposition.
In Which Bible Version Does Jesus Say 'Take Heart, I Have Overcome the World?'
The specific phrase, "Take Heart, I Have Overcome the World," is found in both the New International Version and the English Standard Version. Other English versions render it slightly differently. "Take Heart" (Greek: tharseite) can also be rendered as "take courage" (NASB) or "be courageous" (CSB). The classic rendering of the KJV is "be of good cheer." The word "overcome" (Greek: nenikeika) could also be translated "conquered" (CSB, NRSV).
Jesus's claim of victory over the world is in reference to his death, burial, and resurrection. Earlier, in John 12:31, Jesus stated that his crucifixion would conquer and cast out the "ruler of this world." Elsewhere, Hebrews 2:14-15 says that Jesus came to earth "so that by his death he might break the power of him who holds the power of death—that is, the devil—and free those who all their lives were held in slavery by their fear of death."
The finished work of Christ removes the teeth from suffering. By entering into our world and suffering alongside of us, Jesus offers certain hope that transcends the temporal sorrow and suffering this world throws at his followers.
Therefore, we are not called to overcome the world ourselves because Jesus already did. He provides his children with a certain future — a "living hope through the resurrection of Jesus Christ from the dead" and "an inheritance that can never perish, spoil or fade" (2 Peter 1:3-4). It is because of this reality that we can "take heart" and "be of good courage."
How Are Christians Invited to Live in Light of John 16:33?
The certainty of trouble applies, not only to Jesus's disciples, but to all who follow him. The Apostle Paul stated bluntly in 2 Timothy 3:12, "Everyone who wants to live a godly life in Christ Jesus will be persecuted." Anyone who claims that believing in Jesus brings financial prosperity, physical health, and perfect relationships hasn't read his Bible. Life is tough and the Christian life is often tougher. The Bible, far from dodging this fact, acknowledges it and embraces it. Jesus himself guaranteed it. And instead of promising to eliminate trouble from our lives, Jesus instead promises to give peace and comfort in the midst of trouble.
An appropriate way to respond to Jesus's words in John 16:33 is to ask, "What do I hope in?"
Proverbs 13:12 says, "Hope deferred makes the heart sick, but a longing fulfilled is a tree of life." Could it be that troubles and trials make our heart sick because we are placing our hope in that which does not satisfy—a job, a relationship, a position? Christ calls us, not to place our hope in temporal, uncertain things, but in his eternal victory over sin and death on the cross of Calvary. As one commentator states, "It is the victory of God that the Christian celebrates, knowing that all enemies (past, present, and future) have already been defeated, even death itself" [1]
This is why Jesus exhorts us to "store up for yourselves treasures in heaven, where moths and vermin do not destroy, and where thieves do not break in and steal. For where your treasure is, there will your heart be also." (Matt. 6:20-21)
If your treasure and your hope is not in Christ, than his encouragement to "take heart" in John 16:33 will mean little to you. But if your hope is in Christ, then rest assured that no trouble or trial in this life will take that hope away from you.
Jesus Always: Coping Through Hard Times with Me
When the way just ahead of you seems too difficult, turn to Me and say: "I can't, but we (You and I together) can." Acknowledging your inability to handle things on your own is a healthy dose of reality. However, this is only one part of the equation, because a sense of inadequacy by itself can be immobilizing. The most important part of the equation is recognizing My abiding Presence with you and My desire to help you.
Pour out your heart to Me. Ask Me to carry your burdens and show you the way forward. Don't waste energy worrying about things that are beyond your control. Instead, use that energy to connect with Me. Seek My Face continually. Be ready to follow wherever I lead, trusting Me to open up the way before you as you go.
Dare to see your inadequacy as a door to My Presence. View your journey as an adventure that you share with Me. Remain in close communication with Me, enjoying My company as we journey together.
Philippians 4:13 NKJV; Psalm 62:8; Psalm 105:4 NASB
*
Thank Me for all the challenges in your life. They are gifts from Me — opportunities to grow stronger and more dependent on Me. Most people think that the stronger they get, the less dependent they will be. But in My kingdom, strength and dependence go hand in hand. This is because you were designed to walk close to Me as you journey through your life. Challenging circumstances highlight your neediness and help you rely on My infinite sufficiency.
When circumstances are tough and you rise to the occasion, trusting in Me, you are blessed. It's exhilarating to get through challenges that you thought were too much for you. When you do so in reliance on Me, our relationship grows stronger.
Your success in handling difficulties also increases your sense of security. You gain confidence that you and I together can cope with whatever hard times the future may bring. You are ready for anything and equal to anything through the One who infuses inner strength into you. Rejoice in My sufficiency!
James 1:2 MSG; Psalm 31:14-16; Philippians 4:13 AMP
*
Do what you can, and leave the rest to Me. When you're embroiled in a difficult situation, pour out your heart to Me, knowing that I listen and I care. Rely on Me, your ever-present Help in trouble. Refuse to let your problem become your main focus, no matter how anxious you are to solve it. When you've done all you can for the time being, the best thing is simply to wait — finding refreshment in My Presence. Don't fall for the lie that you can't enjoy life until the problem has been resolved. In the world you have trouble, but in Me you may have Peace — even in the midst of the mess!
Your relationship with Me is collaborative: you and I working together. Look to Me for help and guidance, doing whatever you can and trusting Me to do what you cannot do. Instead of trying to force things to a premature conclusion, relax and ask Me to show you the way you should go — in My timing. Hold My hand in confident trust, beloved, and enjoy the journey in My Presence.
Psalm 62:8; Psalm 46:1; John 16:33 NET; Psalm 143:8
They will live in safety, and no one will make them afraid. — Ezekiel 34:28b
I give them eternal life and they shall never perish; no one will snatch them out of my hand. — John 10:28
By the time he was five years old, my dad had discovered that the world is not safe.
He was the youngest of three children, and his boyhood was traumatic. After his parents divorced, Dad found himself pulled between two dysfunctional homes. In one, alcoholism wreaked havoc. In the other, mental illness and promiscuity. I'll spare you the details, but trust me, it was nothing a child should ever know.
Somehow he stumbled through grade school and high school and made it to college before spending two years in the army and the Vietnam War. More pain, more trauma.
Until the day his life was spared when it shouldn't have been. Somewhere outside of Phu Loi, Vietnam, the companies in front of and behind his were ambushed. His unit was spared. Months later he returned home to his young wife with a Bronze Star, physically unscathed. Less than a year later, I was born.
But Dad was never the same. He returned from war a different man, both for good and for bad. War, especially a politically charged one like Vietnam, has a way of tearing at the fabric of a man's soul. Even so, a small spark of new life had also taken hold. In spite of a lifetime of pain, he believed there had to be a reason he was still alive. So he started searching for its source, for the God his faith-filled grandma had often told him about.
A year later, a coworker invited him to church.
And that's when God started rebuilding the broken boy turned man. The world still wasn't safe, Dad knew that. He faced plenty more challenges, as we all do. But he'd found a refuge. A God who had laid down His life to save another's.
Some of you discovered that the world wasn't safe early in life, too. Perhaps you had a parent with mental illness. Or maybe a neighbor who took advantage of you. For some it was a teacher who constantly criticized or a foster care system that failed. The possibilities are so varied and painful, I can hardly write them out. Even beyond the acute traumas, ordinary days can be riddled with the unexpected.
Busy streets, sharp objects, threatening strangers. With each passing year, each step closer to adulthood, a child's fear is confirmed again and again. Danger is everywhere and hardship cannot be avoided.
This life can be dangerous and terrifying.
Psalm 91 gives us a glimpse of the various sufferings we can expect:
That about covers it, don't you think? Disease. Conflict. Terrorism. Unrelenting fear. Injustice. Death. At morning, midday, and night. Under the cover of darkness or in the bright light of day. Pain will come. Period.
It sounds morbid and overwhelming. And it is. Unless we find the one place of safety even a war can't crush.
The psalmist knew this, which is why he doesn't leave us in a pit of despair. Instead, he describes a refuge so secure we can rest in spite of the war.
Whoever dwells in the shelter of the Most High will rest in the shadow of the Almighty. I will say of the Lord, "He is my refuge and my fortress, my God, in whom I trust." — Psalm 91:12
Several chapters earlier, the writer in Psalm 31:2 said something similar:
Your granite cave a hiding place, your high cliff aerie a place of safety. — MSG
There are seasons, however, when even this comfort doesn't make me feel better. Bad things happen, pain comes, loss steals life right out of my hand. And I wonder, Where is the safety of God in all this? The truth is I want a life free from pain. I want a marriage that doesn't ever struggle, children who always behave, a body that stays healthy, and relationships that are easy and uncomplicated. I don't want storms or wars or conflicts.
But I'm learning something, even as I fight against the fear.
Safety isn't the absence of suffering. It's finding rest in the middle of it.
'In this world you will have trouble. But take heart! I have overcome the world, Jesus said. — John 16:33
Choosing God as your safety doesn't mean the struggles will cease. The cave doesn't lessen the intensity of the storm outside. It doesn't still the thunder or cease the lightning or keep the rain from falling.
The cave provides a place of peace. Even when the storm continues to swirl.
This is what Dad discovered as he fought wars both at home and abroad. No, the world is not a safe place.
But there is no refuge like our God.
Away, then, all fears. The Kingdom is safe in the King's hands. — Charles Spurgeon, Morning and Evening