Spontaneous Praise!
I arrived for my scheduled outpatient tests: an x-ray and a CT scan. Medical procedures always make me fearful. The examination room and table were no exception. Both were cold, matching the ice-cold fear of each heartbeat as I waited patiently for the radiologist to appear.
I was unaware of an attendant in the adjoining room until I heard a female voice softly filling the air with spontaneous praise. The song was familiar, "Holy Ground," written by Geron Davis. In worship at my Church, it was sung often, and the words always reminded me that wherever I was, the ground became holy, accompanied by the presence of Jesus and angels. My icy heartbeats were warmed as spontaneous praise from the heart of an unashamed praiser helped refocus fear, apprehension, and anxiety, to my Heavenly Father.
After being saved and delivered out of the hands of the Egyptians, Miriam and all the women sang a spontaneous song of victory. Previously, they had focused on their bitterness and bondage (see Exodus 1:14). Now, they were focused on God's power:
"Sing to the LORD, for He has triumphed gloriously; He has hurled both horse and rider into the sea." Exodus 15:21 (NLT)
Paul and Silas were wrongly accused, beaten, and thrown into prison. At midnight, they prayed and sang spontaneous praise songs. These focused songs of praise not only opened the prison doors, but the chains of all the prisoners fell off and the chief jailer was drawn by God's power. Their singing allowed them the opportunity to share the gospel which was received by him and his entire household. (See Acts 16:25-34.)
Scripture encourages us to sing and make melody in our hearts:
"Sing a new song to the LORD! Let the whole earth sing to the LORD!" Psalm 96:1 (NLT)
"Singing psalms and hymns and spiritual songs among yourselves, and making music to the Lord in your hearts." Ephesians 5:19 (NLT)
David committed to singing as a part of his life:
"I will sing to the LORD as long as I live. I will praise my God to my last breath!" Psalms 104:33 (NLT)
The results of my x-ray and scan were both abnormal, but thanks be to our God, successfully treated. I believe the soft spontaneous song of praise, reminding me of being surrounded by angels and the presence of Jesus, invited an inner God-given strength and peace in my soul. Even when I hear this song today, it turns my focus to Almighty God and His indescribable love, power to calm fears, strengthen, and heal, through songs of spontaneous praise.
On earth, I may never know the name of the attendant who was unashamed to offer a spontaneous song of praise to Jesus. That attendant may never know or imagine how her praise impacted the life of this then fearful young woman.
Has our Heavenly Father placed a song of praise in your heart? That song spontaneously sung could inspire you, or someone nearby, warming icy heartbeats, and refocusing fear, apprehension, and anxiety, into the presence of Jesus, and the holy angels.
Heavenly Father, may songs of spontaneous praise about You, Your presence, love, power, and peace, always be in our hearts, and on our lips, in Jesus' name, Amen.
Turning Worry Into Worship
"She is clothed with strength and dignity; she can laugh at the days to come." Proverbs 31:25 (NIV)
I think I have the worry gene. And I'm sure I got it from my mother. She passed down her aqua blue eyes to me, her slightly-crooked smile and her tendency to worry.
This trait didn't show up when I was younger. In fact, when I was a teenager, I thought it strange that my mom couldn't go to sleep until I got home. Then, I had teenagers of my own, and now I do what she did: sit on the couch appearing to watch television, while my mind rehearses the quickest route to the hospital, or perhaps even plans a funeral.
Before I had children, I didn't understand the stories my mom shared about her concerns for my health. When I was a toddler, she took me to the doctor because I kept falling when I walked. After observing me play in his office, he assured her that my mind was working faster than my legs. I wanted one object and headed toward it, but then changed my mind and wanted something else.
You'd think the story would have calmed my own fears when I became a mom. Not so. When my first-born was more than a year old and not yet crawling, I was certain something was medically wrong and headed to the doctor.
Today, I find endless reasons to worry. Kids. Marriage. Finances. Health. Relationships. The future. If I let my thoughts run wild, I can concoct all sorts of terrible scenarios, all starting with "what if." What if my husband gets laid off? What if my aging parent needs to move into a nursing home or live with us? What if I get sick and can no longer care for my family?
Over time, I've noticed something about worry: 99% of my past dreads never came true. However, I spent oodles of time fretting about them. How I wish I could redeem that time, to do something productive instead! What if I had turned my worry into worship?
Contrast my attitude with the woman in today's key verse, Proverbs 31:25 says, "She is clothed with strength and dignity; she can laugh at the days to come." No weariness in her thoughts and actions. She laughed at the days to come! Not in a careless sort of way, but with a confidence that came from God.
Because she wore strength and dignity due to her faith in God, she had a smile on her face and a chuckle in her heart when considering the future. She trusted in God, whose faithfulness in the past assured her He would work out circumstances in the future.
This has happened many times in my life. Often, things that concerned me have turned out to be blessings instead. For example, when our son was in third grade, we discovered he had severe dyslexia. Oh, the time I spent worried about his academic progress! Even fun milestones for other children were cause for fretting. Would he pass his hunter safety course? His driver's ed written test? And what about college?
God used my son's learning disability to grow my faith. As I learned to turn my panic into fervent prayer and praise, and trust God's plan and timing, my relationship with God strengthened. Plus, we saw our son grow stronger and more confident as he overcame each cognitive hurdle.
That's just one way God worked in me to replace my worry gene with confidence in Him. Each time I've turned worry into worship, I find it easier to laugh at the days to come, like my Proverbs 31 sister.
God knows my future as well as He knows me. My job is to seek to know Him more as I place my future in His hands.
Oh, and to laugh a little more often.
What the Power of Praise Can Do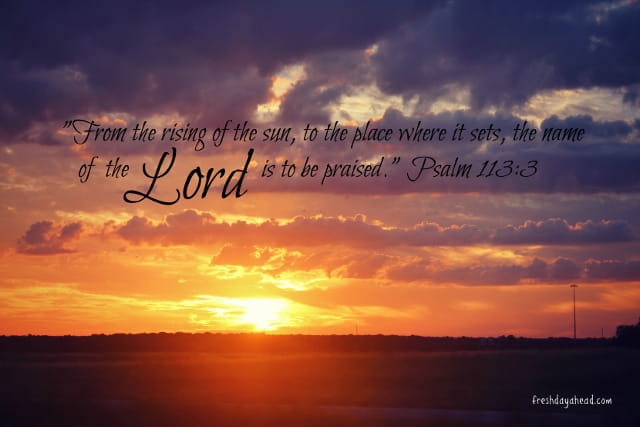 We have so much to praise God for, there's great power in giving honor to Him. And many of you live that truth out, every single day of your lives. The Bible is filled with examples of praise when we see His power released – life-changing miracles, dramatic stories of the enemy being halted or defeated, hearts being changed and drawn closer to Him.
Yet reality is that way too often, daily struggles or constant life demands can crowd out our praise to God.  We might check the worship box at church and somehow think we're good for the week.  And all the while, with souls distant and cold, we sing words, we listen to music, then we go home.
Sometimes it really is a sacrifice to offer praise.  We may not feel like it.  We're struggling.  We're weary.  Or maybe, we feel like He let us down. We think God seems distant, like he's far away, or doesn't really care about what's troubling us. Painful life blows and losses might have recently sent us spiraling.
Here's what can make a lasting difference.  When we make that decision to fix our eyes on Him, and daily give Him praise, no matter what's staring us straight in the face, we suddenly realize that God has already begun to release the grip those struggles can have over us.
There's power in our acknowledgement that He is worthy, above all else, of our worship and praise.
His Spirit urges us onward, to press in close to him. Doesn't matter how good or "not so good" we feel like we can sing, doesn't matter if we like upbeat worship, more reflective songs, or traditional hymns. Doesn't matter if we're alone, with a few, or in a big group. Doesn't even matter whether we "feel" like it or not.  What matters is this – our hearts in tune with our Creator and King.