A Predestined Present
During my morning prayer time, God pressed upon my heart to recite the Lord's Prayer daily over the past month that is found in Matthew 6:9-13. Although I have recited this previously over and over again, a few words jumped out at me like a flashing neon billboard this morning: "thy will be done". Those four words ministered to my spirit, quieted my soul, and confirmed to me who is truly in control. As I questioned what is happening in our world today — a time of great chaos, divisiveness, strife, and uncertainty, God reminded me who sits on the throne and who truly reigns over everything seen and unseen: Him.
I realized that I had begun to allow my carnal side to emerge, which created emotions within me that led me to focus on the world instead of what He says in His Word. I had to truly lean not on my own understanding because my view is limited in the grand scheme of life and I had to simply trust my King who governs over every nation. This may be a tall order to consider, but isn't that what the life of a "true believer" requires? Faith, trust, and belief in Him even when everything around us does not make sense. And I admit it too, this year has been full of senseless activities that have been man-made and devised by the enemy.
But when we look to God and focus on what He says, we know that all things, not some things, all things are working "according to the counsel of His will."
"In Him we have obtained an inheritance, having been predestined according to the purpose of Him who works all things according to the counsel of His will." (Ephesians 1:11 ESV)

"For kingship belongs to the Lord, and He rules over the nations." (Psalm 22:28 ESV)
When I read these two verses over and over again and sat with God during our fellowship time together, He positioned me to accept what I cannot control and remember that He predetermined everything. Of course, He knows the end from the beginning and of course, He is the Alpha and Omega; whether we understand what is occurring around us or not. This convicted me in a way that I had to ask for forgiveness if I had become too controlled in my thinking instead of being led by the Spirit.
As we continue to work our way through these tumultuous times, let us not forget the God we serve. He predestined this present time. We may not agree with all of His decisions, but He knows best and if we are being challenged, we may need to ask ourselves if we are allowing the world to control our words, thoughts, and actions over our heavenly Father who sees every reaction and who rules over every nation.
"My heart overflows with a good theme; I address my verses to the King; my tongue is the pen of a ready writer." – Psalm 45:1 NASB
The heart of the psalmist was overflowing. He could not contain himself and was bursting to share the words that resonated in his heart. What was so overflowing? A theme that particularly was good, uplifting, and encouraging. The King needed to hear this word, but so did everyone else.
Why is this important? Just consider the messages spread in our time. The news can be depressing. So many developments are negative. Economic trends can be discouraging. Sharp divisions throughout society with groups constantly attacking others occur.
In this kind of environment, being reminded of Biblical truths is refreshing. We need to be reminded about the promises in God's Word. The Gospel literally means "Good News." Remember that God still is sovereign, He loves us, and we can trust Him. We can commit our needs to Him because He is ready to meet them and give us His peace.
Writing this psalm, the psalmist felt an urgency to share this word and be encouraging. His tongue was the "pen of a ready writer." He was prepared and trained. He was sensitive to God's leading.
As God burdens you, be ready to share the messages He gives you. Always seek to know His Word and be ready to remind others of His truth. Be sensitive to His Spirit, prepared and ready to be His messenger. Be ready to share the Good News.
From the dunghill to the throne
By: Charles Spurgeon
'He raiseth up the poor out of the dust, and lifteth the needy out of the dunghill; that he may set him with princes, even with the princes of his people.' Psalm 113:7–8
Suggested Further Reading: 1 Peter 1:3–9
O the joy of being a Christian! I know the world's idea is that we are a miserable people. If you read the pages of history, the writers speak of the merry cavaliers as being men of high spirit and overflowing joy; but the poor Puritans, what a wretched set they were, blaspheming Christmas Day, abhorring games and sports, and going about the world, looking so terribly miserable, that it were a pity they should go to hell, for they had enough of torment here! Now this talk is all untrue, or at best is a gross caricature. Hypocrites, then as now, did wear a long face and a rueful countenance, but there were to be found among the Puritans hosts of men whose holy mirth and joy were not to be equalled, not to be dreamed of, or understood by those poor grinning fools who fluttered round the heartless rake whose hypocrisies had lifted him to the English throne. The cavaliers' mirth was the crackling of thorns under a pot, but a deep and unquenchable joy dwelt in the breasts of those men that 'trampled on the haughty who slew the saints of God.' O far above the laughter of the gallants of the court, was the mighty and deep joy of those who rode from the victorious field singing unto the Lord who had made them triumph gloriously. They called them 'Ironsides,' and such they were, but they had hearts of steel, which while they flinched not in the day of danger, forgot not to flash with joy even as steel glitters in the shining of the sun. Believe me, however, whatever they were, that we who trust in Jesus are the happiest of people, not constitutionally, for some of us are much tried and are brought to the utter depths of poverty, but inwardly, truly, our heart's joy is not to be excelled.
For meditation: We do not have to choose between purity and joy, as if they were opposites or alternatives; the Christian can experience a pure joy and a joyful purity (Psalm 19:8; Matthew 5:8,12; Philippians 4:4,8,10; 1 Peter 1:6,8,22).
Speaking Encouragement to a Weary Heart
NOVEMBER 4, 2020
"Let us not become weary in doing good, for at the proper time we will reap a harvest if we do not give up. Therefore, as we have opportunity, let us do good to all people, especially to those who belong to the family of believers." Galatians 6:9-10 (NIV)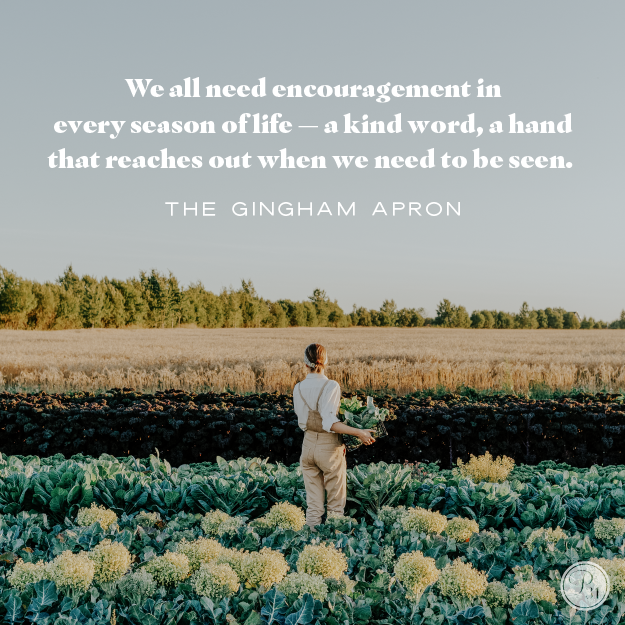 For most of us, fall tends to be a busy time of the year, with kids getting back to school, changing routines and weekly schedules to fulfill. For us Gingham Apron ladies, fall is also an especially busy time for our husbands … who are all farmers.
Farmers work countless hours to get the harvest completed while the weather is favorable. There is great urgency to get the soybeans and corn picked from the fields before they get too dry and before the weather turns cold and snowy.
As farmers' wives, there is a lot on our shoulders to sustain the family amid the harvest. The days are long for us too — having supper ready and then getting to homework and activities, shuttling kids, picking up the slack from a hardworking husband who's in the fields and then preparing to do it all over the next day.
Since workers can't easily leave the fields when harvest is full, one night we decided to go to them. We brought a feast to encourage our hardworking men: Sloppy Joe Sliders, Grandma Betty's Potato Salad, Calico Beans and Cheesy Mac & Corn spread out on the tailgate of a truck.
This hearty meal hopefully spoke to the guys, "We are with you. We care about you, and we see you working hard." We know that sometimes their work can go unnoticed by us or our children. One day is just like the next. Our prayer was to encourage them with our words and actions. That day, we hoped by rolling out their favorites, they would say in their hearts, "They see us."
Our tailgating parties have caused us to reflect upon how we can encourage those in our lives. The story of Barnabas offers us a biblical example of what practical encouragement looks like. We are first introduced to Barnabas in Acts 4:36, where we discover the apostles giving him a new name. The close followers of Jesus saw something intriguing in their new brother, Joseph, and began calling him by the name Barnabas, which means "the son of encouragement."
Barnabas' love for Jesus led to many acts of encouragement. When he became a Christian, he was a landowner. He put his faith into action and sold his property, laying the money at the apostles' feet to be used for spreading the gospel. (Acts 4:37) What an expression of solidarity that must have been for his newfound brothers and sisters in Christ.
Barnabas was willing to help, made himself available and jumped at the chance to serve obediently in whatever tasks were laid before him. The Bible says Barnabas was "a good man, full of the Holy Spirit," and he did the Lord's bidding wherever he went (Acts 11:24, NIV).
We all need encouragement in every season of life — a kind word, a hand that reaches out when we need to be seen. Encouraging others can be simple, or it might take planning, but either way, the Bible tells us there is the promise of a harvest: "Let us not become weary in doing good, for at the proper time we will reap a harvest if we do not give up. Therefore, as we have opportunity, let us do good to all people, especially to those who belong to the family of believers" (Galatians 6:9-10).
How might acting more like Barnabas in our marriages, families, homes, churches, communities and mission change our world? We encouraged with food that day in the field, but that's not the only way. There are people everywhere who need to hear, "I am with you. I care about you, and I see you working hard."