34 A new commandment I give to you, that you love one another; as I have loved you, that you also love one another. 35 By this all will know that you are My disciples, if you have love for one another."
Pharisees on Facebook
by Ryan Duncan, crosswalk.com
A new command I give you: Love one another. As I have loved you, so you must love one another. By this all men will know that you are my disciples, if you love one another. – John 13:34-35 
I have a friend who loves starting debates. Every once in awhile, he'll post an article or question on his Facebook page, then send out a request asking people to share their thoughts. These questions can cover every topic from politics to pop-culture, and typically generate good discussion. There was one post however, where things got pretty grim. It all started when my friend posted an article about a group of Christians who went to a Gay Pride parade holding signs that read "We're sorry for how the Church has treated you." Personally, I was pretty touched at the article, but as you might expect on such a hot button issue, not everyone felt the same way.
It didn't take long before the whole discussion exploded into a big honking argument and I remember leaving the thread in disgust, both by what others had written and how I had responded. The most unnerving part however, happened three days later when I picked up my Bible and read a passage where the Pharisees interrogated a man Jesus had just healed.
Then they asked him, "What did he do to you? How did he open your eyes?" He answered, "I have told you already and you did not listen. Why do you want to hear it again? Do you want to become his disciples, too?" Then they hurled insults at him and said, "You are this fellow's disciple! We are disciples of Moses! We know that God spoke to Moses, but as for this fellow, we don't even know where he comes from." The man answered, "Now that is remarkable! You don't know where he comes from, yet he opened my eyes. We know that God does not listen to sinners. He listens to the godly man who does his will. Nobody has ever heard of opening the eyes of a man born blind. If this man were not from God, he could do nothing." To this they replied, "You were steeped in sin at birth; how dare you lecture us!" And they threw him out. – John 9:26-34 
We like to think we are different from the Pharisees, but the truth is we're not. The Pharisees were the religious elite of the day, but they were so full of pride at their own self-righteousness, they could not even see the work of Christ when it was literally standing right in front of them. Instead, they argued and hurled insults at their enemy, a man who had done them no harm at all. I hate to say it, but that sounds a lot like me sometimes.
As Christians, we must remember that everything we say and everything we do reflects the presence of God in our lives. If we respond to others with cruelty, should we be surprised when their perception of Jesus is twisted? But if we respond in love, than perhaps they'll begin to understand how Christ sees them. So ask yourself, how does the world see Christ when they look at you?
"By faith Sarah herself received power to conceive, even when she was past the age, since she considered him faithful who had promised." Hebrews 11:11 (ESV)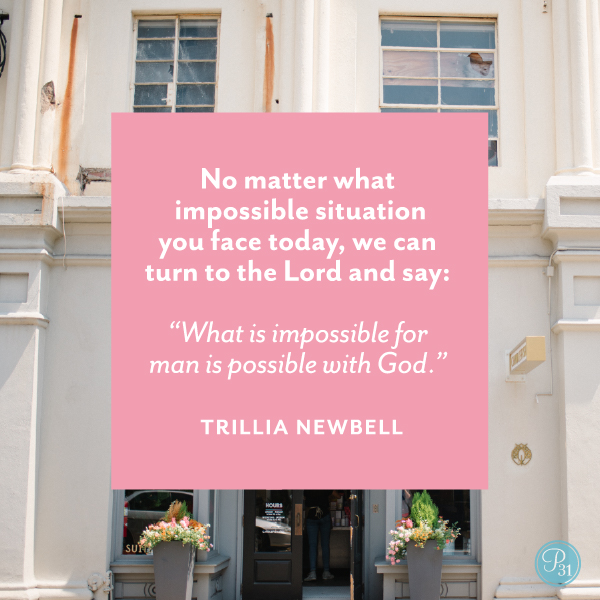 When I first got married, I naively thought that getting pregnant, sustaining a pregnancy and then delivering a child was like riding a bike. People seemed to do it with great ease all the time. At least, that's how it appeared.
I didn't have many married friends, and those friends didn't seem to reveal much about their private lives. It wasn't until I began having trouble getting pregnant and subsequently had two miscarriages that I realized how common infertility and miscarriages were. I ended up having a total of four miscarriages, but I did eventually give birth to our two children. Although I have children, when I read Sarah's story, there's much about her response that I can relate to, and I imagine the same will be true for many of us.
Scripture tells us that Sarah was barren. It can be assumed she and Abraham attempted to bear children but were unable to conceive. By the time we get to Genesis Chapter 18, Sarah is old, and biologically speaking, she would not be physically able to have children. (Genesis 18:11) Sarah overheard the Lord discussing her pending pregnancy, and she did what I think most in her state would do: She laughed in disbelief. (v. 12)
This part of the story is quite remarkable to me. God confronts Sarah for laughing and she denies it. Then the Lord calls her on the lie. (vv. 13-15) She did laugh, and she did struggle to believe that she could become pregnant. And the Lord tells her and all of us, "Is anything too hard for the LORD?" (Genesis 18:14a, ESV).
Even though Sarah laughed at first, the writer of Hebrews points out that Sarah was recognized as a woman of faith. Not because her faith was incredible but because she believed God was faithful: "… she considered him faithful who had promised" (Hebrews 11:11).
I remember, after my second miscarriage, sitting in bed wondering if God would heal my numb yet broken heart. The sorrow was too deep for words. And He graciously drew near to me, as He says He will in His Word. (Psalm 34:18) I didn't know how my story would end; I just knew God was asking me to trust Him.
The Lord doesn't promise us each and every desire of our hearts, but He does promise to be faithful. And He is. He was near to me and near to Sarah.
Although I can't know for sure why the Lord chose this woman and this particular story, I can only imagine the many women who've heard and read about Sarah and were comforted. And although she did conceive, I imagine their comfort came from witnessing the character of God.
Sometimes our own stories are too difficult to tell, but the Lord has been so good to help us with the stories of those who have gone before us. He told Sarah that she would be pregnant. That pregnancy, by all earthly standards, was impossible, and the Lord did the impossible.
No matter what impossible situation you face today, or whether, like Sarah, you are struggling to believe God will come through for you, we can turn to the Lord and say: "What is impossible for man is possible with God" (Luke 18:27, ESV).
The Answer to Prayer – Streams in the Desert – June 16
Times have changed, but life's hard times haven't
Patiently wait for God alone, my soul! For he is the one who gives me confidence. — Ps 62:5
Our too general neglect of looking for answers to what we ask, shows how little we are in earnest in our petitions. A husbandman is not content without the harvest; a marksman will observe whether the ball hits the target; a physician watches the effect of the medicine which he gives; and shall the Christian be careless about the effect of his labor?
Every prayer of the Christian, made in faith, according to the will of God, for which God has promised, offered up in the name of Jesus Christ, and under the influence of the Spirit, whether for temporal or for spiritual blessings, is, or will be, fully answered.
God always answers the general design and intention of His people's prayers, in doing that which, all things considered, is most for His own glory and their spiritual and eternal welfare. As we never find that Jesus Christ rejected a single supplicant who came to Him for mercy, so we believe that no prayer made in His name will be in vain.
The answer to prayer may be approaching, though we discern not its coming. The seed that lies under ground in winter is taking root in order to a spring and harvest, though it appears not above ground, but seems dead and lost.
—Bickersteth
Delayed answers to prayer are not only trials of faith, but they give us opportunities of honoring God by our steadfast confidence in Him under apparent repulses.
—C. H. Spurgeon